Asian inspired Keto Chicken Salad
Salad gets a very bad rap in the food world. It's always seen as food that's disliked or something that doesn't taste good. It's also very falsely propagated as a low calorie food when it can actually be very calorie dense. But I love salad. I think salad is awesome and there is so much you can do with it in terms of flavour. When it comes to nutrition I believe it's a powerhouse. So anyway here is a delicious and easy Keot chicken salad.
What if you don't want a CHICKEN salad?
Well the chicken in chicken salad is replaceable. You can use beef steak instead of chicken if you like. Any seafood is fine as well. If you can't get curry powder then any sugar free seasoning will do. I suggest sticking to paprika, cayenne pepper, tumeric, cumin and spices like these or dried herbs like oregano etc.
For vegetarians, paneer and halloumi are good options or even fresh buffalo mozzarella. The salad is just lettuce with baby spinach and cherry tomatoes and a bit of cabbage shredded in. You can also make your own salad mix or just buy it from the store. You can also substitute the soya sauce for the more Keto friendly coconut aminos.
I've also got some other great Keto salad recipes that you can check out. When I started Keto it was my mom's Tuna salad that was my go to meal. I also made another Seafood salad using some prawns. But I think one of my fav is my more recent recipes, Nam Tok Neua/Thai Beef Salad. So enjoy the various salad recipes on my website.

Nutrition Info (Per serving)
Calories: 372
Net Carbs: 1g
Carbs: 3g
Fat: 25g
Protein: 33g
Fiber: 2g
This recipe makes 2 servings. Get this recipe on myfitnesspal. The recipe only includes the 2 chicken thighs and the dressing. It doesn't include the salad greens as that depends on what you use and what quantity.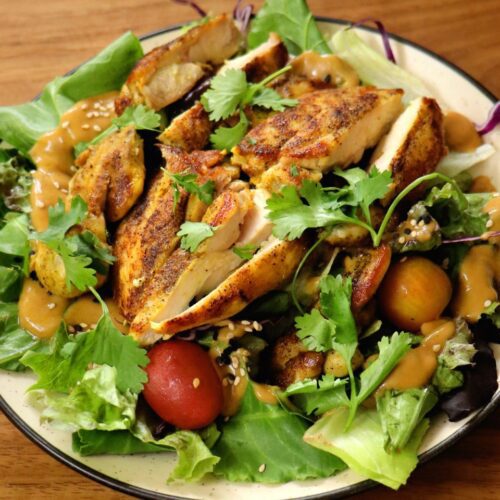 Keto Chicken Salad
An easy and delicious chicken salad.
Ingredients
2

Boneless & Skinless Chicken Thighs

1

Box/Bag

Ready to eat salad mix

1/2

Tsp

Black Sesame Seeds

1/2

Tsp

White Sesame Seeds

1

Tsp

Curry Powder

I recommend this

1/2

Tbsp

Extra Virgin Olive Oil

I recommend this

1

Tbsp

Peanut Butter (Natural and with no added sugar)

I recommend this

1

Tbsp

Water

1

Tsp

Soya Sauce

I recommend this

1

Tsp

Lemon Juice

Stevia to taste

Salt & Pepper to taste

Coriander for Garnish

2

Tsp

Avocado Oil (for frying)
Instructions
Place some cling flim/plastic wrap over the chicken thighs and beat them with the flat side of a meat mallet till they are nice and even. Season on both sides with salt, pepper and curry powder.

Heat the avocado oil in a skillet and once smoking hot add the chicken and fry for about 3 minutes on each side till golden brown and fully cooked. Then set it aside on a plate to rest.

To make the dressing microwave the peanut butter and water for 30 seconds and then whisk till you get a nice runny mixture. Add in the soya sauce, lemon juice, olive oil, stevia and salt and pepper and mix well. Also add in the resting juices from the chicken.

Now please note, all stevia has a different level of sweetness so you want to add about 1/2 tsp equal of sugar. So with erythritol it's normally 1:1 ratio as sugar so you'd use 1/2 tsp of erythritol if you use that instead of stevia.

To assemble the salad just open up your mixed salad bag. You can alternatively just chop some lettuce, cabbage, baby spinach and a few cherry tomatoes to make your own mix. Pour over the dressing and then the black and white sesame seeds.

Chop the chicken and add that on the salad and finish with some coriander.