Keto Spicy Thai Beef Salad (น้ำตกเนื้อ)
Nam Tok Neua
Today we're cooking a Keto spicy Thai beef salad called Nam Tok Neua. Nam Tok means waterfall and Neua is beef. What's beef got to do with waterfalls? It's because of the sound that the beef makes while being grilled. As the juices drip onto the hot coals it makes a sound similar to a waterfall. Or at least that's what I found out was the reason behind the name. This is a meat lovers salad. It really does showcase the beef more than anything. You certainly won't find yourself wading through lettuce to reach the meat.
The Beef
Now I've used tenderloin or filet steak for this recipe. I've explained that in India we get water buffalo and there are just 3 options. Ground beef, filet steak and tough meat for slow cooking. If you live in a country more favourable for beef you could get yourself some sirloin, ribeye, hanger steak, New York strip etc etc. You get the idea. And while this recipe celebrates the beef I'm almost positive there will be people who don't eat or want to know what else could be used.
So go ahead you can make this salad with pork, chicken, fish, prawns or anything else that your heart desires. To up the spice levels be generous with those chilly flakes, I wasn't. If you want to up the fat then drizzle over some extra virgin olive oil.
Nutrition Info (Per serving)
Calories: 434
Net Carbs: 3g
Carbs: 4g
Fat: 32g
Protein: 31g
Fiber: 1g
This recipe makes 4 servings. Get this recipe on myfitnesspal. The macros include the pork crackling which is about 90 calories so if you don't add that you'll need to edit the macros depending on what you throw into the salad.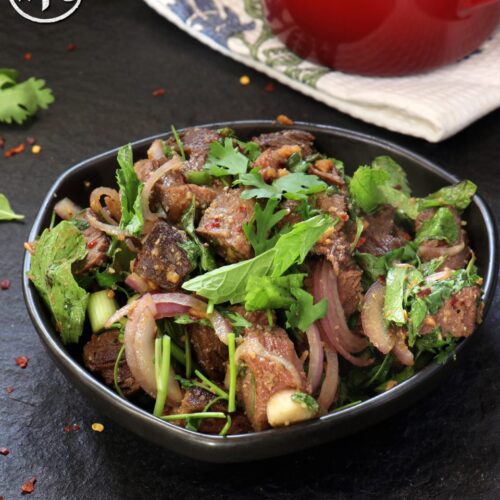 Keto Spicy Thai Beef Salad
An incredible salad that really celebrates beef
Ingredients
500

grams

Beef

You can use any cut of steak that you like for this

30

grams

Thai Shallots

You can use red onion, shallots or even regular onion

15

grams

Cilantro/Coriander

15

grams

Fresh Mint Leaves

15

grams

Spring Onion

15

grams

Sunflower Seeds

15

grams

Pork Rinds

2

Tbsp

Red Chilli Flakes

1

Tbsp

Soya Sauce

1.5

Tbsp

Fish Sauce

2

Limes

Juiced

1

Tsp

Sukrin Gold (or low carb sweetener of choice)

1

Tsp

Black Pepper

1

Tbsp

Chicken Fat

Or any cooking fat of your choice
Instructions
Start by marinating the beef with the soya sauce, 1 tbsp of the fish sauce and the black pepper. Let it marinate for at least 30 minutes

Meanwhile pluck the mint leaves, roughly chop the cilantro, finely chop the spring onion and juice the limes.

In a pan toast the sesame seeds and pork rinds and then grind them in a mortar and pestle till you get a nice powder. Toast the sesame seeds till they turn nice and brown. Toasting the pork rinds is optional really.

Grill the beef over some hot coals on a BBQ if you have one or cook on a cast iron skillet. Cook the steaks how you like them, medium, medium rare, rare, blue, whatever you fancy. Once cooked just let the steaks rest on a plate

Once the steaks have rested pour out the resting juices and reserve for later. Then cut up the steaks into slices or nice bite size pieces.

In a large bowl add the beef, shallots, spring onions, chilly flakes, lime juice, 1/2 tbsp fish sauce, sukrin gold, mint leaves, coriander, crushed pork rinds and sunflower seeds. And give everything a good mix. Taste for seasoning and adjust to your liking.

Serve!