Cheesy Keto Chicken Bake!!!
What's cheesy, creamy and delicious? It's my Keto chicken casserole. I mean you can't go wrong with a dish like this. Growing up I did eat more western food than the average Indian but casseroles weren't a regular feature. I mean my mom did make something we called a 'baked dish' which was absolutely delicious but I only got familiar with casseroles once I started exploring the world of Keto recipes. These seem to be great for family dinners (Keto or non Keto) and it is pretty simple to put together.
The best part is it's also great to use up left overs and you can tweak it to suit your preferences. I use bacon, mushrooms and chicken in mine but you can totally change it up to suit your fancy.
When should you add the HEAVY CREAM?
One of the constant questions in my videos is why does my heavy cream look much thicker than the average American heavy cream or even the cream you get in most parts of the world. Well I actually don't know. I use a local brand that is actually only 25% fat so it's technically not heavy cream. However this cream also has a tendency to 'split' when cooked too much. Which is why I always add it towards the END of my recipes.
But if you are using the standard American/UK/Australia cream then you can add it when you add the cream cheese and the cheddar. Then you can cook down the cream till you get the nice thick consistency for the sauce. If I did that in my video the cream would split and it wouldn't look smooth and rich.

How to avoid a soup?
When you make this casserole you got to make sure you've cooked the bacon, mushrooms and chicken fully because you don't your casserole to turn into a soup. This happens many times when there is still moisture in the meat and veggies. Now some water is inevitable but you don't want soup. Which is why make sure you fry that chicken and mushroom and cook out most of the water. Or you reduce the sauce till it's nice and thick. You can use a thickener like xanthan gum but honestly I HATE the texture so I don't use it.
Also remember to be careful with the SALT because when you reduce the sauce it's going to concentrate the flavours so it will become saltier as you reduce it. You can also experiment with different vegetables in this. Try adding in some bell peppers, spinach or even some broccoli florets. With meats you can use pork, steak and even fish. Vegetarians I guess can use Tofu or I would strongly recommend a nice meaty vegetable like EGGPLANT.
Nutrition Info (Per serving)
Calories: 553
Net Carbs: 4g
Carbs: 6g
Fat: 42g
Protein: 41g
Fiber: 2g
This recipe makes 4 servings. Get this recipe on myfitnesspal.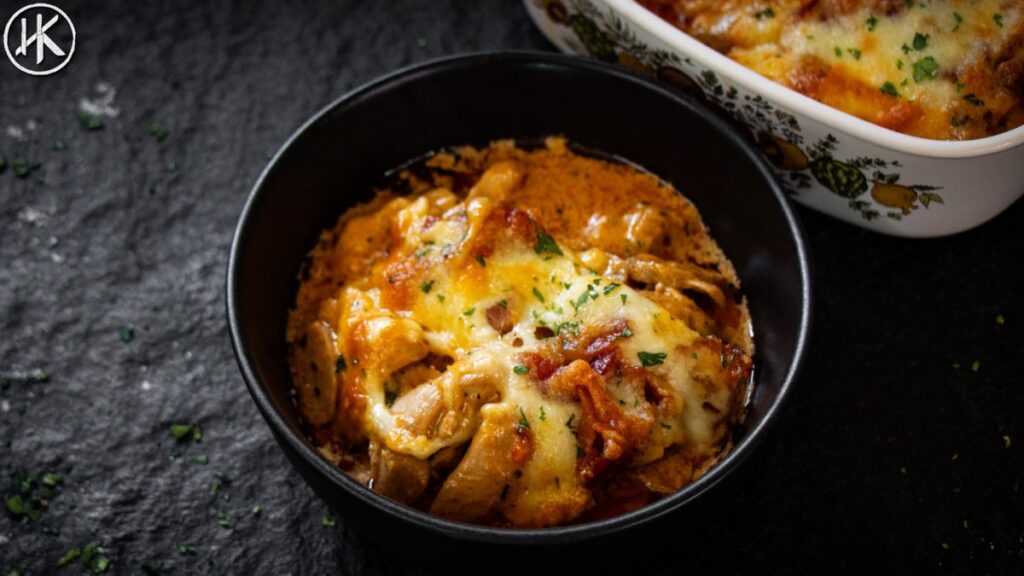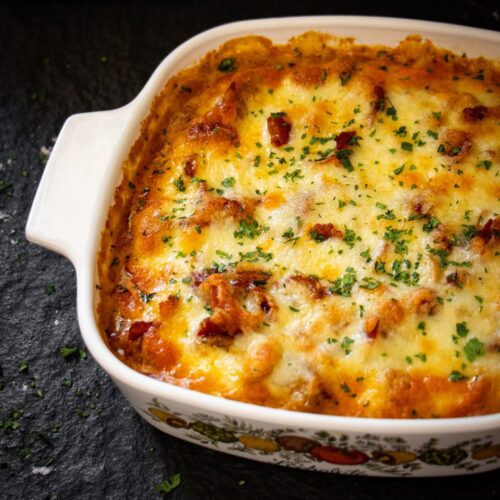 Keto Chicken Casserole
This Keto chicken casserole is a super easy dinner for the family
Ingredients
450

grams

Boneless Chicken Leg and Thigh Meat

80

grams

Streaky Bacon

200

grams

White Mushrooms

50

grams

Cream Cheese

100

grams

Cheddar Cheese

100

grams

Shredded Mozzarella

100

ml

Heavy Cream

1

Tsp

Smoked Paprika

1

Tsp

Onion & Garlic Powder

You can use separate onion and garlic powder

1/2

Tsp

Cayenne Pepper

1/2

Tsp

Black Pepper

Salt to Taste

1

Tsp

Chopped Parsley
Instructions
Start by chopping the bacon into bite size pieces. Also chop the chicken into bite size pieces and slice the mushrooms. Grate the cheddar cheese as well and chop your parsley.

In a cold frying pan or wok add the bacon and turn on the stove. Keeping a medium heat cook the bacon till it's nice and crispy. This process takes some time as the bacon first gets warm and starts to render out it's fat and then cooks in that fat. Remove the bacon from the pan and set it aside.

Your pan should have some bacon fat left in it and if it's too much then remove some otherwise just add in your chicken and sautee.

Next you season the chicken with salt, pepper, paprika, onion and garlic powder and cayenne pepper. Give everything a good mix.

Once the chicken is almost cooked add in the mushrooms and satuee. The mushrooms will now release their water and once that happens you want to add in your cream cheese and grated cheddar.

Now if you mushrooms don't release any water you can add a splash or two of water to the pan. The reason for this is that the liquid will emulsify with both the cream cheese and cheddar cheese to form a rich and delicious cheese sauce.

If you live anywhere outside India add in your heavy cream as well at this point and cook this down till the sauce thickens. Once you get a nice thick sauce turn off the heat and add in the chopped parsley and mix well. If you live in India and use Amul cream which can split when heated too much, reduce the sauce and then finish by adding the cream after turning the heat off.

Now spoon everything into an oven proof dish, sprinkle the bacon on the top and then cover with the shredded mozzarella cheese.

Bake in a pre-heated oven at the highest temp or place under the broiler and cook till the cheese is melted and golden brown. Remember everything is already cooked so you just want to brown the cheese.

And that's it, serve and enjoy!!