What is Chicken 65?
If you are Indian and you hear Chicken 65, you can almost picture a seedy bar where patrons are munching down this spicy fried chicken dish along with their alcohol. The origin of this dish Chicken 65 is shrouded in mystery. The most logical explanation is that it was served in an army canteen down in the Southern part of India and was item number 65 on the menu. The army has people from all over the country. A lot of them didn't speak the language and hence started calling it Chicken 65. Of course there are far more implausible variants on this story. Like it has 65 ingredients or takes 65 tries to get right, none of which sound believable.
I must admit, this is a dish I would avoid like the plague at restaurants due to it being flammable (really spicy). Most of you know I cannot handle spicy food. It does however have an incredible flavour to it and without that excessive heat, it was definitely a treat. I was introduce to this by my wife Deepti who really loves this and Kerala beef fry along with a cold glass of beer. Invariably this was ordered multiple times and I was coerced into tasting it and eventually I did end up making it on the show. It was for a metal festival called Big 69 and I named my version 'Chicken Big 69′. This of course was a non keto version and now I've got a Keto version of this dish for you.
Tips & Tricks!
I did a bunch of trials for this recipe (mainly the deep frying component) as I wanted to get the perfect crispy fried chicken. I tried blends between Psyllium husk and coconut flour and just coconut flour. The winner was clearly just the husk on it's own. In the video I added the husk directly to the bowl of chicken but if you want the maximum crunch I would recommend individually dipping each piece in the husk so the coating is nice and even. If you do it in the bowl like I did, it can turn out to be a bit clumpy and scattered.
As I also mentioned in the video you can eat it as is just after deep frying because you will lose some of the crispiness in the 2nd fry. But this is kind of how the dish is made. That batter absorbs all that tadka and the yogurt. Either way it's a truly delicious dish to have on a rainy day (or any other day for that matter).
Nutrition Info (Per serving)
Calories: 291
Net Carbs: 2g
Carbs: 7g
Fat: 13g
Protein: 33g
Fiber: 5g
This recipe makes 3 servings. Get this recipe on myfitnesspal.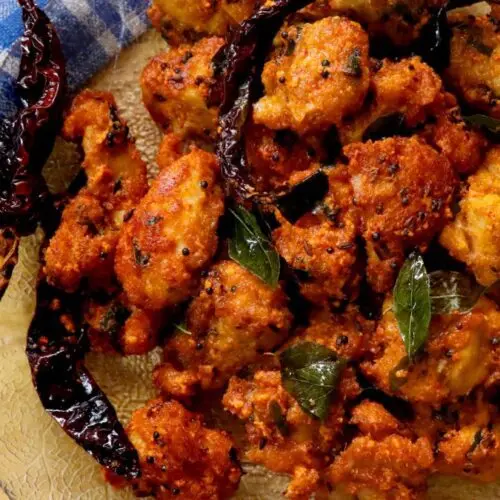 Keto Chicken 65
One of the most popular Indian chicken appitizers
Instructions
Cut the chicken into small cubes/bite size pieces. Marinate with the salt, pepper, half the red chilly powder, coriander powder, garam masala powder, 1 tsp of chopped curry leaves, 1 tsp ginger garlic paste and vinegar.

The coat the chicken with the egg and psyllium husk and deep fry. You can add both to the bowl and give it all a good mix or set it up like a breading station and dip the chicken into the egg, then the husk and then deep fry. This will ensure a more 'even' coating.

Next mix the remaining chilly powder with the yogurt and set aside

Heat the ghee in a pan and add in the mustard seeds and cumin seeds along with the dried red chillies

Once the mustard seeds start to pop add in the curry leaves followed by the ginger garlic paste and finally the yogurt with the chilly powder.

Once it's all incorporated together add in the deep fried chicken and cook till there is no liquid left in the pan.

Serve it along with a nice cup of Keto tea or coffee and enjoy!