How to Make Turkey Stock and Gravy from Scratch
Homemade turkey stock and gravy
Horns up and welcome to Headbanger's Kitchen. Are you ready to take your turkey game to the next level? In this blog, I'll be sharing a fabulous recipe on how to make turkey stock & gravy from scratch that's easy, delicious, and perfect. 
Also, the best part of this recipe is that it's a great way to use up every last bit of your turkey and create something truly special. Don't let those bones go to waste! 
What is turkey stock?
It is simple yet oh-so-satisfying—a flavorful, aromatic broth made by simmering turkey bones, vegetables, and seasonings in water. It makes for a simple yet essential base that adds complexities and flavor to soups, stews, gravies, and sauces. One of the most popular recipes that call for turkey stock is the humble turkey noodle soup, a comforting classic that's perfect for using leftover turkey meat.
Our homemade recipe encourages the caramelization of the bones and vegetables in the oven, adding a depth of flavor to the stock you just can't get from a store-bought version. Above all, it makes for a great alternative to chicken stock!
But before you prep for the turkey stock and gravy recipe, visit our previous blog to learn how to butcher a turkey at home like a pro. 

Personalize your homemade golden base
One of the best things about this recipe is its versatility. You can easily adjust the seasonings to suit your tastes and experiment by adding other ingredients to the stock. For example, if you have fresh herbs like rosemary or thyme around the house, you can toss them in with the onions and carrots for extra flavor.
Now, it's time to master how to make turkey stock and gravy from scratch.
Add zing to your dish with turkey gravy 
If you're eating a turkey dinner you know you got to have some gravy along with that roasted turkey. It's a staple item on your Thanksgiving and Christmas menus. I mean what's a good roast turkey without a gravy that you can smother the meat in. Gravy poured on veggies and mashed potatoes? Yes please. Mop up some gravy with bread? Oh yeah! I mean this gravy is just silky smooth and delicious, you're gonna want to pour it over everything. 
Since you're here, let me divulge a secret ingredient that can take your turkey stock to the next level—brandy. A dash or two of brandy will add complexity to your turkey gravy and make it unforgettable!
Nutrition Info (Per serving)
8 calories
Fat 0.6g
Saturated fat 0.1g
Protein 0.8g
Carbohydrates 0.1g
This recipe makes 1 serving. Get this recipe on myfitnesspal.com.
So who's the sauce boss? You are! Try this recipe today and impress your dinner guests with your culinary skills.
Stay tuned to the Headbanger's Kitchen blog and our YouTube channel for more turkey recipes to try at home.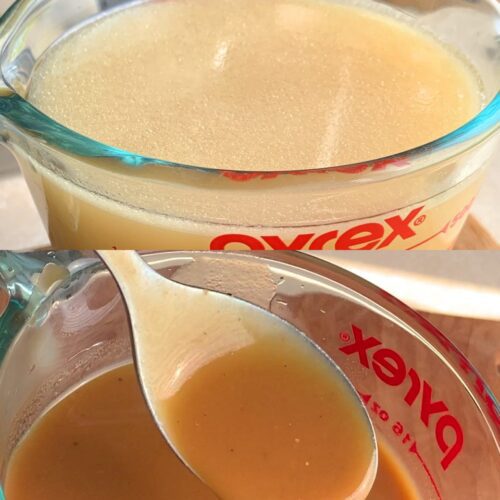 How to Make Turkey Stock and Gravy from Scratch
A step by step on how to make homemade turkey stock and gravy from scratch
Ingredients
For the stock
1

whole

turkey

Just the bones and carcass after you've butchered it.

1

whole

Onion

(Can be varied as per your stock quantity)

1

whole

Carrot

(Can be varied as per your stock quantity)
For the gravy
2

Tbsp

Flour

2

Tbsp

Butter

you can also use the turkey fat

2

Cups

Turkey Stock
Instructions
Turkey Stock Recipe
To get started, preheat your oven to 400°F. Take your turkey bones and place them in a dutch oven (you can also use a roasting tray). Add chopped onions and carrots and sprinkle with salt. Roast in the oven for one hour until the bones are caramelized.

Next, transfer the pot to the stove and add enough water to cover the bones. Bring to a boil and let simmer for one hour. Remove the bones and strain the liquid to create your delicious turkey stock.

Don't toss out the bones - there's still plenty of meat left on them! Pick at the bones to remove any remaining meat and use it for sandwiches or add to instant noodles for a little extra meat. Now, your turkey stock is all ready!
Turkey Gravy Recipe
Place the stock (you just prepared) in the fridge and wait for the fat to rise to the top. Then scoop off the solidified fat for the next step.

Now, add the butter to a pot. Next, add flour and the turkey fat and whisk until smooth. Keep whisking by adding in the turkey stock constantly until it thickens.

To season, add soy sauce for color and pepper to taste. Your delicious turkey gravy is now ready to serve.