There is more than one way to make cheese fried eggs
How do you like your fried eggs? Double fry? Sunny side up? Over easy? or maybe, just like me, cheesy! I love a good cheese fried egg and it's the perfect Keto breafast. You wouldn't think that you could cook it more than one way, but time and time again, eggs have proved to be a versatile food beyond any other. So here are not 1, not 2, but 3 different ways of cooking cheese fried eggs.
Choice of cheese
This is more of a method than a recipe. It's important though to pick a cheese you like because it's all about tasting the eggs and the cheese. Now this isn't a complete dish so I'd recommend eating some vegetables on the side to balance things out. Spinach, asparagus, mushrooms, tomatoes etc are all options. If you want to kind of brown the bottom of the fried egg, make sure you have a hot skillet. If you want a less crispy texture then look on a medium heat. You can also use softer cheeses like goat cheese, brie, camembert etc. I just find that something like cheddar cheese or gouda is my personal preference. You can even grate a bit of garlic or throw on some garlic powder to amp up the flavour.
Cheese Eggs
Eggs and cheese are a killer combination. I mean is there anything you can't do with them? You can make the best scrambled eggs with this combination. Throw in some cream cheese in the pan and whisk for a creamy cheesy texture. Maybe you can mix in blue cheese or a mature cheddar for extra flavor. Finish it with chives and season with salt and pepper. You have a scramble to die for. What about omelets? Well you can mix the cheese and eggs in a bowl and stir it so they become one. You can beat the eggs separately and add the cheese in the center. So many options. Serve it with a side of bacon maybe and if you aren't on keto then how about on the side of a toast? Use these methods for a killer eggs recipe. And remember medium-low heat when cooking eggs unless you are trying to get the egg to brown and crisp up which is quite common in a lot of my egg recipes.  
Using the eggs
There are many ways to use these eggs. I think eggs and ham pair really well. I'd personally make a sandwich using these. You can use your fav Keto bread. You can also make some cauliflower rice and top it with a cheese fried egg. A burger is another great way to use the egg. 
Now I know this is a fried egg but the same method can be used to make baked versions. Take some large eggs and crack an egg into each muffin tin. Layer with cheese on top and pop in the oven for about 6-10 mins depending on how runny you want the yolks. You can also very lightly mix the eggs with the cheese to create an egg mixture and then pour that in the muffin tray and bake. You can also layer a slice of bacon in the muffin tray, crack and egg and bake. You'll get little bacon and egg baskets.  

Macro/Nutrition Information
Since the recipe is pretty much 1:1:1 (that's 1 egg to 1 tbsp cheese to 1 tbsp butter) just input the raw ingredients into your MFP for the macros. You can adjust it if you decided to cook more eggs, use more cheese or add more butter. It's pretty simple. A single egg has about 72 calories, a tablespoon of butter about 115 calories and cheese should be about 100 as well. That is pretty much all the nutrition info you need. Oh and also remember an egg has about 6 grams of protein and 5 grams of fat. Eggs also do have carbohydrates but only a small amount.
A lot of people think that eggs are high protein. But they are also high fat. But what's more important is that they are a nutrient dense food.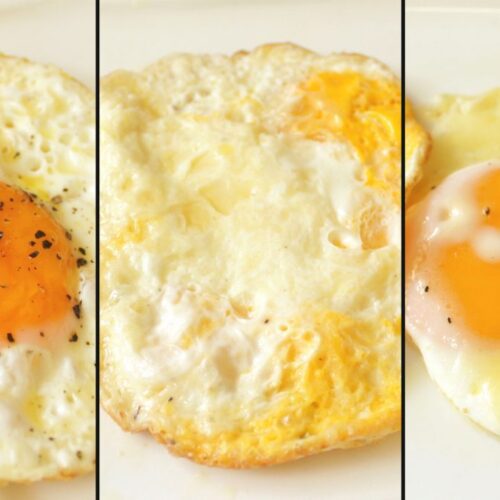 Cheese Fried Eggs 3 Ways
Cheese fried eggs, done 3 ways.
Instructions
For method 1: Melt butter in your pan, crack the egg into the pan, season with salt and pepper, top with cheese and cover and cook. Once cooked, serve. This should take 2 minutes approx on a low heat.

For method 2: Add grated cheddar on a non stick pan on a low heat. Let the cheese melt and then crack the egg on top. Season the egg with salt and pepper. Once the cheese has melted and crisped up and the egg cooked through, remove and serve.

For method 3: Gently beat the egg in a bowl, just enough to break the yolk but not beat it like you do for an omelet. Add some cheese to that and then fry in a pan. Serve.