Welcome to Keto For Beginners – Week 2
Welcome to Keto for beginners. It's time for the Keto meal plan  for week 2 of your Keto diet.
If you are just starting please read and follow my Week 1 Meal Plan first and then come back to this one.
It's important to remember that I'm NOT a doctor, nutritionist or dietitian. I'm just a musician/Youtuber who has done Keto so please do not take any of this as medical advise. If you have pre-existing conditions please consult your doctor or a qualified professional before doing anything. This is simply a resource for people who need it. So please treat this as a disclaimer before proceeding.  Enjoy the video below and then carry on reading.
A quick recap – What is Keto?
Keto is short for Ketogenic. On the Keto or Ketogenic diet the body switches from using glucose for fuel to using ketone bodies. This switch occurs when the body is deprived of carbohydrates. You put your body in the metabolic state of Ketosis. You do this by reducing your carb intake. The ketone bodies use fat for fuel. Which is why Keto is one of the low carb diets. Since fat becomes the primary source of energy it's a high fat diet. Now high fat doesn't mean you're going to be drinking olive oil from the bottle. It just means that a larger part of your daily calorie intake will come from fats. You also want to consume healthy fats.
Please make no mistake, Keto is not some magic diet. It works on the same principle as all other diets, which is when you eat in calorie deficit you lose weight. If you've got any medical conditions like diabetes or fatty liver or kidney issues please consult a doctor before doing any diet. People often ask if there are any side effects of the Keto diet. The truth is if you're a normal healthy person and you follow the diet properly and eat healthy by consuming mostly whole foods, chances are you should have no issues. Like any other diet, if followed properly and you're just eating junk all the time, yes there can be issues.
Can Keto be done long term?
Yes it can, the real question you have to ask yourself is can you do it because diets are very individual and there is no one size fits all. The best way to know is to try it and give it a fair shot. Keto is the kind of diet that helps control hunger because of the kind of food you end up eating. It's a great way to kill cravings Keto means you are going to be cutting out all kinds of grains, rice, bread, pasta and even starchy vegetables. Mostly all this is replaced by cauliflower. I mean we've got cauliflower pizza, burger buns, mashed potato etc. It's a rock star vegetable.
Keto is also known to help with blood sugar levels, cholesterol, insulin levels, blood pressure  and other things. But most of this is anecdotal and since I'm not a doctor I'd say do your own research or speak to a professional.
Anyway time to throw out the junk like soda, candy and ice cream from your fridge and get ready to embrace the keto lifestyle. Here is my Keto diet plan for you.
Food Substitutes & Information
The Food scale
As I mentioned in the video this is one of the most important tools in the kitchen. It's a friend for life, it's super accurate and it's affordable. You can generally switch between grams and ounces on it as well. The scale I use at home has been my friend for 6 years now. So click here to purchase one or just buy it from any store you like. You can also try this food scale as an option. For all my Indian viewers I've made a separate Shopping Guide for Indians which you can refer to.
Start exercising
Now that you've started Keto it's time to take the next step. Exercise. It's important and I encourage you to start moving. Exercise doesn't mean going to the gym. It can be anything. You can start by simply going for a walk, maybe cycle or perhaps even dance for an hour. I personally LOVE drumming, it's a proper cardio workout and drumming for an hour a day not only gives me a good workout, it also de-stresses me. So pick a workout and start doing it. If you are short on time I would recommend doing HIIT workouts as they are quick and get the most burn for buck. I recommend the Nike app or the one I personally use is 8Fit. You can start from the beginner level and then keep going.
But why? So apart from exercise being good for you, there is more. My aim with the exercise is to build you BMR. In layman's terms your body needs a certain amount of calories a day just to exist. Now when you do Keto for the most part you end up eating less than you need and as you do that the BMR drops because the human body is amazing. It' adjusts itself to your eating since when you eat less than you burn that's effectively starvation for your body. So when you exercise you will counter the BMR dropping because we don't really want it to drop too low. Hopefully I've explained this properly but I think you get the idea.
Measure Yourself
Too many people obsess over the weighing scale. I've done a full video on this too here. The truth is your weight loss progress is not always on the scale. Sometimes you might not lose weight but you lose inches. Sometimes your body composition might be changing. There is also something called the whoosh effect (more on that later). For women hornomes and periods play a big part in weight fluctuating. So it's important not to obsess over the number on the scale. It's also why I say weigh yourself just once a week. Maybe every Monday morning after you wake up and before you eat or drink anything. In short, get that tape measure out, check your wasit, arm, neck and butt size and keep a track of that.
The Menu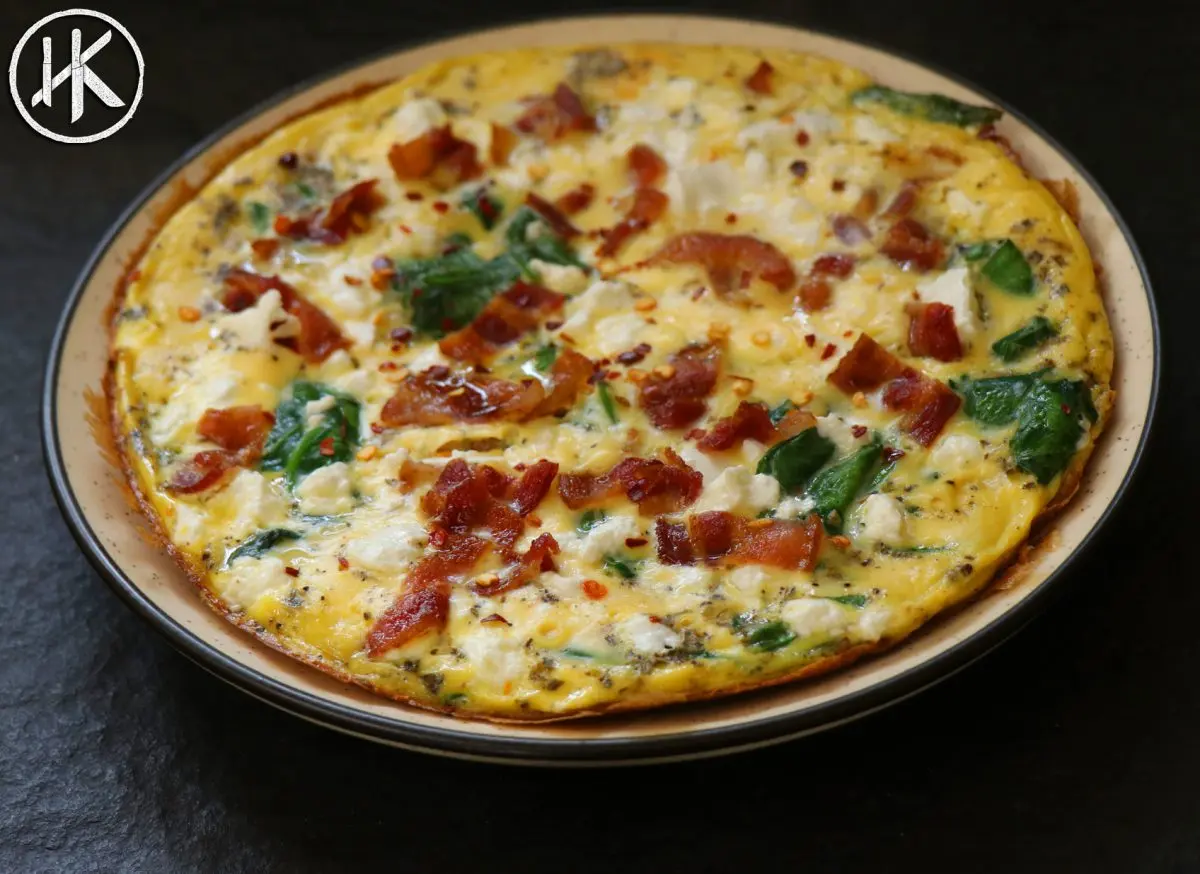 Breakfast – Spinach and feta omelet with bacon that's optional. Like I mentioned in the video, if you skip the bacon just start with some avocado oil, butter, ghee or lard in the pan and cook the eggs. You can use almost any cheese that you like in place of feta, they are all fine. If you don't like spinach you can use mushrooms, bell peppers or any vegetable really. The idea is to get a good balance of things. You can also use turkey bacon though that won't have any fat so you'll need something to fry it in. You could also use some ground meat as well in the omelet.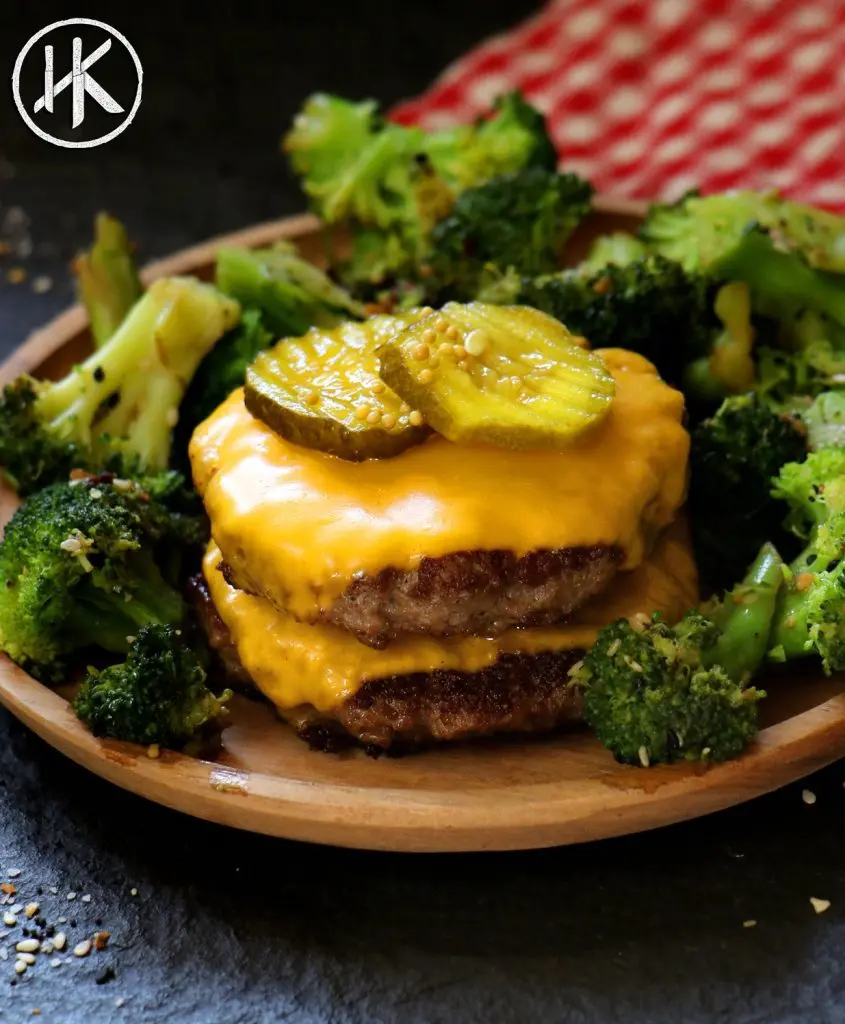 Lunch – Bun-less burgers or hamburger steaks with cheese and broccoli. Simple and delicious. When it comes to meat if you don't eat beef than just use pork, chicken, veal, venison etc. Basically any ground meat works fine. Season with salt and pepper, pan fry, top with cheese. I seasoned my broccoli with 'everything bagel' seasoning. You can season it with anything you like from tumeric to cumin to paprika to cayenne pepper, they are all ok.
If you want to make your own everything bagel seasoning then it's onion powder, garlic powder, poppy seeds. salt and both black and white sesame seeds. I don't know the proportions but just add equal parts for a fairly good spice blend. Now if you don't like broccoli you can use asparagus, brussel sprouts, spinach, cabbage etc. Any Keto veggies will be fine. Vegetarians can use paneer instead of meat. Season the paneer, pan fry it in butter and then melt some cheese over it. Like little paneer burgers. You could use tofu too.
In the video I mention not to throw the broccoli stem. There are 3 uses for it. You can make my broccoli cheddar soup. You can cut the stalk into cubes and boil it and use it like a fake potato in my Keto poha recipe. And you can use it to thicken your sauces by boiling it and then blending it into a puree like I did in my Keto pot roast recipe.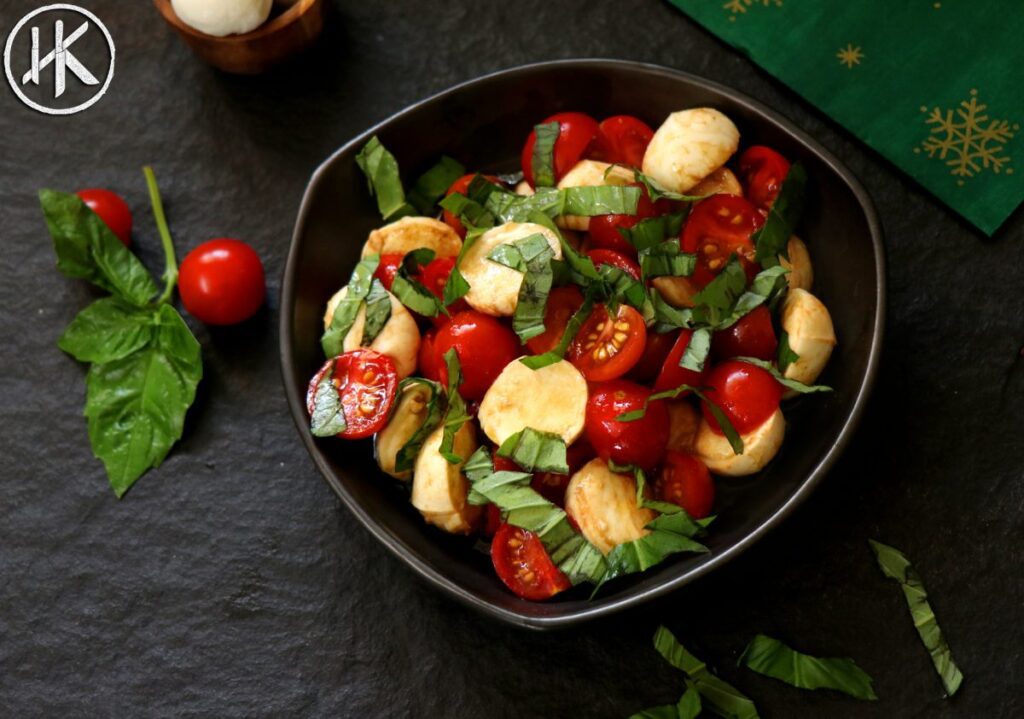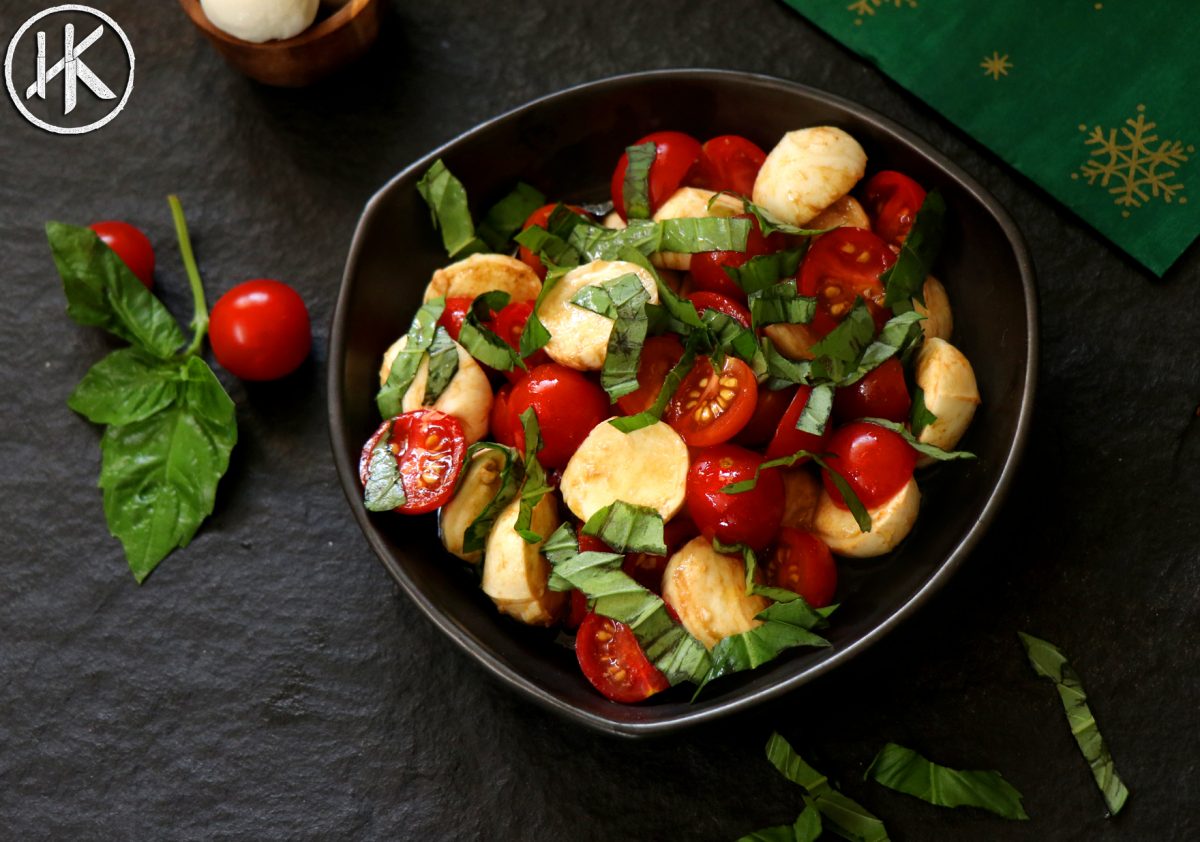 Snack – My version of the classic Italian Caprese salad. Since this is vegetarian you vegetarian friends of mine are sorted. There aren't too many replacements here to be honest. Just that if you can't get bocconcini and cherry tomatoes you can use fresh mozzarella and regular tomatoes. An alternative to this would be cheddar cheese or cream cheese if you can't find fresh mozzarella. Now if you for some reason don't want this you can always go back to the ham and cheese lettuce roll ups from last weeks Keto meal plan.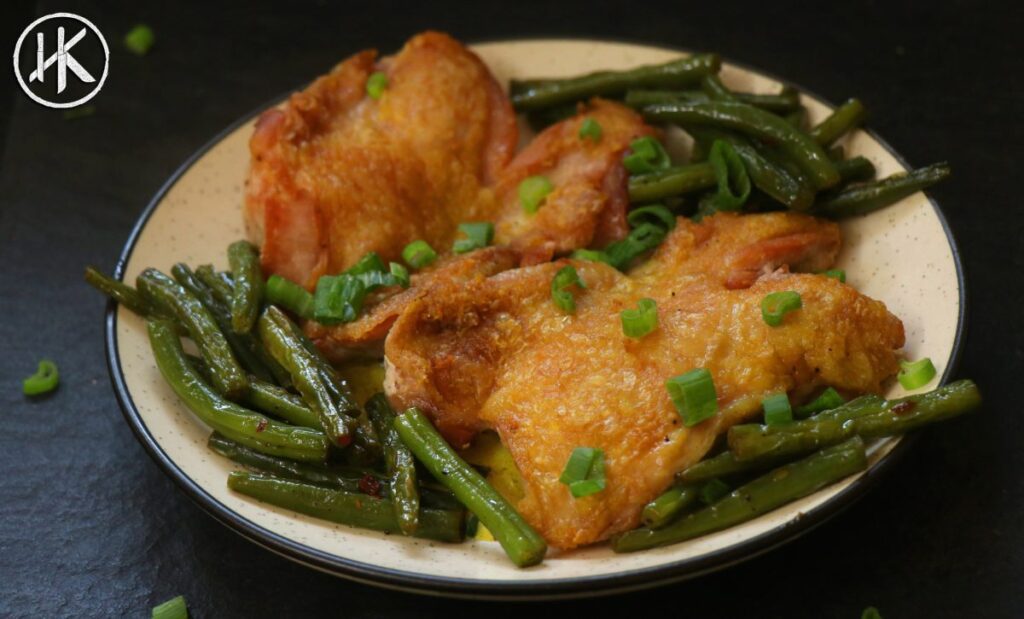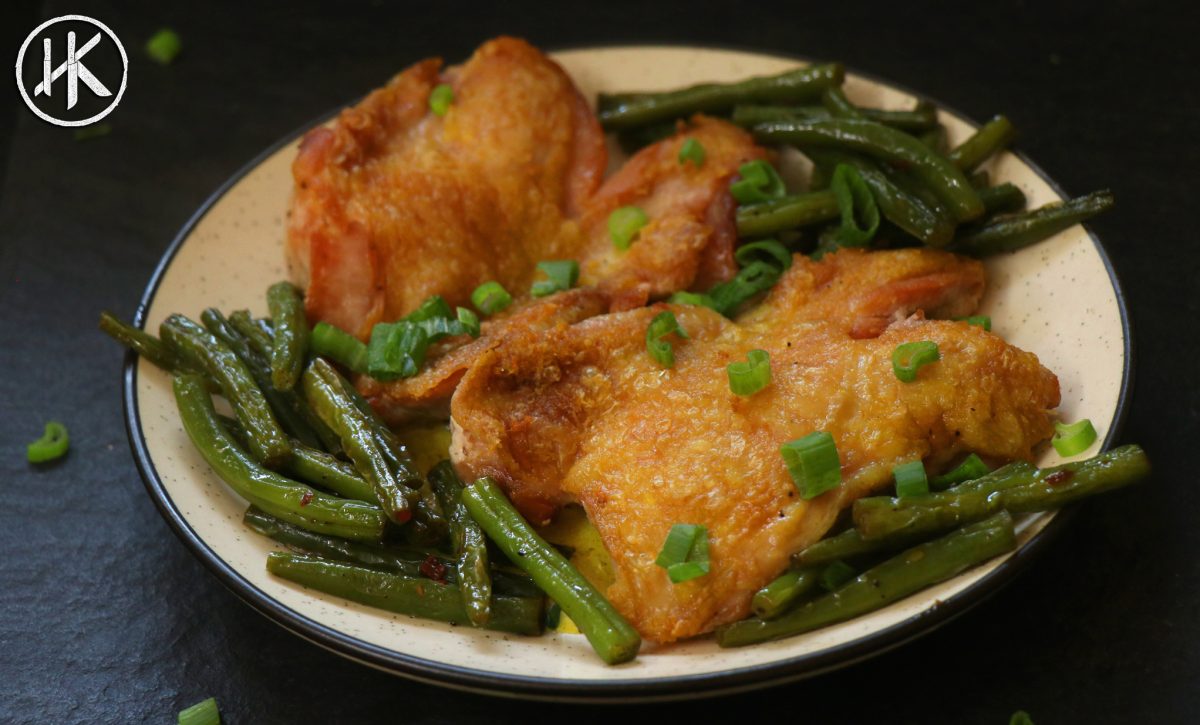 Dinner – Pan roasted chicken in a creamy curry sauce with green beans. I think by now you must have figured out that any meat can replace another meat. So you can do this recipe with pork, beef, lamb, venison, crocodile, emu etc etc. Always try and get a nice fatty cut if possible. If you can't get the skin on boneless chicken that I got you can also do this with bone in chicken or chicken breast as well. If you don't like green beans once again it's the same replacements like spinach, broccoli, asparagus, brussel sprouts.
Now as for the curry powder. You can just buy the one I recommend. However the one I use has the following ingredients, so you can just mix them all and make your own. Tumeric (34%), Coriander seed (30%), Fenugreek seed (12%), pepper (10%), cinnamon (8%), chilli (3%), cumin seed (2%) and galangal (Thai ginger) (1%). Alternatively you can use the same recipe and replace curry power with some paprika, cayenne pepper, cumin and tumeric. Should do just as well.
For vegetarians, paneer and halloumi are good options once again as a replacement for chicken. You could also use eggplant to replace chicken. So pan fry the eggplant in butter or avocado oil and then make the curry sauce. So it's basically eggplant steaks with green beats and curry sauce.
Additional Info
Drink Water
Make sure you stay hydrated. Drink at least 2 liters of water during the day as your body doesn't retain water on Keto. This might also lead to a very quick weight loss during the first week. Don't get excited it's probably just water weight. But keep a bottle with you at all times and keep sipping.
Salt your food
Given that you're body isn't retaining water you will also be short on your electrolytes, that's sodium, potassium and magnesium. You can always take a supplement for these but you still want to be generous with the salt on your food. Try to get some good quality salt. Sea salt, pink salt, etc are all good. You can also get some low sodium salt which is a great source of potassium.
Prepare for the Keto flu
Don't panic. It's nothing serious. You might just feel 'bleh' for a couple of days as your body adapts to Keto. This is normal. Sometimes people do also get headaches or feel fatigue. After all this is new for your body and also whenever you try to lose weight it does often result in us not feeling optimal. What you can do for this is just take some supplements for it for your electrolytes as I mentioned above or have enough salt in your food. Both the low sodium salt and regular salt. Sometimes you can drink a glass of water with a squeeze of lemon juice and salt. This stuff helps. However after a day or 2 of this you should be fine as your body slowly adapts to your new diet.
So that's all folks. If you have any questions please feel free to leave a comment and I'll get back to you as soon as possible.
Get some fiber powder
While I never experienced this myself, some people do get constipation. Which is why it's not a bad idea to buy a fiber supplement just till your body adjusts to things. Generally eating a reasonable amount of vegetables like kale, zucchini and broccoli can help. Now don't worry about carbs from vegetables too much. I've always counted net carbs which is the total carbs minus the fiber. I feel that makes the most sense. It's easier then to stick to your macros as well and eat well rounded healthy meals.
Other food info
Now if you're dairy free I've given you a couple of options with most of the menu. We try and keep it moderate protein but don't stress about going over your portein macros it's no big deal. Artificial sweeteners are fine to use for your coffee and tea and even in Keto desserts. I generally like to stick to stevia and erythritol. I do not recommend buying or chugging MCT oil from the bottle. You can consume nuts like walnuts and almonds for snacks but I've not included them because they are fairly high calorie items and lots of people can go through 500 calories worth of nuts without even realizing it.
Shopping List
Just edit the quantities based on your appetite. If you have left over food you can always freeze it for up to a full month. So this is more just a list, quantities will vary based on how much you eat. Also double check if you have any of these things left over from last weeks meal prep before buying fresh stuff.
Eggs
Bacon (Optional)
Baby Spinach
Feta Cheese
Pink Salt
Black Pepper
Heavy Whipping Cream
Red Chilli Flakes
Salted Butter
Dried Oregano (or fresh will do too)
Ground Beef (80-20)
Cheese Slice or just your fav cheese, Cheddar block is good
Gherkins (optional and you want to look for one with no sugar or minimal sugar content)
Bocconcini
Cherry Tomatoes
Basil Leaves
Extra Virgin Olive Oil
Balsamic Vinegar
Boneless Chicken legs with Skin on (you can also just get bone in skin on chicken thighs or any chicken really)
Green Beans
Avocado Oil/Ghee/Coconut Oil (for cooking)
Curry Powder
Cheddar Cheese
Spring Onion
Garlic
That should cover everything. Adjust the quantities based on how much you are going to eat. For example if you eat 2 eggs a day then that's 14 eggs you need in total. If you eat say 3 slices of bacon a day and a packet has 12 slices then buy 2 packets. You get the idea. And just a reminder for my Indian viewers to check my Shopping guide for Indians for suggested brands.

Cooking for 7 days!
The breakfast and the snack recipes are single servings and honestly are things you can whip up in no time. You can of course multiply the recipes and get your cooking done well in advance. The lunch recipe makes 2 servings as does the dinner. My best recommendation is that get your cooking done on 1 day for the entire week. At least for the lunch and dinner. You can easily reheat the, in the microwave. Anyway I leave it up to you. Enjoy the meal plan.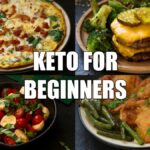 Keto for Beginners - Free Keto Meal Plan
A complete Keto meal plan to get your started
Cook Time

Passive Time

1

hour

1

hour
Cook Time

Passive Time

1

hour

1

hour
Keto for Beginners - Free Keto Meal Plan

A complete Keto meal plan to get your started

Cook Time

Passive Time

1

hour

1

hour

Cook Time

Passive Time

1

hour

1

hour
Crack the eggs into a bowl and season with the salt, pepper, dried oregano and add the heavy whipping cream and whisk well.

Then fry the bacon in a cold pan and once cooked to your liking remove and set aside. Then chop the bacon. If you skipping the bacon just heat your avocado oil in the frying pan.

In the residual bacon fat in the pan add the spinach and cook till it wilts down. Also season with a pinch of salt. Once wilted add in the butter and mix well.

Then pour in the eggs and mix so that the egg hits all parts of the pan and then turn the heat down to low and crumble in the feta cheese and top with the chopped bacon.

Cover with a lid and cook for about 4 minutes on a low heat till the egg is cooked all the way through. You can also fold the omelet if you like or even put the pan under the grill.

Once the egg is cooked, sprinkle the chilli flakes on top and enjoy. This 3 egg recipe is 1 serving.
Using your food scale portion out the meat for the burgers. Now you want to use 115-120g on average per patty. So when you buy 500grams of beef you can make 5 patties of 120g each. Every country sells different size packets so there is no standard but you can basically cook all the burgers in advance depending on how much ground beef you buy.

Once you weighed out your meat shape the patty by hand or in a burger mold. Season both sides of it with salt and pepper.

Heat the avocado oil in a cast iron skillet and when it's smoking hot lay down the burgers and cook for 3-4 minutes till a beautiful crust develops. Use a medium-high heat to cook. When one side is done flip it over, lay the cheese slices on the patty and cover and cook with the lid on for 2-3 minutes so the cheese melts. Remove the patty and set aside.

Remove any excess oil from the pan and throw in the broccoli along with the water and cover and cook till the broccoli is nice and tender. Add in the butter and everything bagel seasoning and give it a good mix.

Serve the burger patties and broccoli. Now 2 burger patties plus about 1/2 the broccoli should be sufficient for 1 serving which is what you will eat. Keep the left overs for the next day. Top the burger patties with gherkins if you like. Jalapenos is also an option.
Cut the cherry tomatoes and the bocconcini into halves and also chop the basil by placing the leaves on top of each other, then rolling them and then chopping it.

Mix 1 tbsp of olive oil with 1 tsp of balsamic vinegar and salt to taste in a bowl and whisk till emulsified. Add in the cheese, tomatoes and basil and mix well.

Enjoy the salad. This recipe is for 1 serving of the salad, you can make a bigger batch and use as required.
Season the skin side of the chicken with salt and set aside for 15 minutes. This draws out some of the moisture from the skin making it super crispy. Also prep your green beans by chopping off the ends and cutting into halves. Prep the spring onion by cutting the white part, the middle part and the green part and keep them separately.

Heat the butter in a non stick skillet and once melted add in the green beans, season with salt and add some water.

Cover and cook with the lid on a medium heat for about 5 minutes or the beans are cooked to your liking. Once done set them aside and get on to cooking the chicken.

Heat the avocado oil in a pan and once it's smoking hot add the chicken in skin side down. Season the flesh side with salt and pepper and let it cook for 5 minutes on a medium-high heat without touching to ensure a delicious crispy skin.

Once done flip it over and cook for another 3-4 minutes and then set it aside to rest.

In the same pan now add the white part of the spring onion and the garlic and cook till the garlic starts to turn golden brown. Then add in the curry power and cook for 60 seconds.

Your chicken should have had some resting juices by now so pour that along with about 50ml of water and deglaze the pan. Add in the heavy whipping cream and grate the cheese in as well.

Now cook this down till it's to the thickness or your liking, Taste for seasoning and add in the middle part of the spring onion.

Serve the chicken with the curry sauce and green beans and finish with the green part of the spring onion. Ideally just throw that into the sauce as well.

This recipe makes about 2 servings. So half the sauce plus half the chicken and half the beans is 1 full meal. So this is basically 2 dinners.