Keto Broccoli Cheese Soup
The big green cheesy machine
There hasn't been a more Keto soup than Broccoli and Cheese. While the original recipe generally includes flour and milk to make a roux to give you a thick soup, it's completely unnecessary. In my recipe I've kept it really simple and used the broccoli stalks which I puree to give the soup body. The heavy whipping cream and cheese as well add body to the soup. It's perfect for a cold winter day and is such a hearty soup it would even warm the cockles of the Night King's cold dead heart. Anyway, enough jibber jabber, enjoy the recipe.
How do you like your soup?
The beauty of soup, in general is that you can have it cold or hot, you can have it thick or thin, chunky or smooth, it's just a wide range of options when it comes to making it. For this recipe I chose to strain it through a sieve for a nice velvety texture but at the same time I left most of the florets intact so I still get that nice chunky bite when eating it. I have used onions and garlic in this soup and if you want to lower the carb count even more you can go right ahead and skip those. To give your soup an extra fat boost just add a tablespoon of butter on it while serving. You can also chop up some chicken and add it and an egg yolk can be added for extra creaminess.
If broccoli isn't your cup of soup, you can try my recipe for a Keto cream of chicken soup or try my Asian style seafood soup.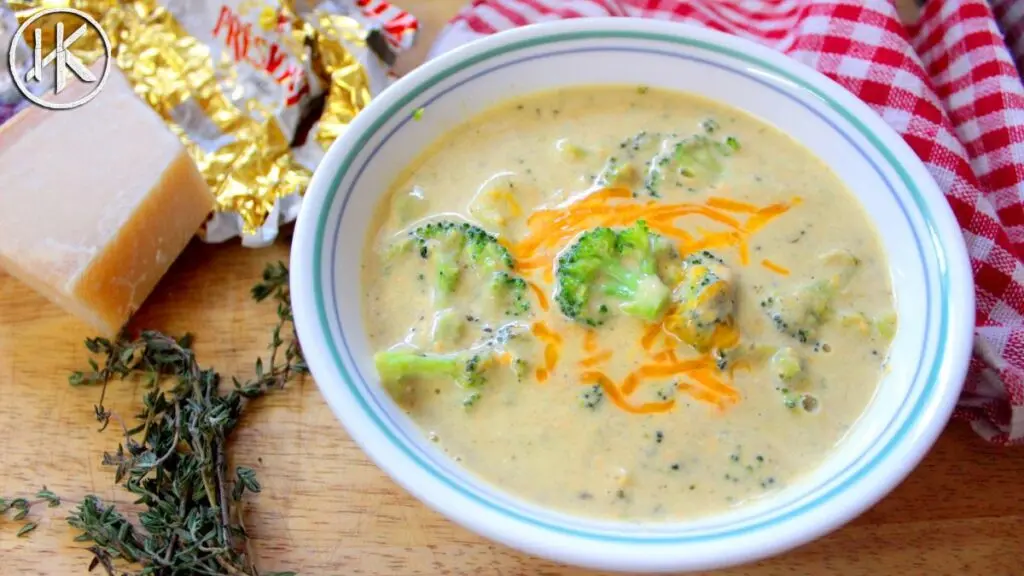 Nutrition Info (per serving)
Calories: 178
Net Carbs: 4g
Carbs: 6g
Fat: 15g
Protein: 5g
Fiber: 2g
This recipe makes 8 servings. Get this recipe on myfitnesspal.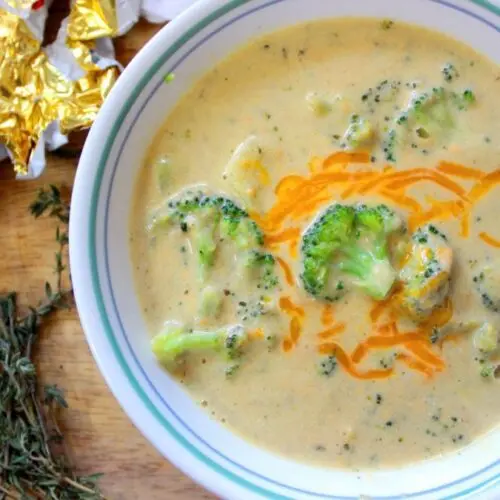 Keto Broccoli Cheese Soup
A rich and creamy broccoli cheese soup
Instructions
Clean and cut the broccoli and separate the florets and the stalk. Roughly chop the stalks and dice up the florets into small pieces.

Heat up a tablespoon of olive oil and a tablespoon of butter in your saucepan and once melted add in one roughly chopped onion and the broccoli stalks

Cook on a medium heat till they start to brown and then add in the garlic

Once you start to see some colour season with salt, pepper, paprika and cayenne pepper and cook out the spices for a minute

Deglaze with chicken or vegetable stock and cover and cook for 5 minutes

Transfer the cooked veggies to a food processor and blend with the liquid till you get a smooth and creamy soup

In the same pan heat 2 tbsp butter and fry the broccoli florets. It's best to start cooking and not move them and allow them to get a nice char for that lovely roasted flavour.

Once they have some nice colour pour the blended soup mixture through a sieve into the pot. For a chunkier soup you can skip using the sieve.

Allow the mixture to come to a boil and then simmer for a few minutes.

Add in your heavy cream and cheese and mix well.

Cook till all the cheese has melted and you have a nice creamy soup. You can at this point use your immersion blender to puree the florets and break them down further if you like

Serve hot!