Time for a Keto dip
It's time for another vegetarian keto recipe and today I'm making THAT roasted bell pepper dip that I used on my almond flour waffles. Unlike the blue cheese dip from my chicken wings episode which I never made and forgot the recipe for I've made sure I got this down and I'm sharing it with you today.
The roasting
You can easily just pop the peppers in the oven and roast them like I did. However I do have another method that will blow the flavour right out the water. Roast the peppers on an open flame using an Indian papad jali and be amazed at the flavour. I used this technique for my baba ganoush recipe.
Nutrition Info (Per serving)
Calories: 68
Net Carbs: 5g
Carbs: 7g
Fat: 8g
Protein: 2g
Fiber: 2g
This recipe makes 4 serving. Get this recipe on myfitnesspal.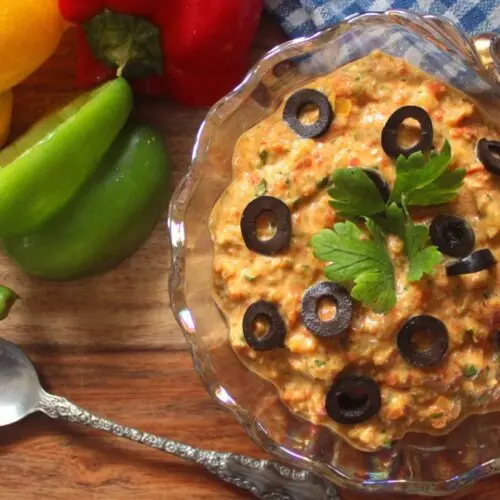 Roasted Bell Pepper Dip
A perfect snacking dip.
Instructions
Cut the bell peppers in half and remove all the seeds.

Place on a roasting tray and roast in the oven for 30 minutes at 220C or till the skins are charred and the peppers soft

Cover with foil/lid and allow peppers to cool and then remove the skins

Blend the peppers, tahini, garlic, parsley, olives, paprika, chilly flakes in a blender and season to taste.

Garnish with some chopped olives and parsley.