The king of rice dishes – The Biryani, now made Keto
It's no-guilt biryani time! Say hello to cauliflower rice Keto Biryani. If you are a desi boy or a desi girl then you've probably had a craving for biryani and been saving it up for one of your cheat days. I've got this slamming recipe for Keto chicken biryani which will save you a cheat day and satisfy all your rice cravings.
Kacchi Biryani and Pakki Biryani
When it comes to Biryani, I personally prefer mutton over chicken. I'm not sure why I made chicken but it might have something to do with the cooking time. Biryani can be made the way I've shown you, everything in one pot which is known as Kacchi Biryani. It can also be made separately, where the meat is cooked on it's own, the rice separately as well and then it's assembled together.  This is called Pakki Biryani. In a carb filled world I would only choose Kachi Biryani. On keto, especially if cooking mutton, I'd go with Pakki. The reason being mutton needs to be cooked for 45-60 minutes on average and cauliflower rice needs all of 15 minutes or maybe 20 at best to cook. Hence the choice. Anyway enjough jibber jabber, enjoy the recipe.
I also realize that this is a rather elaborate dish and it does take some time and it's a labour of love. However, if you want something that's similar, but easier to make, I have just the dish for you. I would recommend that you try my Keto chicken pualo recipe. It's far simpler to make but yields a dish that's full of flavour. Of course, a Biryani, is a biryani and a pulao, a pulao.
Nutrition Info (Per serving)
Calories: 427
Net Carbs: 6g
Carbs: 9g
Fat: 18g
Protein: 59g
Fiber: 3g
Recipe makes 4 servings. Get this recipe on myfitnesspal.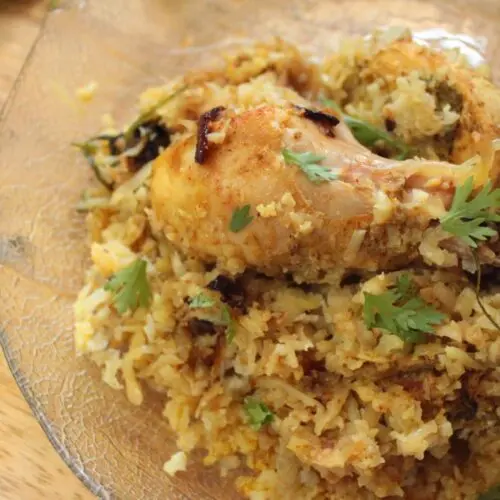 Keto Chicken Biryani
A delicious flavoured cauliflower rice with a curry style chicken.
Instructions
Marinate the chicken overnight with 1 tbsp ghee, yorghurt, coriander paste, fresh mint leaves, salt, ginger garlic paste and all the spices.

Pour some ghee into the biryani handi.

Layer the chicken and then the rice.

Top with the fried onions, saffron soaked in warm water, fresh mint and coriander, kewra and shahhi biryani liquid.

Cook on a low flame for 20-25 minutes till the chicken is cooked through

Serve with a tablespoon of butter to up the fat content 🙂
Notes
Kewra, keora or kewda is an extract distilled from the flower of the pandanus plant. This along with the Shahi biryani liquid are both optional.