Microwave Mug Cake Mania!
What's great about a mug cake? For starters it gets done quickly, it's portion controlled and if you got a good recipe, it's deeeelicious. I've made so many mug cakes on the channel. I've got a chocolate mug cake, a nutella mug cake, a berry mug cake, a peanut butter mug cake etc etc. You get the idea right? You can't have too many mug cake recipes though. I'm a huge coffee lover and I've said it when I made my chocolate and coffee tart and the fact that Tiramisu is my favourite dessert just seals the deal.  It was time that I made an coffee cake. And thus this mug cake recipe was born. I had some vanilla mascarpone frosting left over from my last berry mug cake recipe, so I used that to frost this cake. It was perfect!
Macros and Frosting
Normally I would make one large mug cake and tell you to eat half of it. So it was a better idea to make 2 smaller cakes instead. I also feel that when you frost a large cake you never get enough frosting in each bite so this makes a short and stout cake and it's the perfect size I feel. I also decided to use the left over frosting for this instead of creating something fresh and well it was the perfect flavour combination. You can alternatively use whipped cream on top as well. The idea is just to have something light and creamy to cut through the darkness of the cake. The macros I listed below are inclusive of the frosting as well.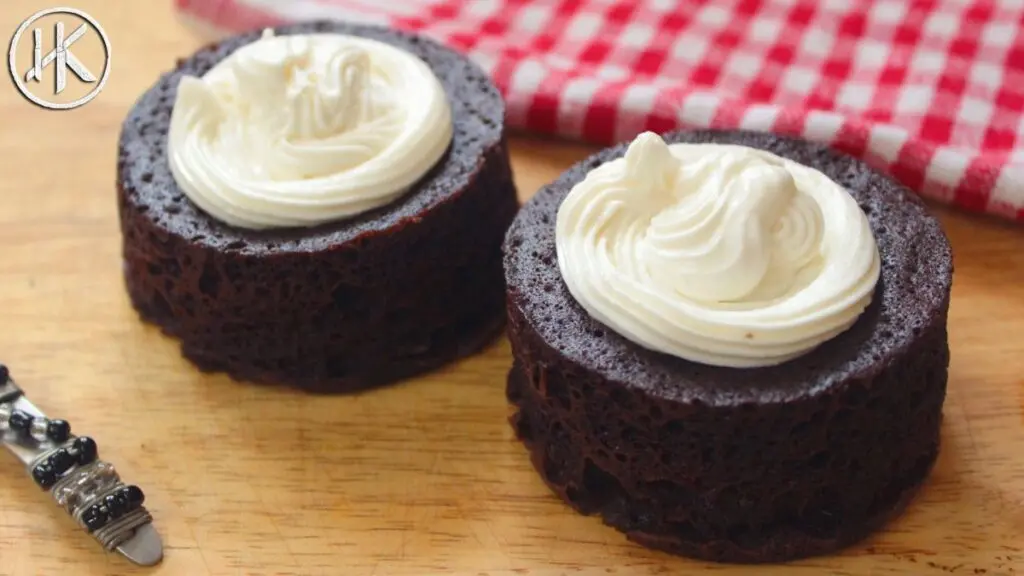 Nutrition Info (Per serving)
Calories: 294
Net Carbs: 3g
Carbs: 5g
Fat: 28g
Protein: 7g
Fiber: 2g
One serving = 1 full cake with frosting. Each cake uses 1 serving of frosting and the recipe for the frosting makes 2 servings. Get this recipe on myfitnesspal. Get the recipe for the vanilla mascarpone frosting on MFP.
Keto Coffee Mug Cake
A delicious mug cake flavoured with coffee and a vanilla mascarpone frosting.
Instructions
Melt the butter in the microwave.

Add in the whipping cream, erythritol and instant coffee powder and mix well

Microwave another 15-20 seconds if needed to dissolve the coffee

Add the vanilla, a pinch of salt and egg and mix well

Then add in the baking powder, almond flour, psyillium husk, cocoa powder and stevia and mix till you get a nice smooth batter.

Transfer to two ramekins or mugs and microwave for a minute each

Top with the vanilla mascarpone frosting or whipped cream and enjoy!