Keto Fish Moilee (South Indian Fish Curry)
South Indian Keto Fish Moilee
This Keto fish moilee is perfect for a spice wuss like me. It's a mild curry flavoured with turmeric and pepper. It's also a dairy free recipe since it uses coconut milk. Normally green chilies are used in this curry.  I leave them out since I'm a spice wuss but if you aren't I'd suggest throwing them in. I've always loved coconut based curries and there are many in Southern India. One of my favourite ones is the Mutton Stew recipe. 
The fish Moilee is a similar but has it's own character. The turmeric, the ginger and the curry leaves bring a comforting feeling to this dish. Not to mention it's super healthy. You can use any fish you like. Fish is a nice clean protein and if you need a way to eat it more often, this is it. 
Where are the tomatoes? 
Like with most dishes there are variations and versions. I've seen many a fish moilee with tomatoes and while they are totally Keto friend I left them out. Mainly to keep the carbs down. Either way you can throw them in if you like but they are mostly cut into quarters and stewed in the gravy. We don't cook them down like we normally do with curries where we sautee and break them down to form part of the sauce.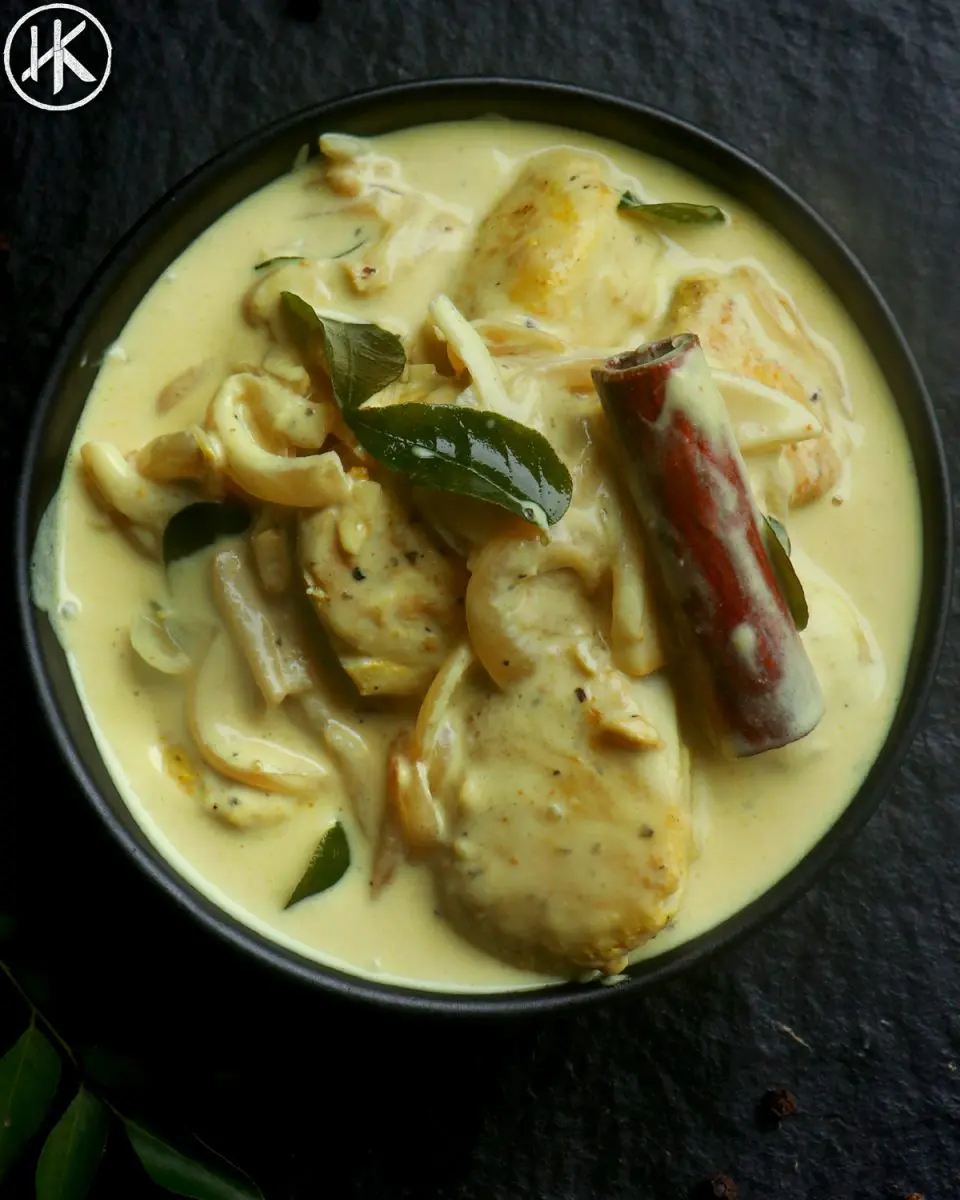 Nutrition Info (Per Serving) 
Calories: 301
Protein: 27g
Fat: 20g
Carbs: 5g
Fiber: 0g
Net Carbs: 5g
This recipe makes 3 servings. Get the written recipe on myfitnesspal.com. 
Keto Fish Moilee (South Indian Fish Curry)
A super easy fish curry
Ingredients
300

grams

Fish Filets

Use any fish you like. I used Seer/Surmai fish filets

200

ml

Coconut Milk

50

grams

Onion

5

grams

Ginger

cut into juliens

5

grams

garlic

roughly chopped

2

Tbsp

Coconut Oil

1

stick

Cinnamon

2

Cloves

2

Cardamom Pods

a handful

Curry Leaves

1/2

Tsp

Turmeric

Juice of half a lime

Salt & Pepper to taste
Instructions
In a bowl mix the juice of half a lime, the turmeric and some salt and pepper.

Add the fish in and mix well. Set aside to marinate for 15 min

In a pan heat the oil and then sear the fish on both sides just to get some colour on it. Remove from the pan and set aside.

Add the cinnamon stick, cloves and cardamom into the pan along with the onion and sautee till the onions turn translucent.

Then add in the ginger, garlic and curry leaves and continue to sautee.

Next add in the coconut milk, season with salt and pepper and mix well.

Add the fish back in and mix well and let the fish finish cooking. Taste for seasoning.

Finish with a bit of pepper and serve.