Juicy, Succulent & Moist
I've had limited experience with authentic Mexican food/cooking. My experience has been limited to probably tex-mex cuisine and that too most of it in India. I've made some dishes myself like my Keto chilli con carne and my Keto tortilla/nacho recipe. However I can't say I've had the pleasure of eating the real deal. This of course wasn't going to stop me from making more Mexican dishes. On the menu today are pork Carnitas.
Pork Carnitas are basically a slow cooked Mexican pulled pork. Carnitas the word itself means 'little meats'. So this is normally had in a tortilla or a taco or something. We have a great Keto naan recipe that would be perfect to stuff with this delicious pulled pork. As I was doing my research I learned that most of the time the pork is cooked in lard (like submerged in lard) along with Mexican coca-cola and condensed milk. This is far from Keto friendly and so I found inspiration from Chef John of Foodwishes.com who had a different take on pork Carnitas. So taking inspiration from his recipe I made the HK Keto Pork Carnitas.
The Citrus
In the original recipe an orange was used which I replaced in my first trial with a Sweet Lemon and finally in this video with lemon. Now truth be told you could use the orange or the sweet lime since it's just the juice, 1 fruit and the rind. It will definitely up the carbs by about 9-10grams perhaps but over the number of servings it will not really do anything to you being in Keto. So it's a choice you need to make but it's definitely do able.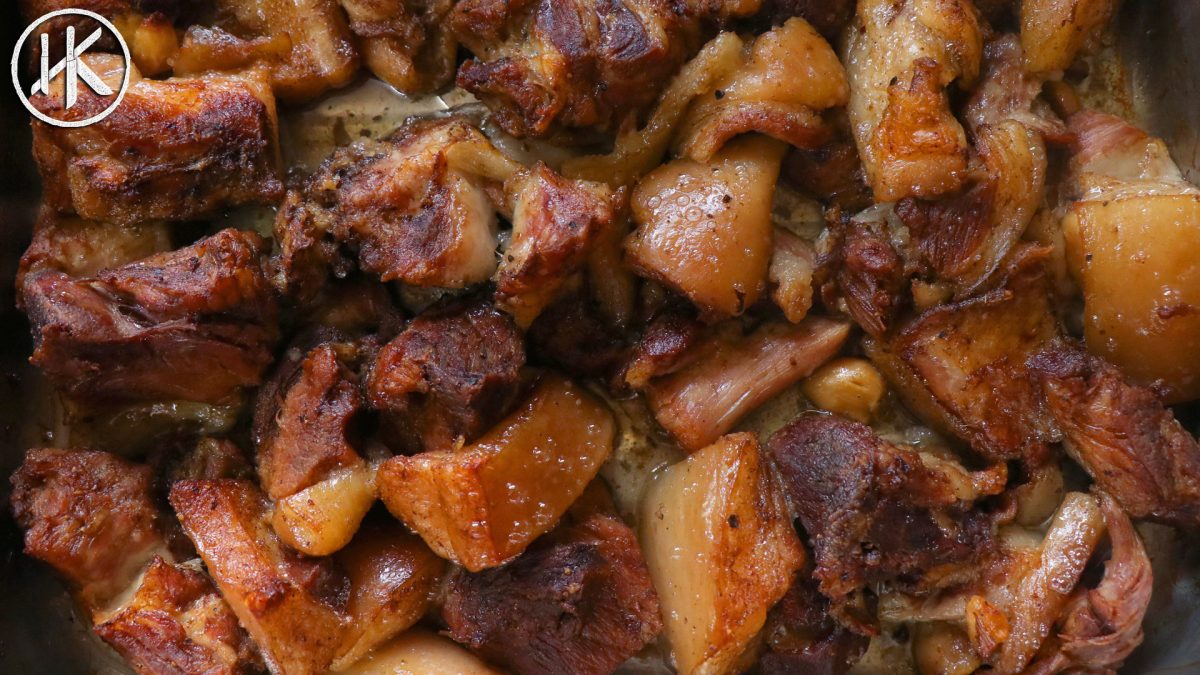 The Macros
This is one of those recipes where I don't calculate the macros because the other ingredients are really inconsequential. Essentially this is a pork shoulder.  Weigh your portion out on the scale when eating and just use a generic listing for a cooked pulled pork. It's pretty straight forward. Pork is definitely one of my choice meats on Keto as it has a really good amount of fat.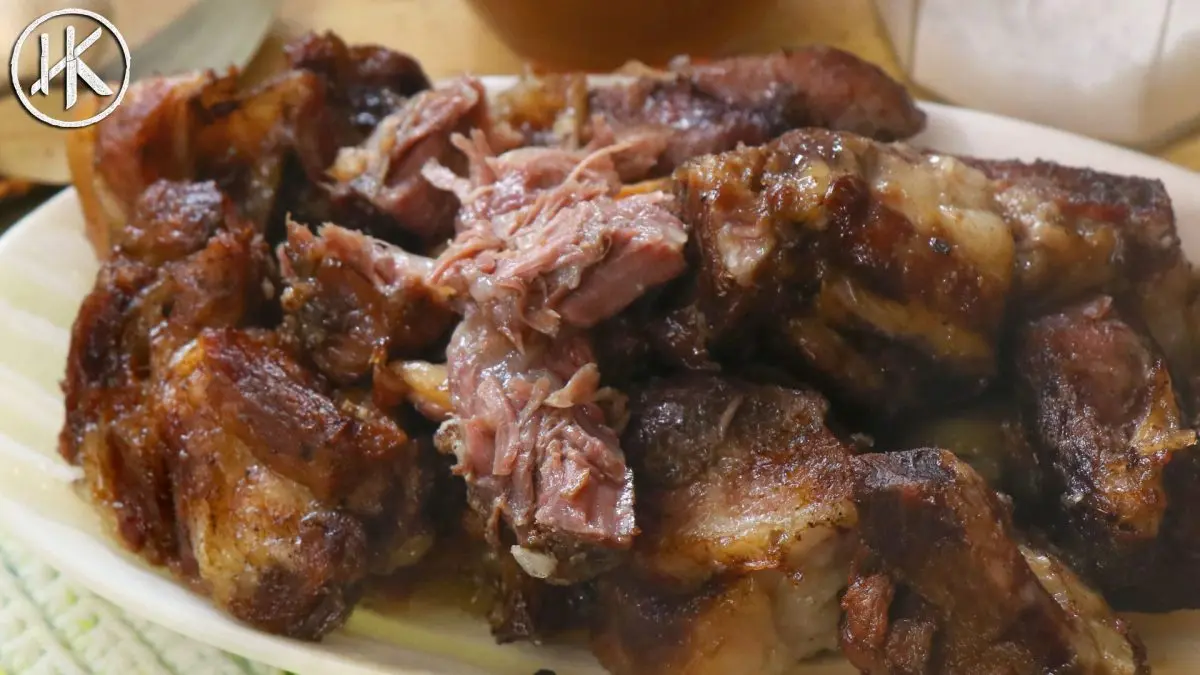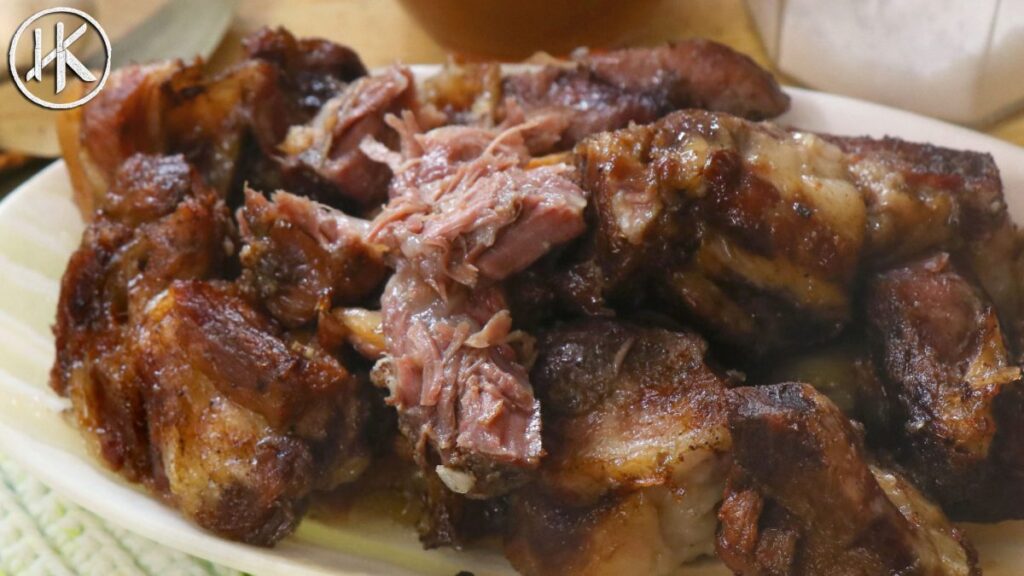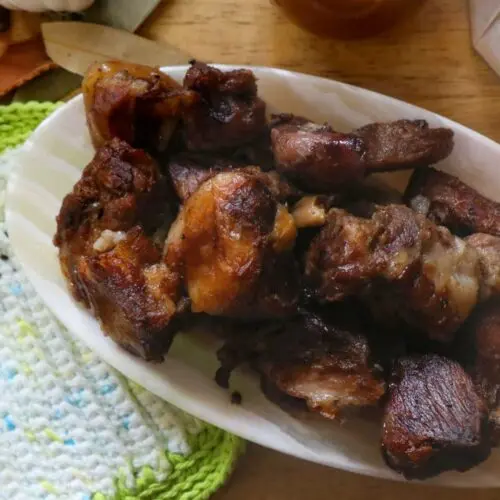 Keto Pork Carnitas
Delicious Mexican style pork Carnitas.
Instructions
Cut the pork shoulder into nice big chunks. Try to make them as even as possible so they cook evenly. You can leave most of the fat on as well. If you don't enjoy pork skin when it's soft and jelly like then remove and set it aside to make crackling with.

Marinate the pork with all the ingredients and place in a roasting tray and cover with foil and cook at 140C for 3 1/2 hours in the oven.

Once the pork is done cooking remove from the oven and using a slotted spoon or a colander, remove the pork pieces and set aside. Pour the liquids from the roasting tray into a jar and set aside.

The roasting tray liquid will slowly separate into two layers, the top will be fat and the bottom the jus.

Return the pork to the roasting tray and pour some of the fat back over it and return to the oven on the highest temperature on the broiler setting and cook for 15 minutes till it becomes nice and crispy.

Once done, remove and then use it as you please. The meat should have a nice crust on it and still be soft and tender and fall apart.