Fat Loss Meal Plan in 2023
Week 2 of Fat Loss Friday: A Free 7-Day Meal Plan for All!
Horns up, and welcome back to my Fat Loss Friday series. This is week 2! In this series, every Friday, I share a comprehensive yet easy-to-curate and free fat loss meal plan for all of you. 
Yes, this year, I am all about the calorie value of foods with a focus on protein for my fat loss plan. So, if you haven't watched the video or read the initial blog, I highly recommend you do so before proceeding to week 2. 
Last year I announced that I would not focus on Keto recipes anymore. But that doesn't mean Headbanger's style Keto diet is long lost. You can still access the recipes on my website and channel. 
Like I said before, this year is all about fat loss, so if you're looking for Keto, feel free to watch my Keto for beginners series as well. But, for those of you willing to sail in the not Keto fat loss boat with me, read on! 
Disclaimer: Do note that I'm neither a doctor nor a trained nutritionist or dietitian. So, it would be best not to take anything I say as medical advice. Do consult a qualified professional if you have pre-existing conditions before trying out my meal plan.
A Quick Recap on How to Lose Weight in 2023
In the first Fat Loss Friday series, I listed 7 extra steps that you need to cover before beginning with my free fat loss meal plan. So, before I give you a full meal plan to help you with your fat loss journey, let me shower you with some tips. 
When it comes to a fat loss plan, these should be your stepping stones: 
Calculate your calories and macros based on your height. You can either use a

free tool online

or check out my

helpful series

on how to do it.

Always keep your meals prepared in advance. If the meals are not prepared or ready to serve, you will end up ordering from outside. 

Try and

eat the same food every day

for a week. So, keep my fat loss meal plan ready to be devoured. 

Bring your focus on the

protein macro

. It helps you retain muscle and lose fat while building mass in your body.

Ensure to

exercise daily

. Focus on cardio and weight, as it will help shed all the fat while keeping your muscles intact. 

And, lastly, do moderate your indulgences. I am not asking you to quit having fun. All I want you to do is keep a check on it.
Apart from these, I also suggested having healthy fruits and munching on veggies as an alternative to unhealthy snacks. In week 1, I showed you my brilliant grilled chicken sandwich for breakfast, fish noodle bowl for lunch and meat with potatoes for dinner.
You can check out this blog for more details on the recipes, alternatives to the proteins and accurate measurements. Now, moving on to the recipes for this week, the shopping list and more! 
Shopping List for Fat Loss Meal Plan
Before we begin the highly anticipated free fat loss plan, I have created a list of ingredients just for you. Go ahead and buy these products as per the quantity you require. 
Yes, you have the full freedom to edit the quantities as per your calorie requirement. I use what I use because of my needs and appetite. 
But, overall, for week 2 of this 7-day meal plan for fat loss, you'll need the following: 
Low fat mayonnaise 

Regular white bread 

Ham slices (You will need 560 grams for the week)

Tomatoes 

Lettuce 

Rice 

Salt and pepper 

White onions 

Bell peppers 

Portobello mushrooms

Garlic cloves

Chicken breasts

Spring onions

Cornflower

Olive oil

Soy sauce

Vegetable, chicken or fish stock cubes

Different kinds of fruits and vegetables for snaking (I had watermelon and oranges)

Regular spaghetti 

Zucchini 

Fresh basil 

Ground beef

Garlic powder

Dried oregano

A packet of chili flakes  (Ones that come with your pizza)

Worcestershire sauce (You might have it from the week before)

Marinara sauce 
Also, if you have stuff left over from last week, you can easily use that up during these meal preparations. You can also check out my shopping guide for Indians. 
On The Menu This Week: Indulge In My Free Fat Loss Meal Plan
The Breakfast: A High-Protein Ham Sandwich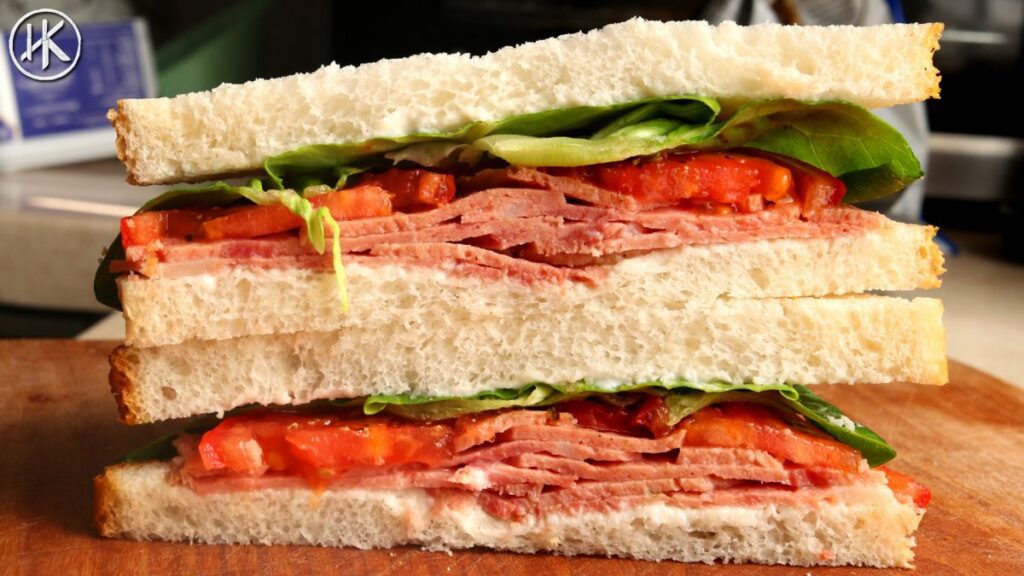 For breakfast in this free fat loss meal plan this week, you will eat a sandwich filled with protein. Ham will be our deli meat of choice because it's easy to find in your supermarket and it's ready to eat. No cooking required. However I do urge you to read the nutrition label to make sure it's mostly meat and less fillers. If you don't eat pork then chicken ham, turkey slice or even roast beef are all good options. 
In my opinion, sandwiches are the best way to start your day! Apart from ham ours uses lettuce, tomatoes and mayonnaise. Besides, this sandwich will be ready in under 5 minutes for your fat loss journey. This way, you can easily make your breakfast fresh every morning.
When it comes to this sandwich it's all about construction and amounts. There is no recipe. You want to make sure the protein is your focus, whatever meat you choose you want to get about 20g-25g of protein from it. Now for vegetarians this might be hard because while you can use eggs even 2 fried eggs will only give you 12g of protein. You can use 3 egg whites which gives you 18g of protein. You can always supplement with a protein shake in the morning. The second component is the vegetables. Tomato and lettuce is a great combination but you can try different ones based on your preferences. Cucumbers, onions, kale, spinach are all acceptable options. And finally the spread. I use low fat mayo because it's convenient. However greek yogurt can be used as can hummus. Just keep the calorie count in mind when making your selection. 
For 1 Serving

Calories

307

Protein

23 grams

Fat

10 grams

Carbs

34 grams

Fiber

4 grams
The Lunch: A Mouthwatering Chicken Pot Rice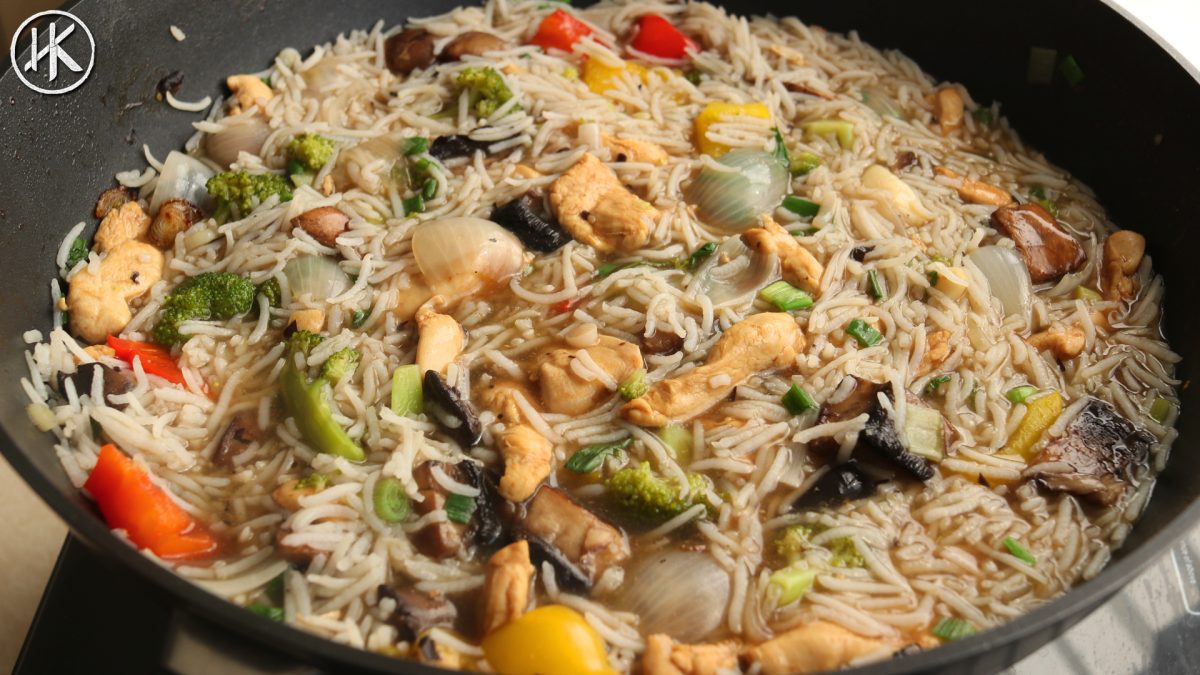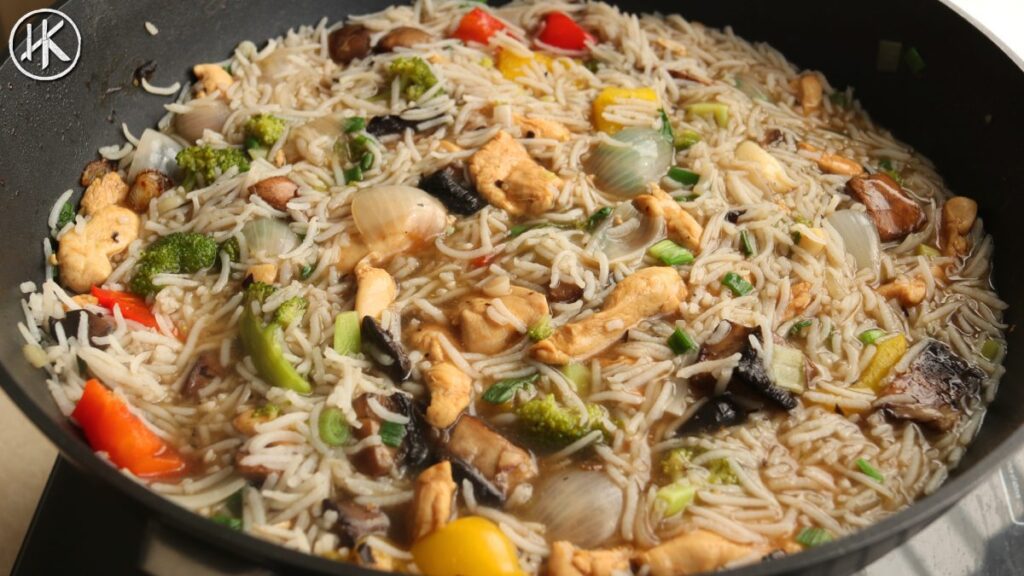 If you are looking for a nutritious, light and healthy addition to your 7-day meal plan for fat loss, I've got just the recipe for you. For lunch this week, we will have a high-protein meal. The dish consists of rice, chicken and some veggies. 
Instead of Basmati rice you can use Jasmine rice. If you aren't a fan of rice then noodles work just as well, of course it's not pot rice, it's pot noodles then.  Just make sure to check the calorie value. 
In my recipe I use vegetables like onions, broccoli, bell peppers, spring onions and portobello mushrooms. Now you can feel free to remove any of these vegetables you don't like and add ones that you do. You could add anything from cabbage, spinach, asparagus to leeks, kale and even meatier vegetables like eggplant. To make your life easier you can grab a bag of frozen vegetables from the supermarket and just throw that in. 
When it comes to protein I stick with chicken breast simply because of it's high protein macros. But feel free to use chicken thigh meat if you use. This pot rice recipe can really be made with any meat you like, sliced beef, fish, pork tenderloin and even lamb. If you are vegetarian then soya chunks are your best protein source. You can however use tofu as well. But do remember tofu, lentils, chickpeas etc while all good sources of vegetarian protein are more carbs than protein. So if you are vegetarian, consider adding a protein shake to all your meal plans. 
For 1 Serving

Calories

326

Protein

26 grams

Fat

10 grams

Carbs

36 grams

Fiber

3 grams
What to Snack on this Week? 
During my free fat loss meal plan, you are always welcome to snack on different vegetables and fruits in between meals and whenever you are hungry. This week, I will eat fruits:
Watermelon – 30 calories/100 grams

Oranges – 47 calories/100 grams
You shouldn't restrict yourself to these two fruits. So, check out last week's snack menu and continue with that. Otherwise, you can eat whatever fruit or vegetable is available in your locality or during the season. But, ensure to check the calories before devouring them.  
Tip: Avoid juicing the fruits.
The Dinner: Spaghetti and Meat Sauce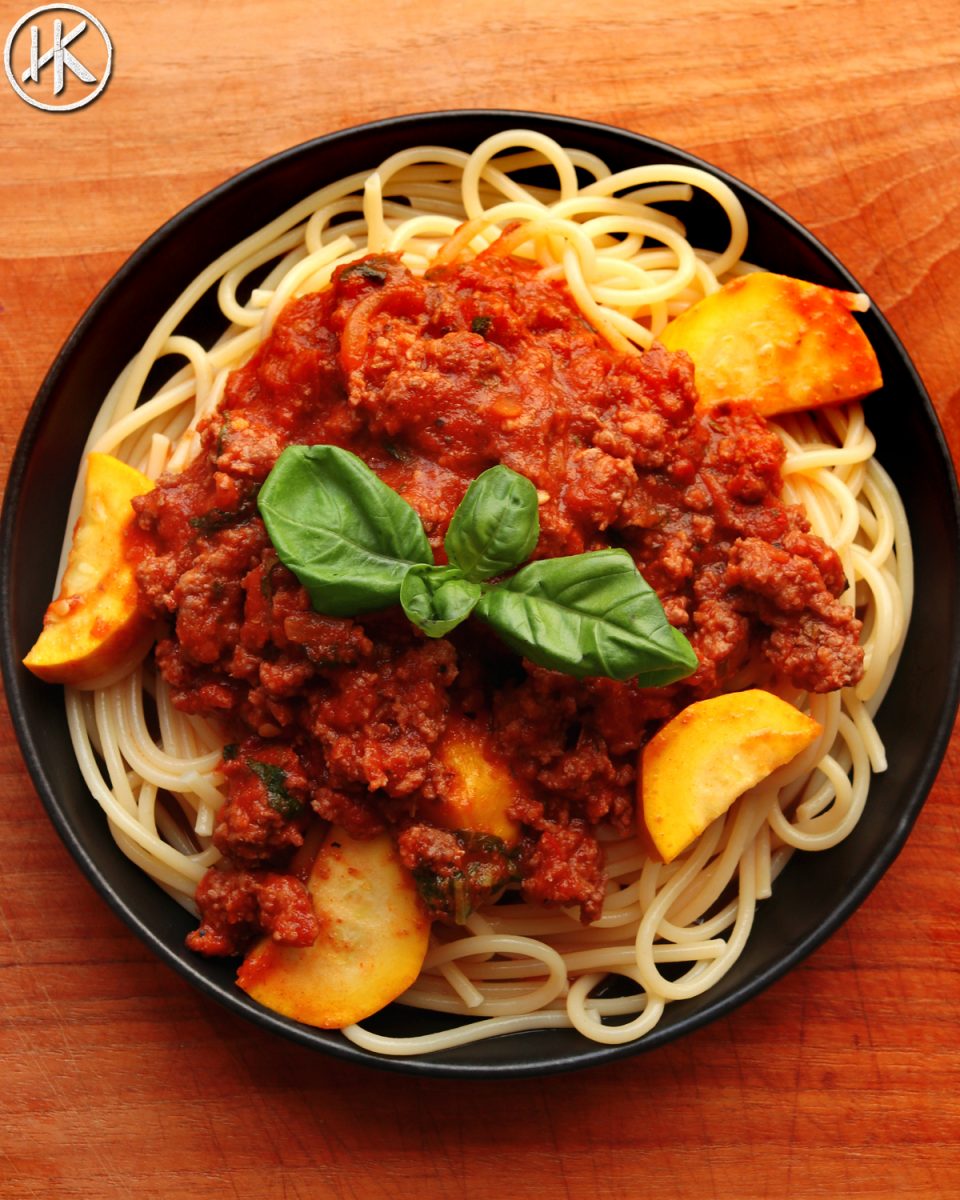 This week's dinner is an Italian classic spaghetti and meat sauce. One twist? This one is done in the Headbanger's Kitchen style! 
It contains zucchini, basil, pasta, ground beef, marinara sauce and spices. You check out my Keto marinara sauce recipe for this or use a store bought marinara sauce.
Instead of regular pasta, you can use my Keto noodles made out of meat. If you are doing that then you need no meat in your meat sauce because you will have enough protein from the meat in the meat noodles.  If that doesn't tickle your fancy, feel free to replace it with zucchini noodles or shirataki noodles for a lower calorie and lower carb option. Or, perhaps, use rice. Yeah, you can have this sauce with anything. 
Instead of zucchini, you can use eggplant or yellow squash. If you want, feel free to skip the basil or add spinach to your dish. As an alternative to beef, you can use ground chicken or turkey. For my vegetarian fam, you can substitute ground beef with soya chunks, eggplant, tofu, vegan meat option, or mushrooms. 
For 1 Serving

Calories

414

Protein

29 grams

Fat

13 grams

Carbs

43 grams

Fiber

2 grams
Note: When you change your protein macro, the cooking time will vary. So, replace the ingredients keeping in mind the calorie range.
Meals for the Week: Fat Loss Edition
I recommend that you eat the stay on course for 3-4 days and then alternative it with any of the meal plans shared in this series. Also, I hope you will make these dishes and enjoy them fully for your fat loss journey. Now, please remember that these serving sizes are based on my calorie requirements, so please calculate yours first! 
Feel free to adjust the portion sizes based on your macro requirements. Now, read on to witness the best 7-day meal plan for fat loss in 2023. 
Week 2 of My 7-Day Meal Plan for Fat Loss: The Detailed Recipes!
This fat loss meal plan is curated for all the health freaks out there!
Ingredients
Breakfast: Ham Sandwich
1 tbsp

Low fat mayonnaise.

Or, you can use regular mayonnaise but adjust the other ingredients to counter the calories

2 slices

White Bread

80 grams

Ham Slices

Fresh Tomatoes

Fresh Lettuce
Lunch: Chicken Pot Rice
150 grams

Basmati Rice

Salt and Pepper

To Taste

2 pieces

Small White Onions

broccoli

2 pieces

Bell Peppers

1 Yellow, 1 Red

2 pieces

Portobello Mushrooms

Garlic Cloves

A few

Chicken breasts

Spring Onions

1 tbsp

Cornflower

½ tbsp

olive oil

Soy Sauce

1 piece

Vegetable, Chicken or Fish stock
Dinner: Spaghetti and Meat Sauce
1 piece

zucchini

50 grams

Regular Pasta

Spaghetti

½ tbsp

olive oil

Ground Beef

Salt and Pepper

As Per Taste

½ tsp

Black Pepper

½ tsp

Garlic Powder

1 tsp

Dried Oregano

1 packet

Chili Flakes

Worcestershire sauce

Mushroom-flavored Marinara Sauce
Instructions
Breakfast
First, get your hands on some low fat mayonnaise. It can be of any brand but ensure that it's light and has low calories. Now, get your handy kitchen scale and measure out the mayonnaise. (Trust me, you'll be surprised at the serving size.) I took 1 tablespoon, which was about 40 calories.

Then, place the plate on your scale to get accurate measurements of each portion. Take two regular white slices of bread to weigh out the calories. And spread half of the mayonnaise on one slice and half on the other one.

Once done, lay out 80 grams of those ham slices on the bread. Top it off with four slices of tomatoes, which you should season with salt and pepper as per taste. Once done, add some lettuce and put the second slice on top. And that's your breakfast in under 5 minutes.
Lunch
Before anything, you need to weigh out 150 grams of your rice. Wash it in running water and strain it out. Keep repeating the process until the water runs clear. I recommend doing it 2 to 3 times for the best results. After this, you can let it soak for 30 minutes.

Once done, get a pot on the stove and add your drained rice, season with salt as per your taste. Then, you can add 300 milliliters of water to the pot. (The ratio of rice to water should be 1:2) When it starts bubbling, lower the heat and cover the pot with a lid. Let it cook till the water disappears. Then, switch off the heat, cover it and let it sit for 10 minutes. After that, you can simply fork up the rice to avoid having sticky rice.

Take two small white onions, cut them into quarters and separate the layers into big quarters. Then, get your broccoli and chop off the flowerets. Get some yellow and red bell peppers which you need to cut into chunky pieces. After that, take your portobello mushrooms and cut them into cubes.

After that, take some garlic cloves and smash them thin. Once done, take the chicken breasts and cut them into thin strips. Lastly, take some spring onions and separate them into white and green parts. After chopping them up into rounds, it is time for us to cook!

Take 1 tablespoon of cornflower and mix it with cold water. The consistency should be like a slurry. Now, heat your wok or pan and put in ½ a tablespoon of olive oil. Once it heats a little, add your chicken breast strips. Then, season it with some salt, pepper and soy sauce to taste. Ensure not to overcook or over-fry the chicken. Once it's done, remove it from the pan and clean the pan of any liquid.

Measure another ½ tablespoon of olive oil in the same pan, add in the garlic and spring onion whites and sauté it. Next, add in the mushroom, and fry it for a minute or two, then add the onions. Keep sautéing it, and then add in the cut broccoli. Give it all a good fry and mix. After that, add a vegetable, chicken or fish stock to the pan. Add in some water. When it starts to bubble, cover and cook it for 2 to 3 minutes till the vegetables are soft.

Remove the lid and add in the bell peppers. Then, add the cornflower slurry we made into the pan. Keep cooking until the gravy is as thick as you want it to be. Once done, add in the cooked chicken. Bring it to a light boil and finish it with the spring onion greens.

Now, this step is optional because you can keep the rice and gravy separate. But, here at Headbanger's Kitchen, I like to spice things up. Even though my pan wasn't big enough, I ignored caution and mixed up the rice with the gravy.

The recipe and quantity I used were enough for 5 servings. So, once you make the entire thing, you must measure how much one serving is. You do that by transferring the chicken pot rice to a Tupperware and measuring it on the scale. For me, it weighed around 1858 grams, which means 1 serving was 371 grams. So, when it's time to eat, I get my bowl on the scale, and I serve myself the exact serving size.
Dinner
I love eating vegetables with every dish, so I will take a zucchini with this recipe. Slice it down the middle and cut it like half moons. Then, take some fresh basil and shop it up thin and nice. You can do this by stacking up the leaves, rolling them as a cigar, and cutting them together. For this trick, you will require a sharp knife.

Take your spaghetti, weigh it and use only 50 grams of the pasta. This will be about 176 calories. When it comes to cooking pasta, you can follow the regular instructions on the pack. For that, you will need salted water on the stove and bring it to a piping boil. Once it starts bubbling up, add in the 50 grams of pasta. For me, it was 10 minutes for well done. When it was boiled, I removed it from the pot and set it aside.

Heat your pan or wok, measure out ½ tablespoon of olive oil and add it. To that, you can add your ground beef, spread it out in the pan, and season it with salt. Then, sprinkle in ½ teaspoon of black pepper and garlic powder. After that, you need to add 1 teaspoon of dried oregano and a small packet of chili flakes.

After adding the spices, you sauté the beef. When it turns a little brown, throw in a splash of Worcestershire sauce. Keep sauteing this for a few minutes. Then, add the marinara sauce. The whole jar was 200 calories for the brand I used. You can also add a bit of water here. Let it cook for 5 minutes.

After that, open it up and add the zucchini, cover and cook for 2 minutes. I usually want my zucchini to be firm in the sauce. Once done, I open the lid and garnish it with freshly chopped basil leaves. Give it one final mix, and it's ready! The quantity I made would be 5 servings, where each would be 234 calories.

Now onto calculating the weight! Transfer the sauce to a container and weigh the entire thing. For me, it was 1098 grams which means I will eat 219 grams of this sauce. To plate everything up, bring out your scale and a plate. Add the pasta to it, and add 219 grams of the meat sauce. You can garnish it with basil, but that's optional.