How to Lose Weight in 2023? 
Detailed Weight Loss Tips and a Fat Loss Diet Plan!
Horns up and a Happy New Year! Welcome back to Headbanger's Kitchen! I hope you all partied hard, ate your favorite foods, and are now looking for ways to lose weight in 2023.
Well, with the New Year's spirit still trickling down my bones, I'm thrilled to present to you a brand new series—Fat Loss Friday! Read on to learn more about fat loss diet plans.
A couple of years ago I stopped following the Keto diet myself and last year I announced on the Youtube channel that I would no longer be creating Keto recipes. However that doesn't mean that my Keto recipes are going anywhere. They will continue to remain on this website and on my channel and you can always refer to them. 
The start of the new year is always the start of a new diet plan. This year instead of weight loss I want to focus on fat loss. For those who are doing Keto or more inclined to try losing weight with Keto you can still refer to my Keto for beginners series and a full bank of Keto recipes. I wish you all the best in your Keto journey! And for those joining me on this new fat loss journey, stick around. 
My Goals for this Year — The Ultimate Free Meal Plan 
I'm venturing into the true essence of health and fitness with my brand new free meal plans covering all things weight loss related!
In 2023, y'all can witness my take on the importance of sustainability through fat loss recipes and building good habits. Basically, we will be covering how to make small yet sustainable lifestyle changes for weight loss that we can actually adhere to. 
Now, here's what you can expect from the Fat Loss Friday series. Every week, I will give you the plan to assist you in your fat loss journey. Along with that, you can also find tips, tricks and best practices for physical fitness curated by yours truly. 
Trust me, if you want to lose weight in 2023, these epic recipes and 7-day meal plans will be your goldmine. 
Hold on, Before We Dive into the Recipes, Read These Weight Loss Tips!
Losing weight is not about being lean, it's about reaching a healthy mass as per your height. I believe that we don't exactly want to lose weight but body fat. Why is that?
Well, weight loss can signify the loss of water weight and muscle loss instead of fat. But we want to lose as much of the fat as possible without losing much muscle in the process. In short, the idea is to be at a healthy body fat percentage and focus on your overall health and fitness.
Indeed, my healthy meal prep ideas for a fat loss diet will help keep your health in check. Here's my weight loss journey for some new year inspiration! Intrigued and want to lose weight in 2023? Well then, let's hop on to the tips before the 7-day meal plans. 
#1. Calories Matter 
Irrespective of the diet that you're doing, it all boils down to "calories in vs. calories out." If you want to lose weight, you will have to eat in a calorie deficit. Yes, this might seem simple at first glance, but it's not that black and white. Indeed there are some nuances to it, which I might get into in a later blog. 
But, in general, if you're losing weight, it's simply because you're in a calorie deficit. If you aren't, that means you are not in one. You can then either eat less food or add exercise and activity that will increase your calorie expenditure while keeping your calorie intake the same. 
#2. Calculate Your Daily Calorie Requirement And Macros 
It's important to calculate your calorie requirements along with the macros. Want to know how to be at your peak physical health by doing this? 
Well, here is a series for that as well. Here I will teach you:
How to calculate your calorie requirement for the day 

How to log your calories properly

Step-by-step guide to losing weight 
You must understand how to calculate your macros and calorie requirement if you want to lose weight in 2023. So, I recommend that you do this to recognize how much food you need to eat daily for fat loss. 
For example, let's assume you require 2 Kcal a day. In that case, you need to eat less than 2000 calories to lose some weight. So, if you know this number, you can easily figure out how much food you need to consume. And look, these numbers are 100% accurate but they give you a ball park figure to work with. 
#3. Always Meal Prep
I have always said this and will say it again—preparing your meals in advance is going to set you up for success. This is something I highly recommend doing! 
Most of the time, we make bad decisions when we are hungry, and there is no food in the house. If you have meal-prepped, you will always have your meals at your disposal. 
You'll love this because you have all my meal prep ideas executed and ready to go. All you need to do is pop it in the microwave and enjoy a healthy and delicious meal. Otherwise, you will be calling for takeout, and you will generally go off plan. So, ensure that your meals are prepared properly!
#4. Eat the Same Food 
Now, most of my recipes are 7-day meal plans. So, what is the reason behind it? Well, yes, eating the same food every day can get boring. But this is what is going to help you stay on track and lose weight in 2023. 
Don't get me wrong—if you have the time, energy and patience to make fresh meals every day after calculating the macros and calories, please feel free to do that!
However, most people don't. That is why, if you are eating the same food, it basically sets you up for success. Here's how!
Imagine your meal is 1200 or 1500 calories. You have prepared it carefully and ate the same thing throughout the week. Doing this, you know that you are on the right track. Hence, you don't need to worry about recalculating or weighing out the portions again. 
In my books, this is a great thing to do, but I understand that sometimes you may get bored. In that case, at least try to eat the same food for 3-4 days a week. 
It'll help you have variety while maintaining consistency in your weight loss journey.
#5. Focus on the Protein Macro 
I suggest you try and get 20 to 25 grams of protein with every meal you eat. Protein is crucial in your diet as it helps improve digestion while repairing tissues and more. Not only that, it's an essential macro-nutrient that helps maintain your muscle, builds mass and is the building block of life. 
So, focus on protein as it'll help you retain muscle while you are losing fat with my weight loss tips. Don't worry, I will create a separate video highlighting the importance of protein macros for physical fitness. 
#6. Ensure to Exercise 
It's essential that you work out for proper health and fitness—both cardio and weights! 
You can focus on strength training while doing cardio daily. I suggest you also lift weights as it'll help maintain your muscle. So, when you lose weight, you lose more fat and less muscle. This will help you avoid looking skinny fat. 
Note: Cardio is good for your heart health and overall well-being. 
#7. Moderate your Indulgences 
Life is about enjoying yourself. And, for many of us, food is a great source of enjoyment. So, there is no reason to deprive ourselves of meals that we love. When on a fat loss diet, what we can do is moderate it! Let me give you an example. 
I love having burgers and fries. Now, if I'm going to eat these, I know that they have 600 calories and 400 calories, respectively. So, I'll probably eat half of the burger with half the fries for one meal. 
Then, the leftovers will be another meal for me. This way, I get to indulge but not overconsume anything. Similarly, if I go out drinking and overeat the next morning, I'll have a light breakfast (maybe a fruit) to compensate for the night before. 
These can be small but significant lifestyle changes for weight loss. But don't deprive yourself because it leads to binge eating. (sharing from personal experience!) 
Note: You can use intermittent fasting after indulgences. 
Enough jibber jabber; now, let's get to the meal plan!
Shopping List for this 7-Day Meal Plan
You can customize this as per your needs to suit your calorie requirements, especially the quantity. Do note that the quantities will vary based on your calorie requirement. Nonetheless, here is the ingredient list: 
Purple cabbage (Or, regular cabbage)

Arugula lettuce (Or, regular lettuce)

Salt

Pepper

Lime 

Low-fat mayonnaise 

Yellow mustard 

Worcestershire sauce 

Chicken breasts 

Barbeque spice rub 

Olive Oil or Avocado Oil

White bread

Dried shiitake mushrooms 

Fresh bok choy (Chinese cabbage)

Beef stock cubes (You can also use fish or chicken stock)

Dark soy sauce

Oyster sauce 

Tilapia fillets (Or any kind of white fish would work)

Pan spray 

Paprika

Garlic power 

Rice noodles (or any other noodles you want to use)

Furikake seasoning (Or sesame seeds)

Coriander leaves (optional)

Fillet of beef (Get whatever steak cut that's affordable and available) 

Russet potatoes (or whatever is available in your country)

Butter 

Spinach 
Munchies: Snacks All the Way!
What if you get hungry between lunch and dinner? Well, I've got an answer for that, as well:
Oranges – 47 calories/100 grams (Or apple)

Dragon fruit – 60 calories/100 grams (Or watermelon) 

Carrots – 41 calories/100 grams 

Cucumbers – 15 calories/100 grams
These are the fruits and vegetables I like to eat. You can buy whatever your personally like and/or is in season where you live. Eat the whole fruit, do not juice it. It's very hard to over consume fruits and vegetables. So don't stress about the quantities.
The Free Meal Plan Menu —  Best Recipes to Lose Weight in 2023
The Breakfast
Chicken, slaw and bread! This makes up a perfectly healthy breakfast as the first meal in your fat loss diet. All you need to do is create the slaw by chopping up the leafy vegetables and tossing it in mustard, lime juice and low fat mayonnaise. You can substitute the mayo with some sour cream or Greek yogurt. 
Then, you need to sear the chicken breast in a non stick pan with pan spray or a tsp of oil . Assemble the sandwich and enjoy. 
Instead of chicken breast, you can use fish, pork, turkey, chicken slices, tofu, paneer or beef. Similarly, you can use lettuce  if you don't want to use cabbage or perhaps fresh tomatoes and cucumbers. However, ensure that you are replacing it with vegetable components only.
Why choose this?  This dish is high in protein and extremely delicious! You can prep all the chicken in advance along with the slaw and store it in the fridge. Assemble your sandwich fresh every morning. Feel free to toast the bread but remember if you add butter or oil that is going to increase the calories. 
From 1 Serving

Calories 

348

Protein

30 grams

Fat

11 grams

Carbs

28 grams

Fiber

3 grams
The Lunch
For lunch, we will be having a heartwarming noodle bowl with fish and veggies. Take any type of white fish, and sear it in a non stick pan with pan spray. Instead or fish you can use chicken breast, lean pork or lean beef as well. The broth will consist of mushrooms, some sauces and bok choy.  Vegetarians can skip the fish and add more vegetables to make this a hearty dish. I do however recommend adding in some protein either tofu or perhaps soy chunks. 
You can substitute the mushroom or bak choy, with asparagus, baby corn, broccoli  or bell pepper. Well, do use any kind of veggies that will go well in a noodle bowl dish. And, as a substitute for the noodles, you can use rice instead. To make this recipe Keto/Low carb friendly you can swap out the rice noodles with shirataki noodles or zucchini noodles. 
Guess what? This will be a super light yet mouthwatering lunch that is packed with the right kinds of protein. 
From 1 Serving

Calories 

430

Protein

30 grams

Fat

12 grams

Carbs

57 grams

Fiber

3 grams
The Dinner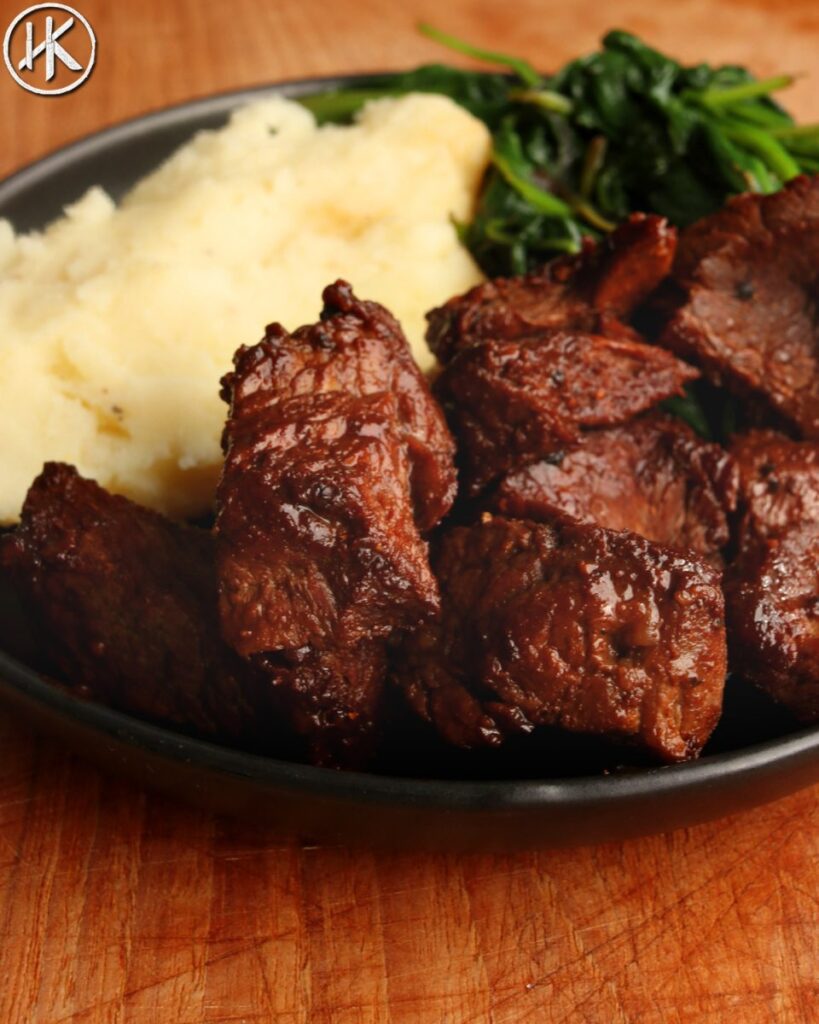 I've got an amazing diced steak recipe served with creamy mashed potatoes and spinach for dinner.  This recipe requires us to dry brine the meat in a fridge, preferably overnight and cook it twice on the stove. 
Now if you don't like or eat beef you can use chicken, lean pork or even lamb meat for this recipe. My vegetarian friends can use eggplant or tofu. What you would want to do is pan sear the eggplant or tofu and then create the sauce the same way and fry the eggplant or tofu twice.
 Brussels sprouts, asparagus, broccoli etc are all acceptable swaps for spinach. To make this low carb/Keto friendly you can swap the potato for cauliflower. This will allow you to add more butter and even cream to the mashed potatoes since boiled cauliflower is 23 calories per 100g while potato is 87 calories per 100g. That frees up and extra 60 odd calories. 
From 1 Serving

Calories 

460

Protein

31 grams

Fat

26 grams

Carbs

25 grams

Fiber

5 grams
Note: If you change the proteins, the cooking time will vary. And when you are replacing ingredients do ensure that the calories are more or less similar. 
That's all for my delicious 7-day meal plans in your weight loss journey this 2023. You can also customize this meal plan as per your requirements to suit your calorie requirements, especially the quantity. 
So, are you ready to lose weight in 2023? Leave a comment down below and let me know what you think about these recipes and the weight loss tips I shared. 
7-Day Weight Loss Plan
A complete 7-day meal to help you with your weight loss journey.
Ingredients
Breakfast: Grilled Chicken Sandwich
200 grams

Purple Cabbage

50 grams

Arugula Lettuce

Salt and Pepper

As per taste

Juice of half a lime

15 grams

Yellow Mustard

500 grams

Boneless Chicken Breast

Barbeque Spice Rub

1 Tsp

olive oil

Two slices

White Bread
Lunch: Fish Noddle Bowl
250 grams

Dried Shiitake Mushrooms

Fresh Bok Choy

1

Beef Stock Cube

You can also use fish or chicken stock

1 Tbs

Dark Soy Sauce

1 Tbs

Oyster Sauce

Tilapia Fillets

Salt, Pepper, Paprika and Garlic Powder

As per taste

Rice Noodles

>1 Tsp

Furikake Seasoning

Corriander Leaves

Optional
Dinner: Meat and Potatoes
Fillet of Beef

Get whatever steak cut that's affordable and available. For this, I got a whole tenderloin

Garlic Powder, Salt and Pepper

As per taste

500 grams

Regular or Russet Potatoes

1 Cube

Regular Butter

1 Tsp

Avocado Oil

Spinach

1/2 Tbsp

Worcestershire sauce

1 Tbsp

Dark Soy Sauce
Instructions
Breakfast
Cut the cabbage into thin and fine slices and add it to a bowl. In the bowl, mix in some chopped lettuce. Add salt and pepper as per your requirement. Then, add the juice of half a lime into the veggie mix. Put in the 75 grams of mayonnaise and 15 grams of mustard. Once done, drizzle the sauce in the mixture and give it a good mix. And, your slaw is ready!

Clean the chicken breasts and season it with a barbeque spice rub, as per your taste. Ensure that both sides of the breast is neatly covered with the spice rub. Then, in a non-stick pan, heat a teaspoon of olive oil. Add in the seasoned chicken breasts and let it cook for 3 to 4 minutes on each side (Flip it once!). To ensure a perfect temperature, check the thick part of the meat using a meat thermometer (160℉ or 70℃). Once it reaches that temperature, take it off the pan and let it rest and cool down. Cut the breast into small slices for the sandwich. After that, it will be moist and juicy and not tough or dry.

Now it's time to assemble the sandwich. First, you will need to get your friendly kitchen scale to weigh everything. Put the bread on the scale and lather it with 60 grams of that delicious slaw we created. Then, you put in 85 grams of chicken and season it with salt and pepper. Once you cover it with the second slice of bread, you can cut it down in the middle. And there you go, our grilled chicken sandwich is ready! Psst, it is a great grab-and-go breakfast if you make it in advance.
Lunch
Take the shitake mushrooms and wash them under running water. Add them in a bowl and soak them in some boiling water. Keep the mushrooms soaked in the water for 30 to 40 minutes After that, remove the mushrooms from the water and give each piece a good squeeze to remove the excess water. Slice the mushrooms and remove the stems because it will be chewy in your mouth.

Take the bak choy and cut it at the base to separate the leaves and wash it. Take the mushroom soaking water and strain it to remove any dirt or impurities. Add some water to the strained liquid to make it 500 milliliters. After that, pour that into a saucepan and add a little more water because I like it brothy. Add beef or chicken or fish stock in the water and add 1 tablespoon of dark soy sauce and oyster sauce and bring it to a boil. Once it bubbles, add in the bak choy, cover it and let it cook for about 3 to 4 minutes. Once they are tender, remove them from the broth and 50 grams of the shiitake mushrooms and cover and cook for 3 to 4 minutes (The mushroom now absorbs all the brothy flavors). Then, remove the mushrooms and save that broth for later.

Get a pan on the stove and put some pan spray on it. Season the pan with some salt as per your liking and put in the fish fillets. Then, season the side with some salt, paprika, garlic powder and pepper as per your taste. After about 2 minutes, flip the fillets and let them finish on both sides. (Since these are thin fillets, it will only take 4 to 5 minutes to cook). Once done, remove them from the pan.

Now, cook the noodles fresh for each meal as it only takes 3 minutes. All you need to do is get some of that broth in a pot and boil it. Then, add one brick of the noodles and cook until it softens. Once done, remove them and add the noodles to a bowl.

Once you are ready with everything, it is time for you to assemble the bowl. First, get the broth, noodles, bok choy, mushrooms and fish in a container. Use a kitchen scale to measure it precisely for every meal. There should be 150 milliliters of the broth, 85 grams of cooked fish, 75 grams of bok choy and 50 grams of mushroom in the bowl. Once assembled sprinkle it with some furikake, but ensure that it's less than a teaspoon. You can also garnish it with coriander leaves, and there you have your lunch to lose weight in 2023!
Dinner
Get your beef steaks on a wire rack. Season them with a good amount of garlic powder, salt and pepper on both sides. Pop them in the fridge to dry brine. If you can do this overnight, then it'll be great, but if not, you can keep it there for 20 to 30 minutes. Once done, take an iron skillet and heat some oil. When it's ripping hot, put in your steaks. Get a nice sear on all the sides of the pieces. Once cooked, remove it from the pan (Don't worry about the doneness, because we will be cooking them twice). Then, remove them when done and let them rest.

In the same pan, add a packet of spinach and water. Cover with a lid and let it boil or wilt down for 2 minutes (Ideally, season it with some salt). Let the liquid cook out and remove the spinach from the pan.

Use the same pan, add 3 tablespoons of water, half a tablespoon of Worcestershire sauce and 1 tablespoon of dark soy sauce. After it bubbles, season that with pepper to taste. Now, you can reduce that down to a glaze (Syrupy consistency). Just add in the steaks and cook it on a high heat. Keep tossing the pieces until the glaze coasts all of them. Once done, remove it from the pan.

Peel your potatoes properly. Cut them into medium size cubes to help them cook faster Wash them under water and let them sit in it for a bit. Get a pot of water and stir in some salt (Turn it into the sea!). Drain and add the potatoes. You can turn the heat on and cook it for 20 to 25 minutes with the lid on. Then, check if the potatoes are boiled by running a knife through them. Once done, get them out of the pan. Add some butter in a bowl, get the potato ricer and rice the hot potatoes into the bowl. Watch the potatoes come out fluffy and perfect. Season it with pepper and mix it with a fork and then mash it with a spatula.

Now, it's time for you to plate up the beautiful dish for your weight loss journey. As usual, get out your scale and add 100 grams of mashed potatoes, 100 grams of cooked spinach and another 100 grams of that steak. For the steak, you get 280 calories, 157 for the potatoes and 22 for the spinach. And that's your full dinner!