Next Level Grilled Cheese
Brisket grilled cheese? YES PLEASE. I love beef in all shapes and forms but there is something special about brisket. Perhaps it's all the American BBQ videos I watched that romanticized the brisket for me. Perhaps lots of cross section shots of brisket oozing juices. And probably from watching Aaron Franklin's masterclass as well. The brisket is right up there in my top 3 ways to eat beef. 
Now unfortunately brisket was hard to come by in India. However the barbecue scene in India has started to grow and we have a whole bunch of people across the country smoking meats. I've eaten brisket in Bangkok and Vietnam and recently some home grown places. This particular brisket I got from Smoke Culture by Steve from Kochi. Of course when I say beef I mean water buffalo or whatever is legal in my state. 
Given my love for sandwiches I couldn't pass up the chance to whip up a brisket grilled cheese. 
Is that it?
My sandwich is really made up for a few components
Brisket – This is the star of the show. You got to get the best brisket from your fav BBQ place. Try and buy the point section since that's the juicier and fattier part. You can also use the flat that's not an issue, just make sure the slices are nice and thin then. 
Bread – Plain old white bread will do a trick as well. I personally like to go with sourdough as it holds up nicely against the brisket and can really build a big sandwich 
The Sauce – Barbecue sauce plus mayo. It's that simple. I don't like to spice up and cover the flavours of a brisket. You can add hot sauce if you like but for me I was as little else as possible apart from the bread, cheese and brisket. 
Cheese – I like to use a nice cheddar cheese. Nothing too fancy or two aged. Just a mild cheddar. American cheese is great too. I normally go with one slice but since I filmed this for social media it had to have two. 
Butter – Got to butter the outside of the bread and grill the sandwich it's that crisp buttery exterior that really makes a grilled cheese for me and none of that put mayo outside nonsense.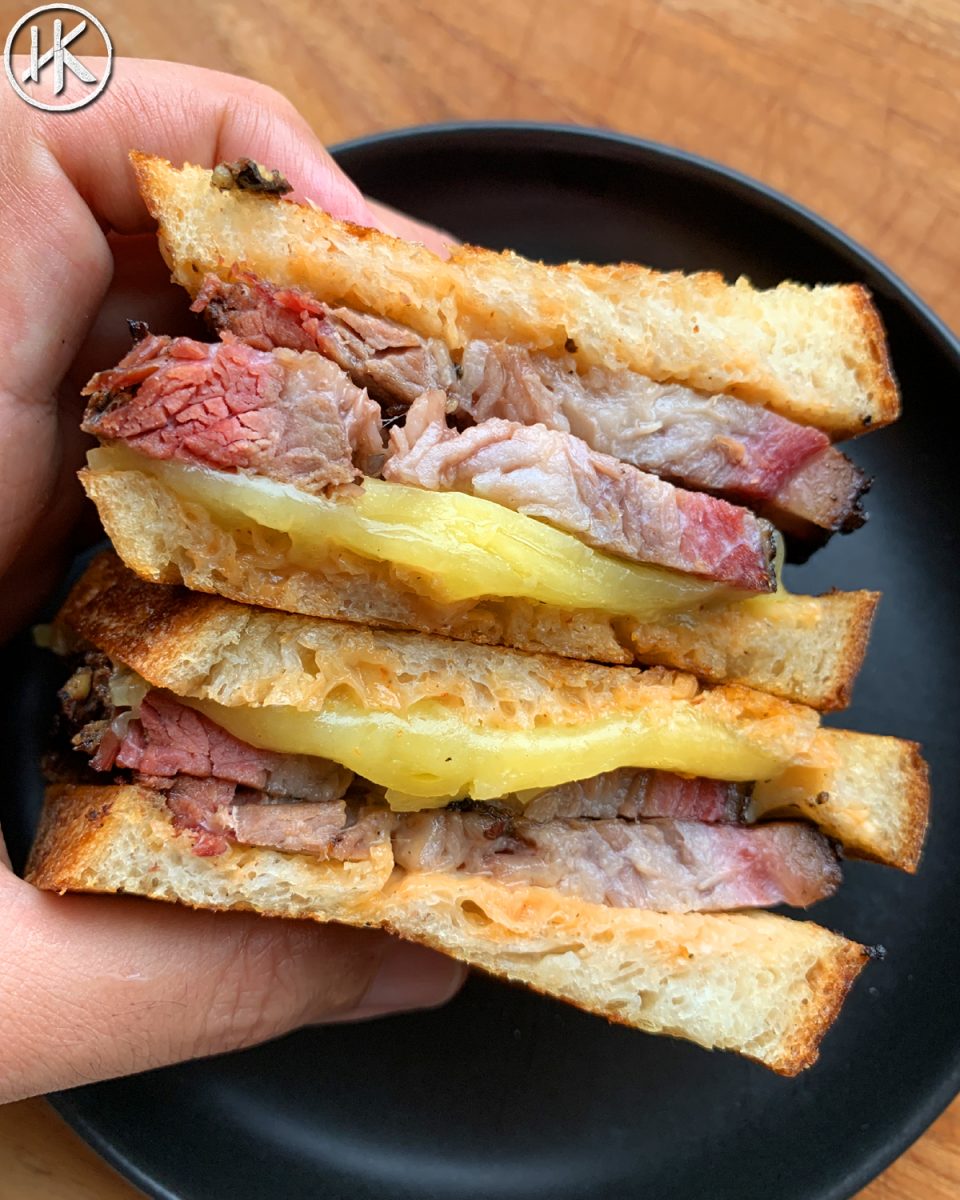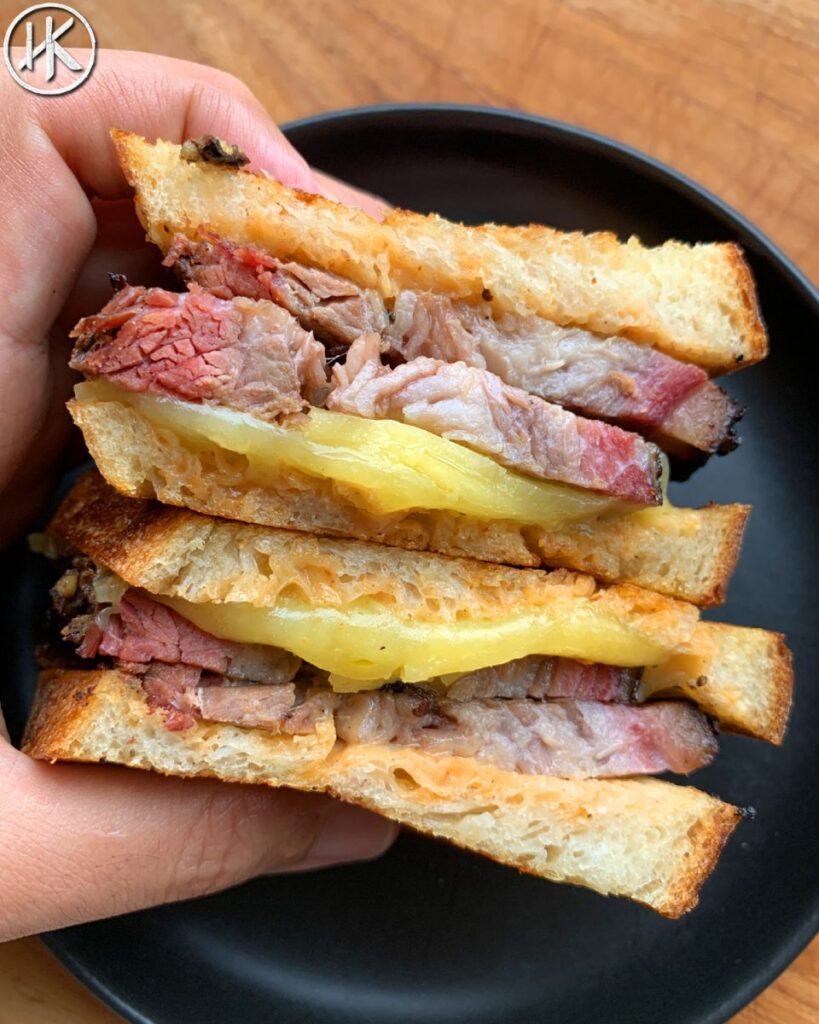 Brisket Grilled Cheese
A brisket grilled cheese
Ingredients
2

Slices

Sourdough Bread

2

Slices

Cheddar Cheese

2

Slices

Brisket

Nice thick slices from the point

1

Tbsp

Mayonnaise

1

Tbsp

Barbecue Sauce

butter, as needed
Instructions
Make sure your brisket is at room temp or just heat it up in your pan

Mix the mayo and bbq sauce to create your grilled cheese sauce.

Spread the sauce on the inside of both slices of bread. Layer the cheese and the brisket and then close the sandwich

Melt some butter on your pan and place the sandwich on it. Put some pots and pans on top to weight down the sandwich.

Once the bottom is crispy and golden butter the top slide and flip the sandwich

Once done, remove, cut and serve.

Enjoy