Learn How to Make a Killer Indonesian Grilled Chicken | Ayam Bakar Recipe
Horns up, and welcome back to another quick recipe. Today, we'll be making an Indonesian grilled chicken dish, popularly known as Ayam Bakar. One day, I went through my pantry and found a BBQ chicken paste I bought from my trip to Bali. 
I also tend to eat some form of "chicken rice" 5-days a week due to my meal plan. So, I made this recipe as it's excellent for my meal prep, and I managed to use up that paste.
Yeah, you will see many chicken rice recipes on my blog! This is what my general lunch is, basically. Sometimes it'll be a Thai curry, Korean curry or Hainanese chicken rice. 
You can learn more about my meal plans by watching my Fat Loss Friday series. Now, enough jibber jabber, let's start with the Ayam Bakar recipe.
What is Ayam Bakar? 
Before I get into the details about this recipe, I wanted to introduce you to this dish. In Indonesian cuisine, Ayam Bakar is considered the most traditional chicken dish. 
Even though we refer to it as an Indonesian chicken curry, it is also inspired by Malaysian cuisine. Did you know that the term literally translates to "grilled chicken?" Well, this dish is ideally a charcoal-grilled chicken breast simmered in a pot with rempah or bumbu spices. 
The sauce in which the chicken is cooking gets reduced, and then the meat is grilled till it develops a caramelized color. 
Usually, they serve it with cucumber slices, white rice, tomatoes and glaze it with an Indonesian sweet soy sauce. It tastes rather sweet, which is a treat for a spice wuss like me. 
I am sure your mouth is already watering! 
What is in the Paste? 
In the recipe, I used a store-bought paste to create the sauce base for this chicken. I picked up this in Bali when I vacationed with my wife. As usual, I forgot about it, and it's been sitting in my pantry for almost a year. 
It was actually expired as per the packaging, but I thought of using it anyway. Why? Well, pastes like these don't "actually" expire as per the date mentioned, but it does lose a bit of that flavor. 
The instant spice paste I used was an authentic one for Ayam Bakar. It was made from the Bumbu spice mix containing onions, garlic, vegetable oil, laos powder, salt and pepper. 
Besides, it also had cooking instructions on the back that I (sort of) followed for making this Indonesian grilled chicken. Along with this, I also used kecap manis which is an Indonesian sweet soy sauce. 
Alternatives and Tips for Making this Indonesian Grilled Chicken
I cannot really suggest any good alternatives for this dish. But I recommend adding veggies to the recipe if you want some greens. Broccoli, zucchini and pakchoi would be ideal choices. 
I suggest getting your hands on authentic Indonesian paste, either rempah or bumbu, from your local Asian store or online. This would be much easier than making your own!
You can substitute coconut milk with water or regular milk, but that's not recommended. Which means, don't do it and stick to coconut milk. I used a sweet Indonesian soy sauce called Kecap Manis. If you can't find that mix some regular soy sauce with either sugar or honey to make your own sweet sauce. 
As an alternative to chicken meat, you can use duck, beef, fish or pork in the recipe. Obviously, the cooking time will differ accordingly. As a substitute for white rice, you can have cauliflower, pumpkin or brown rice depending on what diet or WOE you follow. Perhaps, you can use the low-carb rice made from zucchini.
Note: Changing the ingredients will make this dish some version of the original but not authentic.
Making Indonesian Grilled Chicken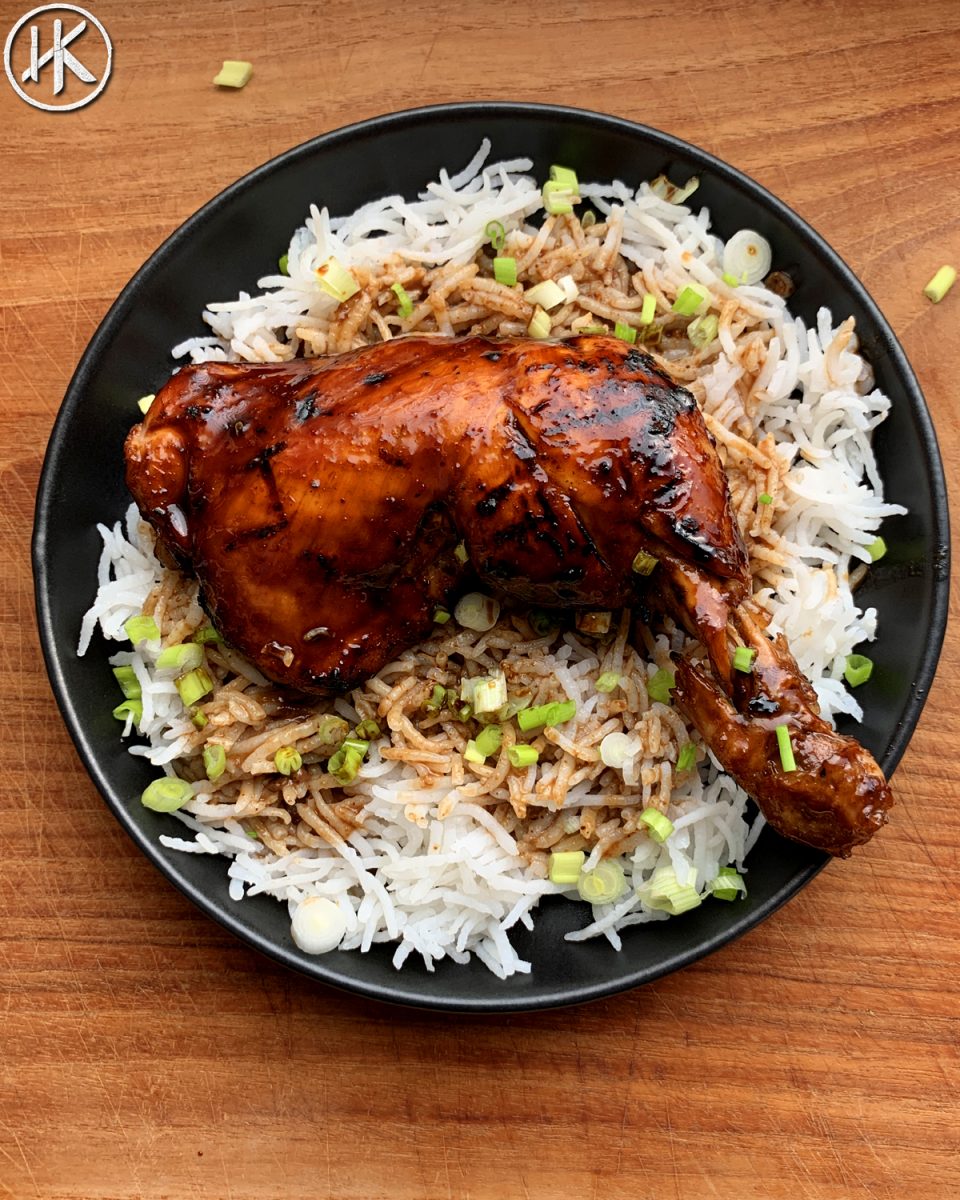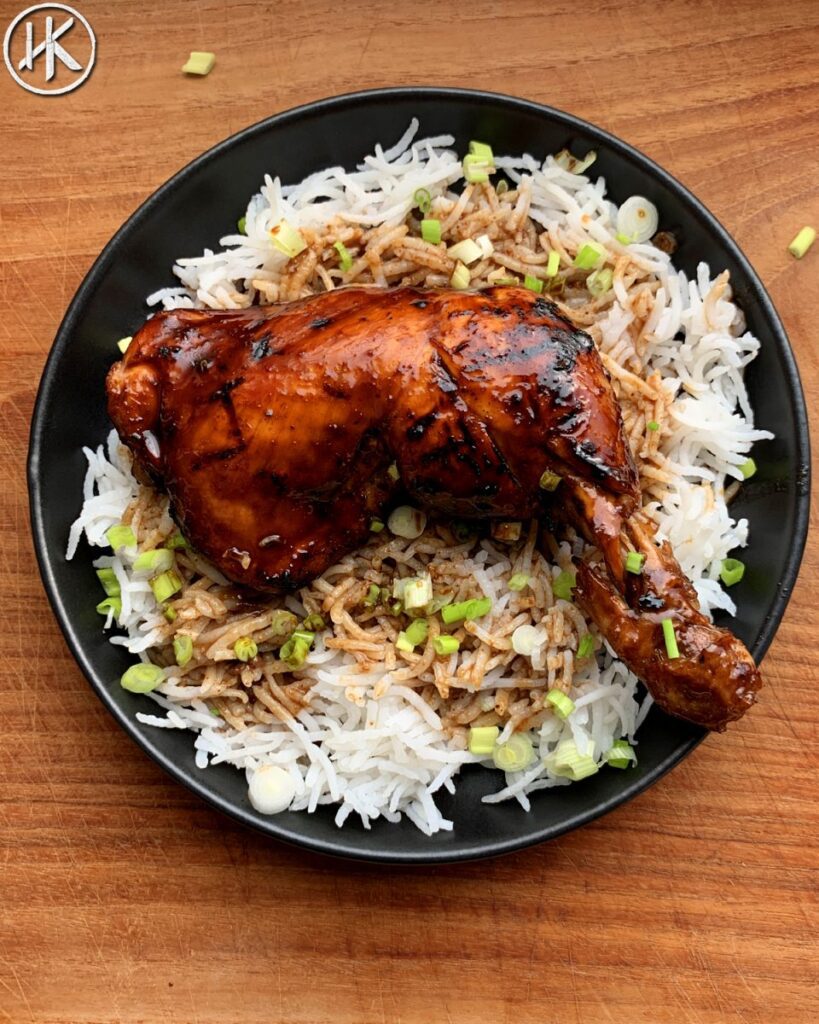 I suggest going through the recipe below to better understand the cooking process. You can change the ingredient quantities based on your needs, double or triple the recipe to make a bigger batch. 
To be honest, there aren't many ingredients that I added to this recipe. I really made a stripped down version. 
It looked so juicy and moist when I first tore into the chicken leg. Then, when I took a spoonful of that sauce-covered rice with the chicken, I was blown away. It was so delicious, and the sauce perfectly coated the chicken. Ah, it was heavenly! 
Anyway I hope you make this dish and always leave a comment down below letting me know how it turned out.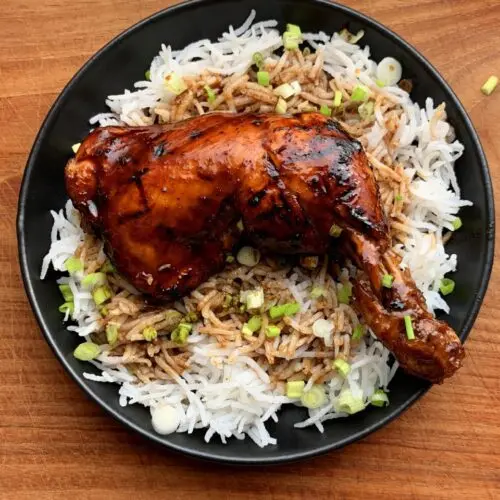 Steps for Cooking Ayam Bakar
Here is a quick and easy recipe for making a delicious Indonesian grilled chicken.
Ingredients
1

Store-bought instant paste

2

Chicken Legs

drum and thigh

200

ml

Coconut Milk

1

Tbsp

Kecap manis

Sweet Indonesian soy sauce

Cooked Rice

as per your requirement

1

Spring Onion
Instructions
Get your pan on the stove and heat it up. Add in the curry paste and sautee.

Keep sauteeing the paste for a little bit, and then add in some coconut milk. Do not add the milk all at once, but gradually. Keep mixing the paste with your milk slowly and keep adding it till it becomes a sauce.

Then, add the kecap manis to the pan. Mix it well, and bring it to a simmer. You can now place your chicken legs in the sauce. Once done, cover your pan and let it cook for 15 minutes.

But remember to flip your chicken when it's halfway through your timer. Once it's done, you can simply remove it. Now, let the sauce cook till it thickens.

Mix kecap manis in a small bowl with one spoon of the sauce. This will be used as a glaze for the chicken. It's time for you to grill that chicken, but ensure to glaze it with this mixture on both sides for maximum flavor. When it's nice and charred, your chicken is done!

In a bowl, get your rice. Pour one spoonful of that sauce all over your rice. Add the chicken on top, glaze it and then top it off with some chopped spring onions.

Enjoy the traditional taste of Indonesian grilled chicken.