The Ultimate Chicken Broccoli Rice
Chicken broccoli rice with a Hainanese twist
Welcome to my first Meal prep video. One of my fav foods in the word is Hainanese chicken rice. I first ate it and fell in love with the dish in Bangkok at a food court. Since then I've eaten chicken rice countless number of times and made my own as well. I used that as my inspiration for this meal prep and recipes.
Chicken Broccoli Rice is the food of bodybuilders who eat for function more than flavour and when I started my new eating plan to lose fat and build more muscle I looked at this simple meal for my meal prep. I figured it was time to take regular chicken broccoli rice and make it a way that I would want to eat it and be able to sustain in the long run. And truth be told, I could eat this every single day.
Instant pot chicken broccoli rice
I got my instant pot a while back but I was hesitant to use it in a video because I felt I needed time to get acquainted with it. So I finally did get around to using it enough and here I am with my first Instant pot recipe as well. This definitely makes life easy and cooks things really fast.
I cook my chicken, then rice and even the broccoli in the instant pot. Using the pressure cooker and sautee function covers everything. Though in my video I cooked my broccoli in a wok because I was getting impatient. Normally I would make my bone broth first and boil the broccoli in that. By doing that we also get the goodness of the broccoli in the soup.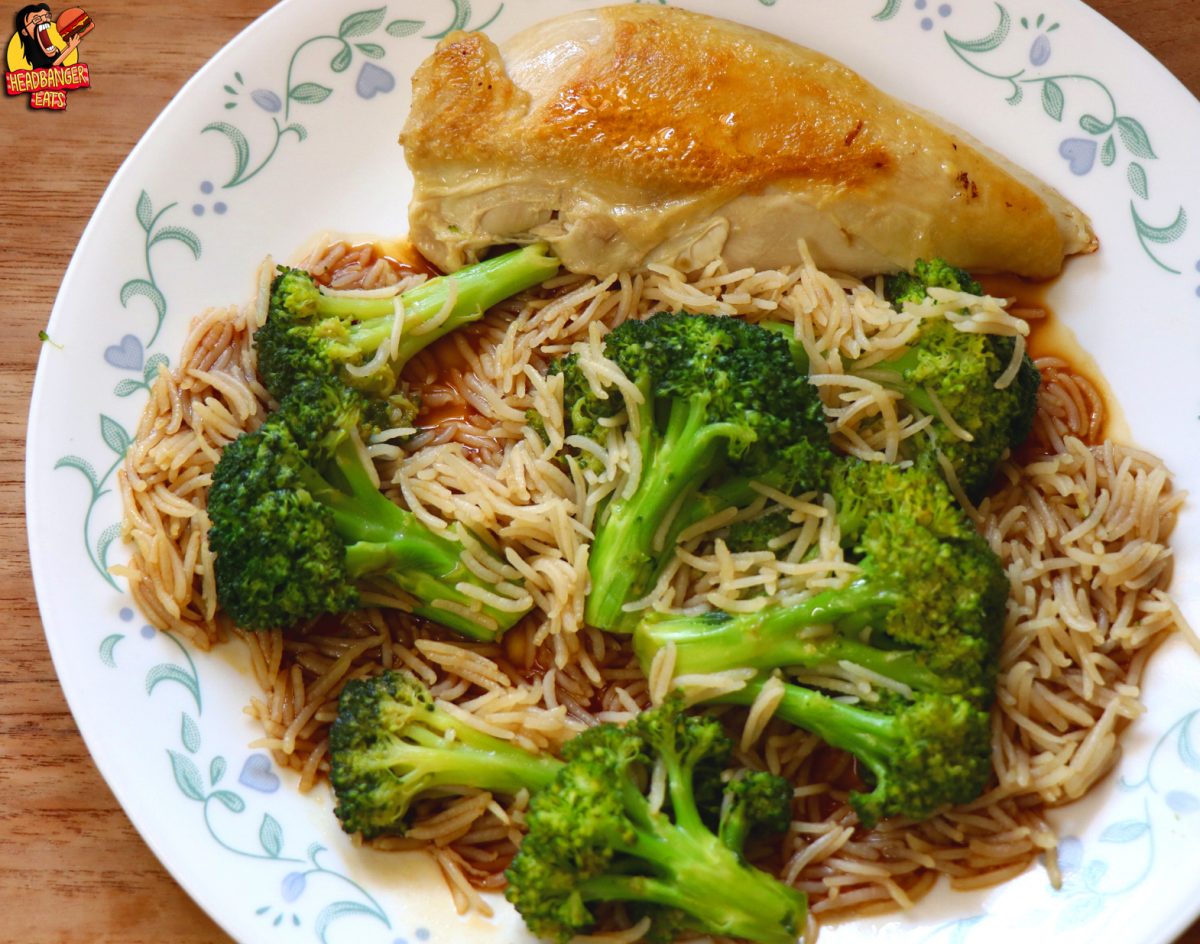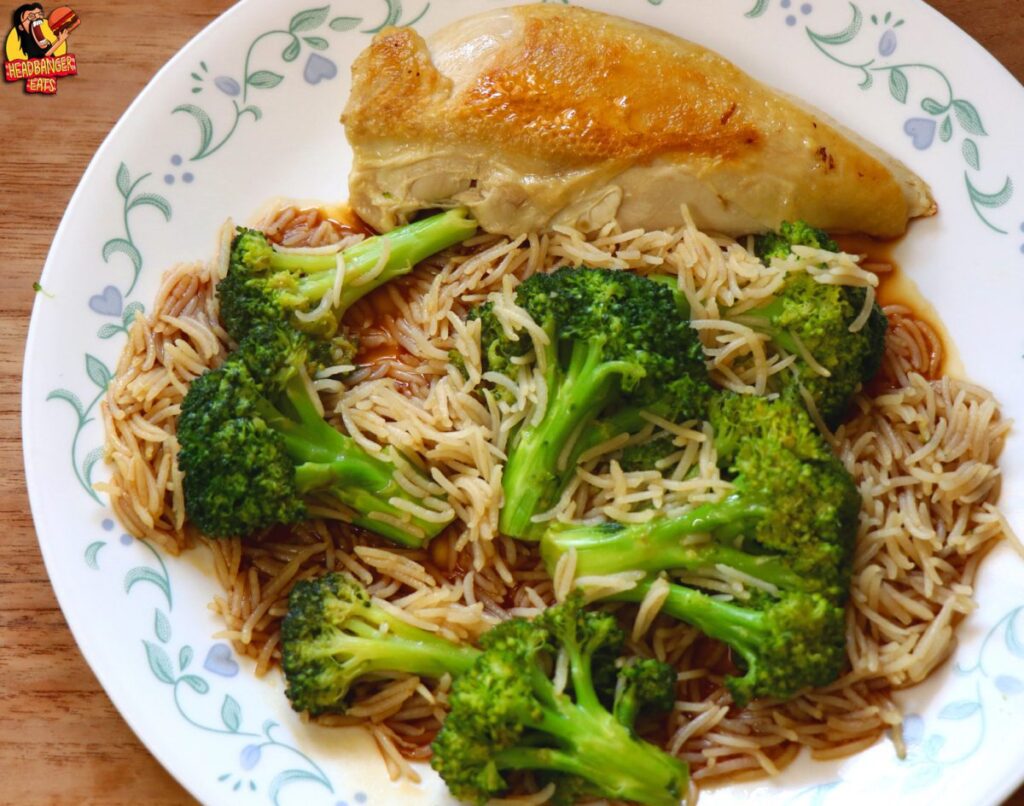 Nutrition Info
Calories: 462
Carbs: 31g
Fat: 18g
Protein: 46g
Fiber: 3g
Now this is the nutritional value approx based on my personal serving size. When you feed it into yours just use boiled chicken, boiled rice, boiled broccoli and chicken stock from the database for the macros. Now if you use chicken breast your fat will drop, protein will go up. If you eat less or more the calories will change.  I'd say how to work the macros for yourself is to first sort your protein goal and then add a reasonable amount of broccoli and then with whatever remaining calories you have, fill that with rice. This way you'll get the perfectly balanced meal.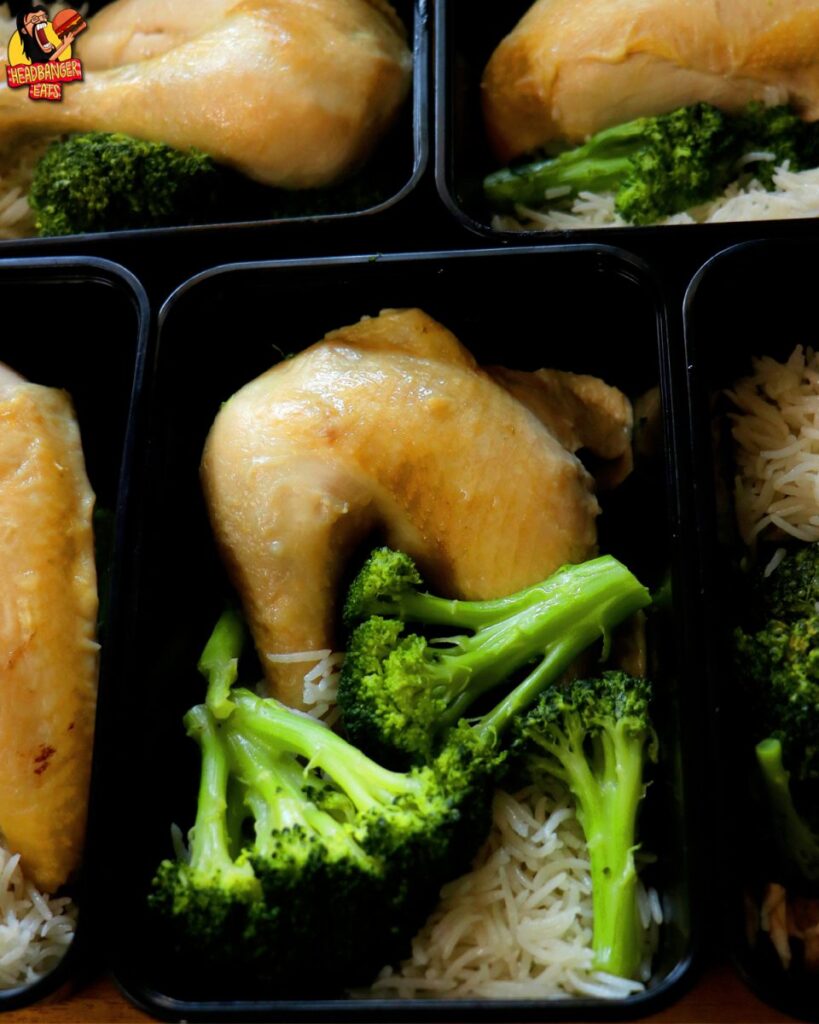 The Ultimate Chicken Broccoli Rice
The best chicken broccoli rice meal prep
Ingredients
1

whole

Chicken

use a skinless chicken for less fat

500

grams

broccoli

150

grams

Basmati Rice

1

Spring Onion

1

Piece

Ginger

Toasted Sesame Oil

Dark Soya Sauce

Water

Salt
Instructions
Start by defrosting your chicken if it's frozen and then rub it all over with salt. Season inside the cavity as well and set it aside to relax for 30 minutes. You can also do this the previous day and leave it overnight in the fridge. That allows the salt to penetrate deeper.

Next you want to wash the rice under running water a few times till the water runs clear and then just leave it to soak. Also wash the broccoli and separate the florets and set aside. Also roughly chop the spring onion and peel and chop the ginger

Now add 1 cup of water to the instant pot, place your chicken on the trivet and also add the spring onion and ginger. Pressure cook on HIGH for 14minutes. Make sure the pressure knob is sealed. A good estimate for cooking time is 6 min per lb of chicken or per 1/2kg of chicken. So pressure cook and then natural release for 10 min.

Now remove the chicken from the instant pot and make sure you let all the juices in the cavity run out into the pot. Then remove and strain all the liquid and discard to ginger and spring onion. Once the stock has settled skim off any fat from the top and set aside.

Now in the instant pot add the rice and 150ml of the stock. The ratio of rice to stock is 1:1 so if you use more rice than 150g add and equal amount of stock. Then pressure cook on high for 3 minutes with 10min natural release.

While this is happening portion out your chicken. You want to take off both legs, slice of each breast and then shred all the remaining meat on the carcass. This gives you 5 portions of chicken. 2 breasts, 2 legs and 1 box of pulled off meat (about 100g at least). Put these in your meal prep boxes.

Now remove your rice from the cooker after fluffing it with a fork and then portion it out into your meal prep containers.

Add the chicken bones, remaining chicken stock and some more water to the instant pot and pressure cook on low for 30 minutes. After which you can strain it and discard the bones after picking any left over meat from them.

Pour the stock back into the instant pot and set it to sautee and then add the broccoli in once it comes to a boil and then remove once cooked to your liking. Add salt as needed. Then portion the broccoli into the meal prep containers. Measure out the left over stock so you know how many grams is each serving and serve yourself that with each meal.

Now you can pack and store these meals in the fridge. To serve it I recommend a bowl of the soup, a few drops of toasted sesame oil and a tsp of soya sauce for extra flavour.