A Keto Beef Chili
It's beef week on Headbanger's Kitchen and it's Keto recipe time. I've cooked up a delicious Keto Chili Con Carne using ground beef (of course). It's one of my favourites and with a dollop of sour cream and some avacado, it's like food porn. So enjoy the recipe. I also tried a new format where I don't speak during the recipe. Let me know if you like this better than my usual jibber jabber.
Why are there no chilies?
Well the truth is I'm not a big fan of spicy food so I've always avoided making my food spicy. Also when I was learning to make chili con carne the chilies were always added on top and raw for some reason. I guess that's why I left them out. But you can totally spice up your chili con carne with some spice. Either in the form of fresh or pickled jalapenos or perhaps some chili flakes.
You can also get dried chilies and fry them along with the onions. So there are plenty of ways to add that spicy kick to this dish.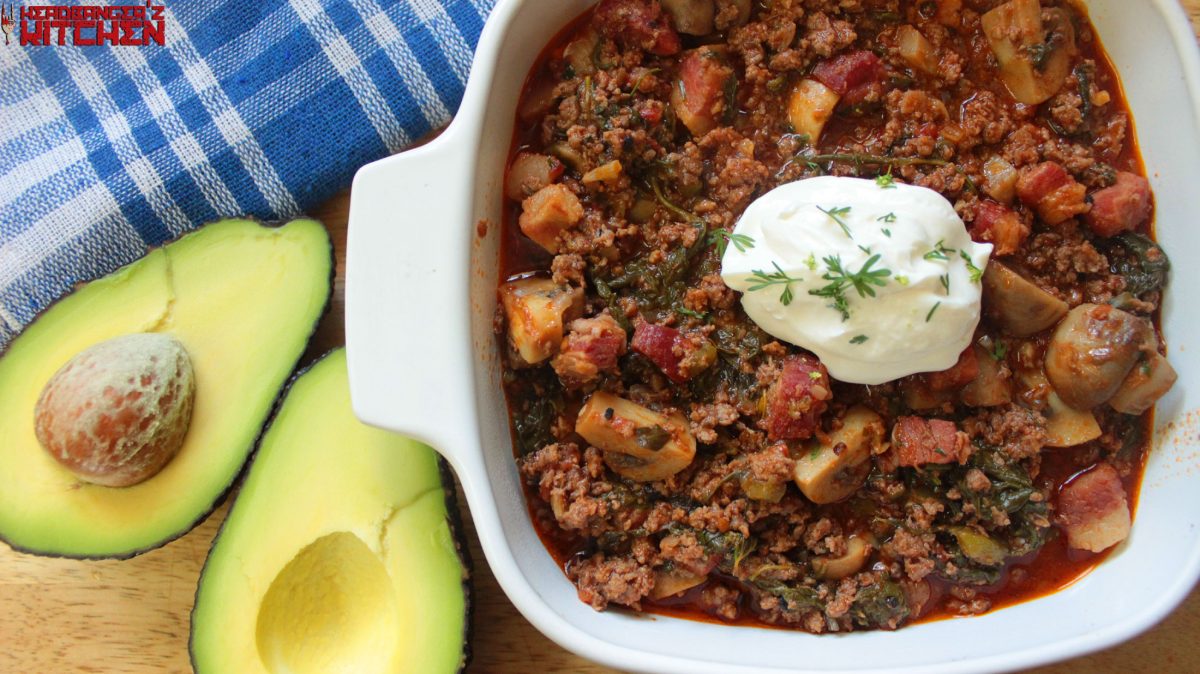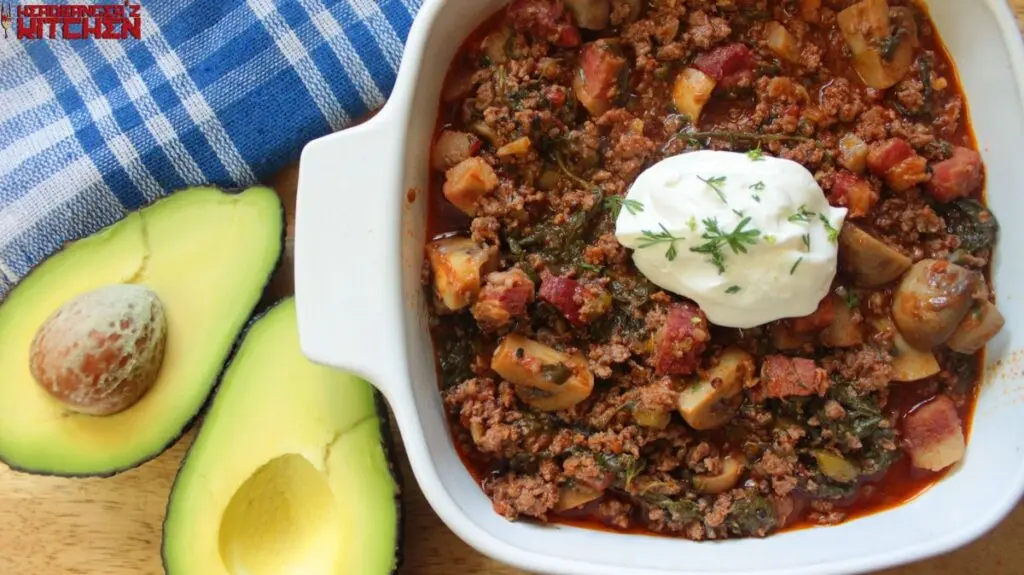 Nutrition Info (Per serving)
Calories: 503
Net Carbs: 7g
Carbs: 11g
Fat: 32g
Protein: 39g
Fiber: 4g
This recipe makes 4 serving. Get this recipe on myfitnesspal.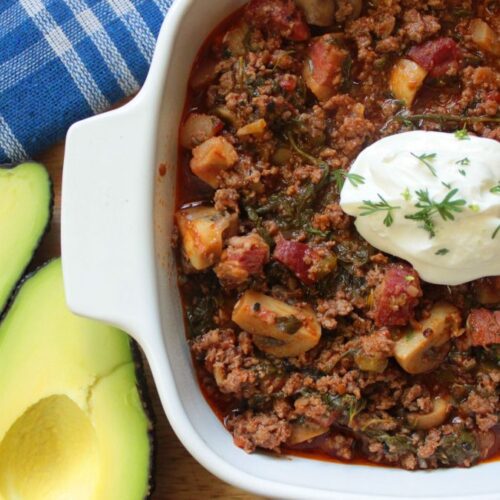 Keto Chilli Con Carne - Beef Chilli
A hearty chilli con carne without the carbs from the beans.
Ingredients
500

grams

Beef Mince (Ground Beef)

100

grams

Onion

200

grams

Tomato (pureed)

75

grams

Green Peppers (Capsicum)

2-3

Cloves of Garlic

200

grams

Bacon (chopped or cubed)

200

grams

White Mushrooms

100

grams

Spinach

Fresh Oregano

Fresh Coriander

Salt to Taste

1

Tsp

Pepper

1

Tsp

Cayenne Pepper

Try this one

1

Tsp

Cumin Powder

Try this one

1

Tsp

Paprika

Try this one

1

Beef Stock Cube

Try this one

olive oil

I use this one

500

ml

Water
Instructions
Fry the bacon from a cold pan so that the fat renders out. Add some olive oil to speed up the process

Once most of the fat has rendered then add in the onions and fry.

Add the garlic once the onions turn translucent

As the garlic turns slightly brown add in the green peppers

Add in the beef along with all the dry seasoning and cook

Add in the tomatoes,mushrooms and spinach

Add the stock cube and water

Cook down for 10 minutes

Add in the fresh oregano and coriander

Reduce on the stove if required

Serve with Sour cream and fresh avacado.