How to Cook an Epic Roasted Turkey Breast
Hello, headbangers! Welcome to our recipe blog, where we share our love for cooking and eating delectable food. And this is the roasted turkey breast recipe that will be the star of any dinner party. 
Did you know that turkey breast is a low-fat and low-calorie option compared to other meats? This is the turkey recipe ideal for those of you watching your weight while looking for a delicious and nutritious meal.
Horns up, and let's get started!
Acing your roasted turkey breast recipe
When it comes to cooking roasted turkey breast, a few key things can elevate the process. Firstly, the quality of the turkey itself is essential – look for a fresh, high-quality turkey breast free from any blemishes or discoloration. 
(Looking for tips on butchering turkey at home? Check out our previous recipe.)
Secondly, seasoning is key – a good roast turkey recipe will use a combination of herbs and spices to enhance the meat's natural flavors. Some great options include thyme, rosemary, sage, and garlic (my favorite).
Thirdly, cooking time and temperature are crucial – you want to ensure your turkey breast is fully cooked, not overcooked and dry. A meat thermometer is a helpful tool to ensure your turkey is cooked to the proper temperature (165 degrees Fahrenheit or 74 degrees Celsius). 
Finally, resting the turkey after cooking is important to allow the juices to redistribute and ensure the meat is moist and tender. A good roast turkey recipe will use high-quality ingredients, well-balanced seasoning, and proper cooking techniques to create an epic dish that pampers your tastebuds.

Nutrition Info (Serving size per 100 grams)
Calories 147

Total Fat 2.1g

Saturated fat 0.6g

Trans fat 0g

Cholesterol 80mg

Sodium 90mg

Protein 30.1g

Carbohydrates 0g
Get this recipe on myfitnesspal.com.
We hope you enjoy making and ‌eating this epic roast turkey breast recipe. Don't forget to share it with your friends and family, and let us know how it turns out! Happy cooking!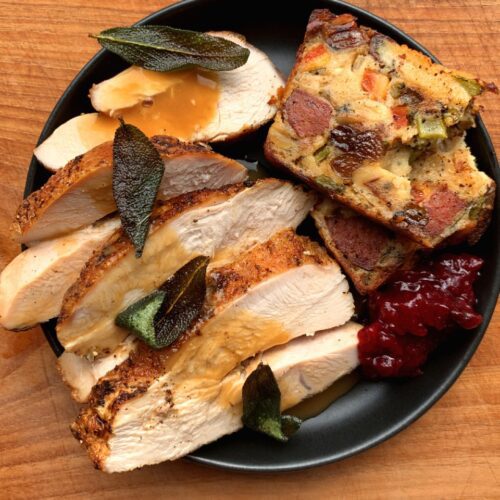 How to Cook an Epic Roast Turkey Breast
A super easy and delicious turkey breast recipe
Ingredients
1

Boneless, Skinless Turkey Breast

(about 2-3 pounds)

1

tsp

Black Pepper Powder

1

tsp

Garlic Powder

Butter as required

Fresh Sage Leaves
Instructions
First, season your turkey breast on both sides with garlic powder and pepper. (You can also add other herbs like the ones mentioned above. I like keeping it simple.) Remember that you don't need salt because the turkey has been dry-brined.

Next, preheat your oven to 200 degrees Celcius. While the oven is preheating, heat some oil in a pan and lay the turkey breast skin-side down. Let it cook for a few minutes until the skin is beautifully browned and then flip it over to the other side.

Once you flip the turkey breast, add some butter and sage leaves to the pan. When it melts, baste the breast with that glorious butter. This will add an extra layer of flavor and moisture to the turkey breast.

Now, it's time to transfer the breast to a roasting tray. Pour that butter over the breast and then roast it in the preheated oven until the internal temperature reaches 165 degrees Fahrenheit (70 degrees Celsius). This should take about 30-45min, depending on the size of your turkey breast.

Once the turkey breast is cooked to perfection, remove it from the oven and admire your work. Cover the breast with aluminum foil and let it rest for a few minutes. This will help the juices to redistribute and make the meat more tender and juicy.

Now, it's time to slice into that succulent turkey breast. Serve it with some stuffing, gravy, crispy fried sage leaves, and cranberry sauce for a complete and delicious meal.