Pizza + Grilled Cheese Sandwich = Pizza Grilled Cheese!
If you know me at all, you know that some of my favourite foods are sandwiches and the occasional pizza. Nothing says comfort food like an ooey gooey grilled cheese sandwich. And nothing quite hits the spot like a pepperoni pizza, cheese pull and all. Sometimes on weekends I find myself having to make the very tough decision of picking between a grilled cheese sandwich or a pepperoni pizza. So I thought to myself, why not both?
Behold the wonder that is the pizza grilled cheese sandwich! It's got crust, it's got cheese, it's got a molten centre, it's got pepperoni done to a crisp, it melts, it pulls, it's glorious! And why stop at one when you can have it two ways? That's right, I've got one with the pizza filling on the inside, and one that's pizza on top!
So what goes into this pizza sandwich?
Well there's two slices of golden toasted bread, there's marinara or pizza sauce – you can either make your own (try my easy keto marinara sauce) or keep it simple and get a store-bought one. Then there's a bit of cream cheese for that melty goodness, some pepperoni – get the best you can find, it makes all the difference, trust me – some mozzarella for the cheese pull and some basil to add a touch of freshness.
Are there any special techniques you need to know to make this pizza sandwich? Nope, unless you want to be fancy like me and chiffonade the basil – that's just a posh way of saying roll up the leaves and cut it into thin strips. Otherwise it's as easy as getting the ingredients together, slapping them on, and grilling the sandwich perfectly.
To really put this sandwich to the test, I had my brother Shome come over to taste it – he's a pizza fiend and he's not afraid to tell me off if it doesn't work! So what was his verdict? You'll have to watch the video to find out. Or you could just make it yourself and let me know in the comments what you thought of it.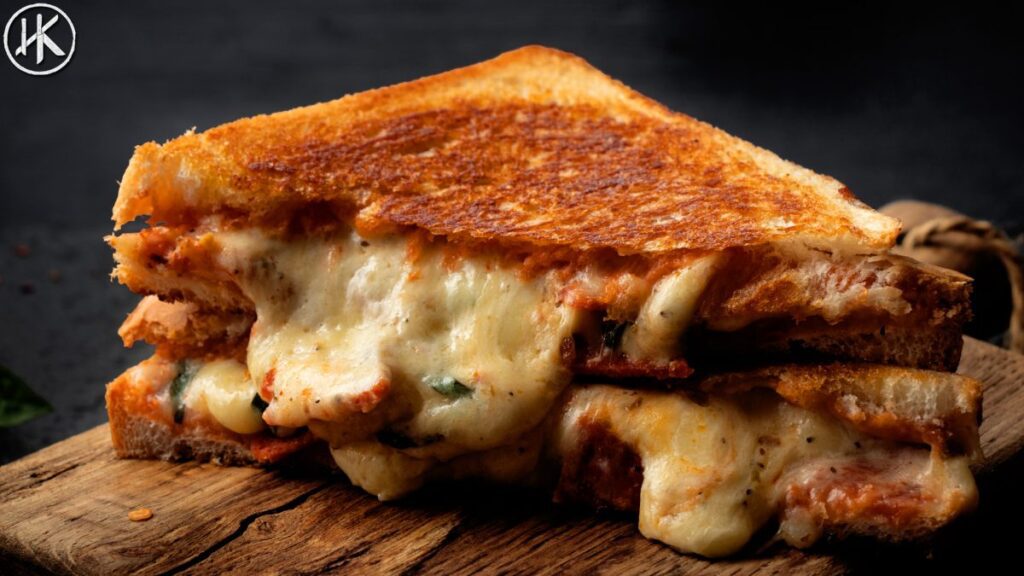 Nutrition Info (Per serving – Filling ONLY)
Calories: 381
Net Carbs: 2g
Carbs: 4g
Fat: 33g
Protein: 22g
Fiber: 2g
This recipe makes 2 servings. These macros are for the filling only!!! Get this recipe on myfitnesspal. If you are going to be logging these calories it's best to do the bread and marinara sauce manually since the calories will vary on the brand you are using and also quantity. I use white bread that's about 150 calories for 2 slices so the sandwich itself is close to 500 calories. If I add the sauce/pepperoni and cheese on the top that is probably going to be another 150 calories at least. But hey this isn't your everyday sandwich. It's something you eat on special occasions. Either way do enjoy!
Make it Keto/Low Carb!
Honestly given the amount of fat in this sandwich it can be PERFECT for those on a Keto diet. All you really have to do is replace the regular white bread for your favourite Keto one. These days you get incredible Keto breads in your local supermarket. But if you prefer to make your own I have many different recipes. I've got an almond flour bread that works great for sandwiches. If you've got no time to bake a loaf then you can always just my 90 second Keto mug bread made in the microwave. I think you'll find plenty of options on this website itself. Just check out my Keto breads section.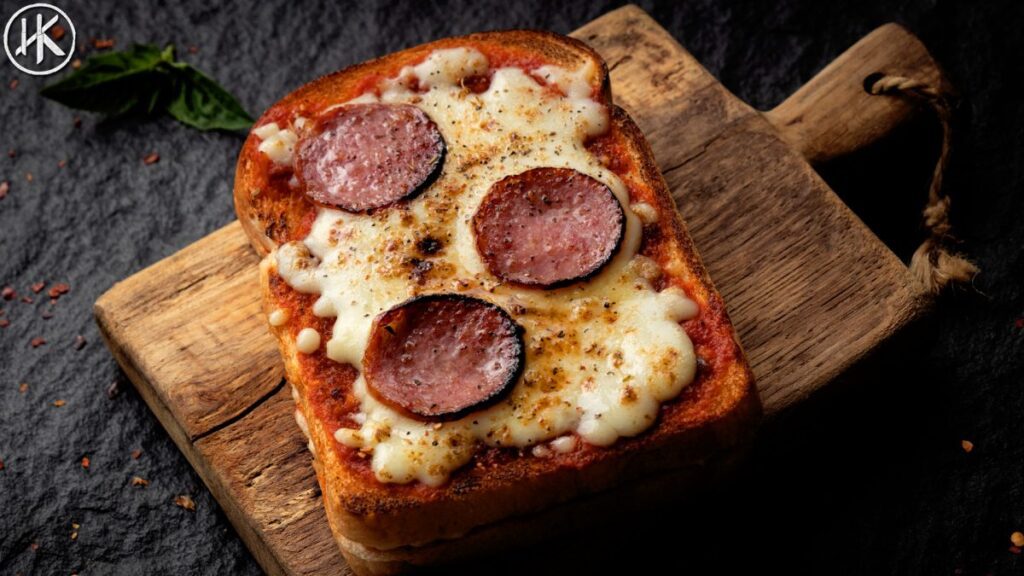 Pizza Grilled Cheese
We've turned pizza upside down and put it in a sandwich
Ingredients
For the filling
50

grams

Cream Cheese

1

tsp

Dried Oregano

1/2

tsp

red chili flakes

100

grams

Shredded Mozzarella Cheese

4

large basil leaves

50

grams

Pepperoni

Salt to Taste
For the regular sandwich
2

slices

White Bread

1

tbsp

Marinara Sauce

butter, as needed

sandwich filling, as above
For the inside-out pizza sandwich
2

slices

White Bread

2

tbsp

Marinara Sauce

butter, as needed

sandwich filling, as above

20

grams

Shredded Mozzarella Cheese

15

grams

Pepperoni
Instructions
Prep
To chiffonade the basil, stack up the basil leaves one on top of the other neatly, roll it up lengthwise, like a cigar, and then cut it crossways, so you're left with thin strips of basil.

Get a pan on the stove – I use a non-stick one – on low heat and add in the pepperoni slices. You want to cook the pepperoni till it's nice and crispy. There's no need to add oil to the pan because the fat from the pepperoni will render out enough to fry it in.

Once the pepperoni is done, set on a plate laid with a paper towel to absorb excess oil. Don't wash the pepperoni pan – you'll see why later.

Set aside a few slices of pepperoni. Stack up the rest of the pepperoni and cut it up into smaller bite-sized pieces so it's easier to eat. Set it aside.
To make the filling
In a mixing bowl, add in the cream cheese, dried oregano, red chilli flakes and mix it all together.

Add in the shredded mozzarella, the chopped up pepperoni and basil strips and give it another mix. Set the filling aside.
Assemble the sandwich
I'm using plain white bread for the sandwich to let the filling shine, but you can use any bread you like. Spread the marinara sauce from end to end – not too much, you don't want it soggy, just enough to coat the slice from end to end.

Get a spoonful of filling and spread that on top of the pizza sauce, again covering the slice uniformly from end to end.

Add another slice of bread on top of the filling, and then it's time to grill the sandwich.
Grill the sandwich
Get the same pan on the stove in which we fried the pepperoni – all that pepperoni oil is going to give our sandwich an extra layer of flavour. Once the pan is hot, slide in the sandwich and let it mop up all that pepperoni goodness. Butter the side of the bread that's facing up, then cover it with a lid and cook on low heat until the bottom of the sandwich is crispy. The cover helps the cheese melt evenly inside.

Flip the sandwich over and put the butter side down on the pan. Let the other side cook the same way, and you can take it off the heat once it's got that crisp golden brown exterior.

Cut the sandwich diagonally and it's ready to serve.
For the inside-out sandwich
Follow steps 7 to 9 as above, then butter just one side of the sandwich. Place the sandwich butter side down, cover with a lid as before, and cook till the bottom is golden brown.

Flip the sandwich over so your unbuttered side is down, let that toast to golden brown too. Flip it again till the unbuttered side is back on top.

Put the sandwich on an oven-safe tray. Spread a tablespoonful of the pizza sauce on the unbuttered side of the sandwich. Top it with a generous sprinkling of shredded mozzarella and the few saved slices of pepperoni from earlier.

Now stick the tray with the sandwich directly under the broiler on your oven, or just under the heating element. If you want to be extra fancy like me and want to play around with your kitchen torch, you can use that to get the cheese on top all nice and melty, just like a pizza. When the cheese has melted and your pepperoni looks crisp, your sandwich is ready. Slice carefully – it'll be very hot – and serve!