Vegan Thai Curry
I couldn't do Vegan week without doing a Thai curry. So far we've done two Indian vegan dishes, cauliflower makhani bites and stir fried okra. We also did an Italian Vegan Pesto with zucchini spaghetti. Being completely averse to spicy food I've never really eaten or cooked much Thai food until recently. However I couldn't let my lack of experience come in the way of delivering a cracking Thai curry recipe for you folks. So I called in my wife Deepti who makes an awesome Thai curry. So here is Deepti's vegan Thai curry recipe. Enjoy.
It doesn't have to be vegan
The great thing about this recipe is that you can just add in some chicken or fish and you've got yourself a meaty Thai curry. I do however feel that people tend to get a bit carried away with the amount of protein that they eat on Keto so it's always good to have recipes like this in your meal prep which can help you balance out the amount of protein you are consuming.
Should you make your own curry paste?
So here's the thing. If you make the paste yourself from scratch you definitely have control over it and can completely eliminate the sugar. However, at least in the Indian and Thai ready made paste the amount of sugar is quite minimal and a small amount of the paste goes a long way. This generally meals that the amount of carbs per serving is much lower. This recipe for example has 6 grams of net carbs per serving and saves you the trouble of making the paste from scratch. Plus these ready to use pastes are good quality (at least what I use) and isn't really a processed food. So I would say if you are in a hurry, don't worry, use the ready made paste.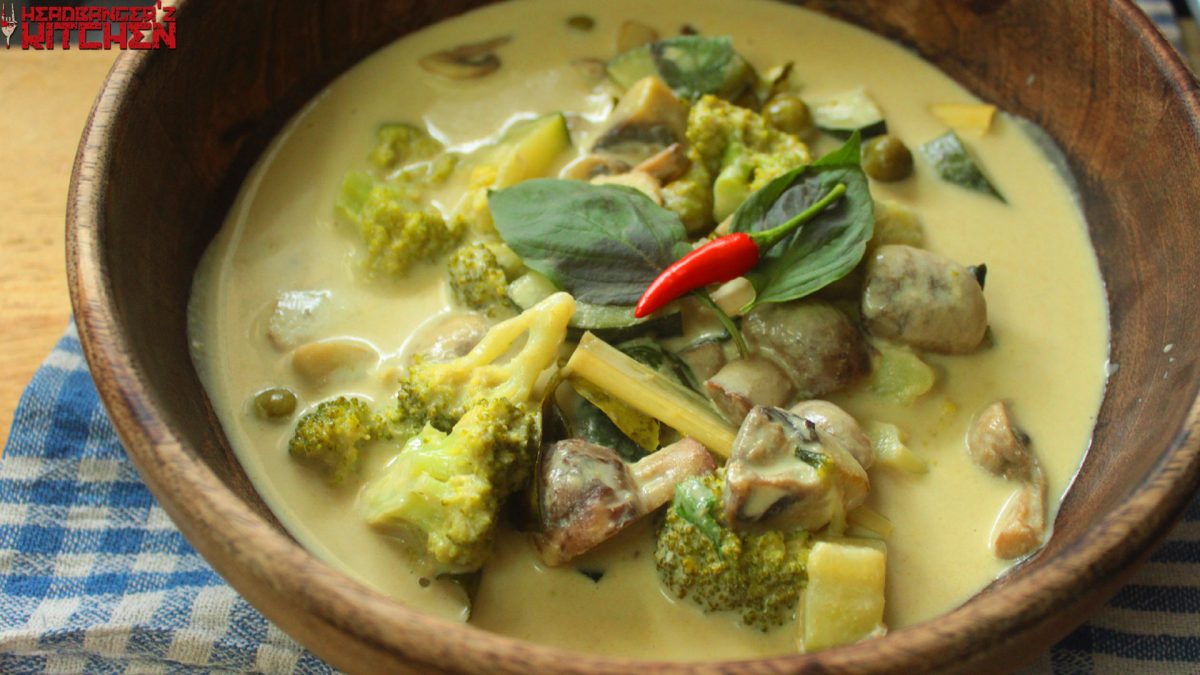 Nutrition Info (Per serving)
Calories: 298
Net Carbs: 6g
Carbs: 8g
Fat: 28g
Protein: 5g
Fiber: 2g
This recipe makes 5 serving. Get this recipe on myfitnesspal.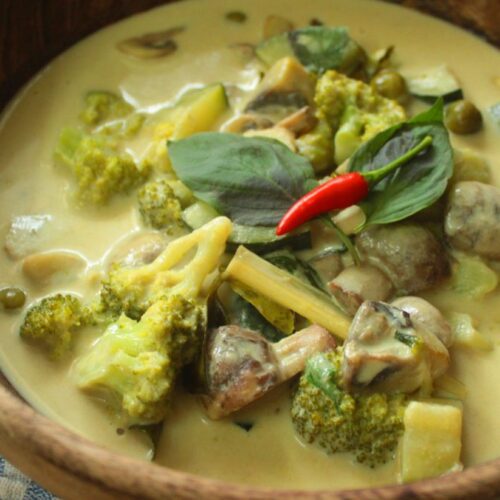 Keto Thai Green Curry
Vegan and Keto friendly, Thai green curry.
Ingredients
100

grams

zucchini

100

grams

broccoli

100

grams

button mushrooms

A handful of Thai eggplants, if you can find them

50

grams

Thai green curry paste

I use this one

One bulb of fresh lemongrass, discard the leaves

4

kaffir lime leaves

1

inch

piece of galangal or Thai ginger

600

ml

coconut cream or milk
Instructions
Put a wok on the stove on medium heat and add about 100 ml of the coconut cream to it.

When you see bubbles start to form at the edge of the coconut cream, bruise the lemongrass bulb and add it to the wok, along with the galangal and torn up kaffir lime leaves.

Add the green curry paste and just mix it all together until it becomes fragrant.

When you see the oil start to separate from the paste, add the vegetables in and stir it all together until it's just coated with the green curry paste.

Add the rest of the can of coconut cream. Now, you can eat the thai curry just thick like this if you like, but I like mine thinner, so I'm adding another 200 ml of coconut cream to it.

Add salt to taste, about half a teaspoon and a few drops of stevia to give it the mildest sweetness.

Give it a stir, then cover it and let the veggies cook.

When the veggies are just about done, add a couple of kaffir lime leaves, just to refresh the taste.

Keep checking the veggies for doneness, and just as you turn off the gas, add a handful of thai basil to the curry and stir it in.

Thai curry, done.
Notes
*tip: You can use almost any veggies you like