Vegan Pesto | Pesto Spaghetti with Mushrooms & Olives
Devoid of Cheese
On my first day of vegan keto my recipe book gave to me, vegan pesto and some zucchini spaghetti. That's all. Oh and some mushrooms and olives too. I don't really like the label vegan to be quite honest as it's gotten quite a bad rap. For me there is good food and bad food and it's all about taste. If you don't have cheese lying around your house or are lactose intolerant or just want to be dairy free on Keto for weight loss, this is perfect. While Parmesan cheese does make pesto taste great, you can do just fine without it too. You can use this pesto to marinate your meat or your veggies and it's one of the Keto essentials in my book as it packs in good fats and is also high fat.
Other vegan delights
For those searching for more meat-less recipes or just more dairy free stuff I've got some good eating for you. Lots of great dishes that can be your appetizers or even your mains, try our cauliflower makhani bites, our okra stir fry, our vegan thai curry or our Keto cauliflower hummus.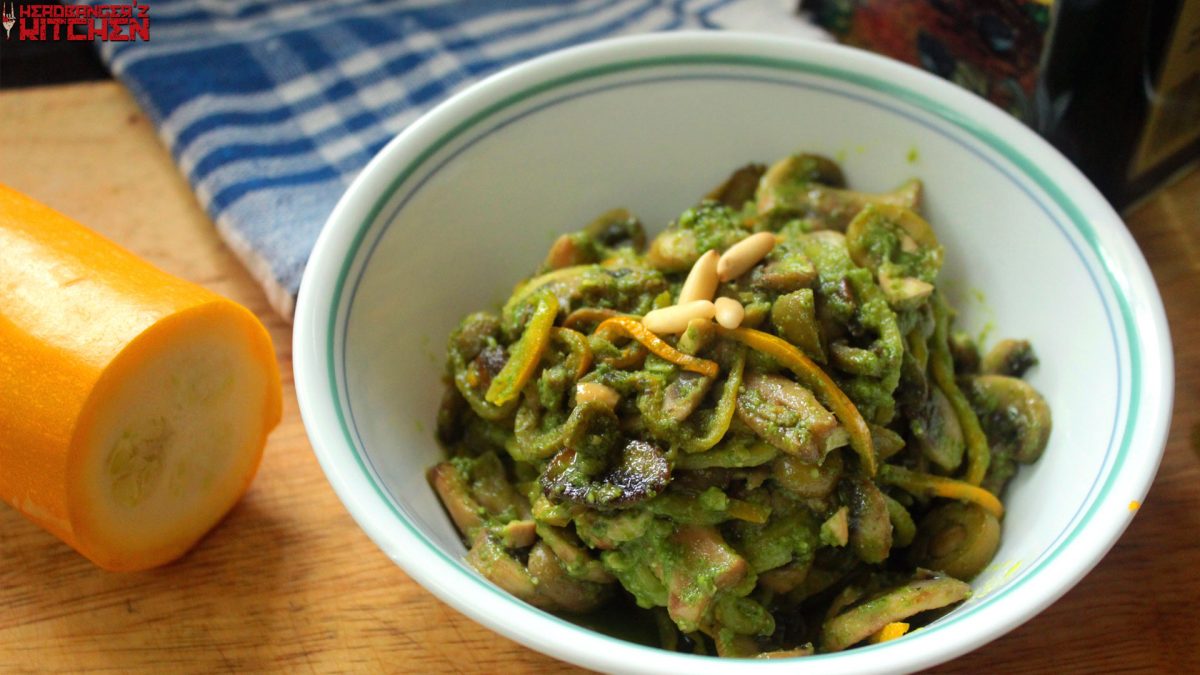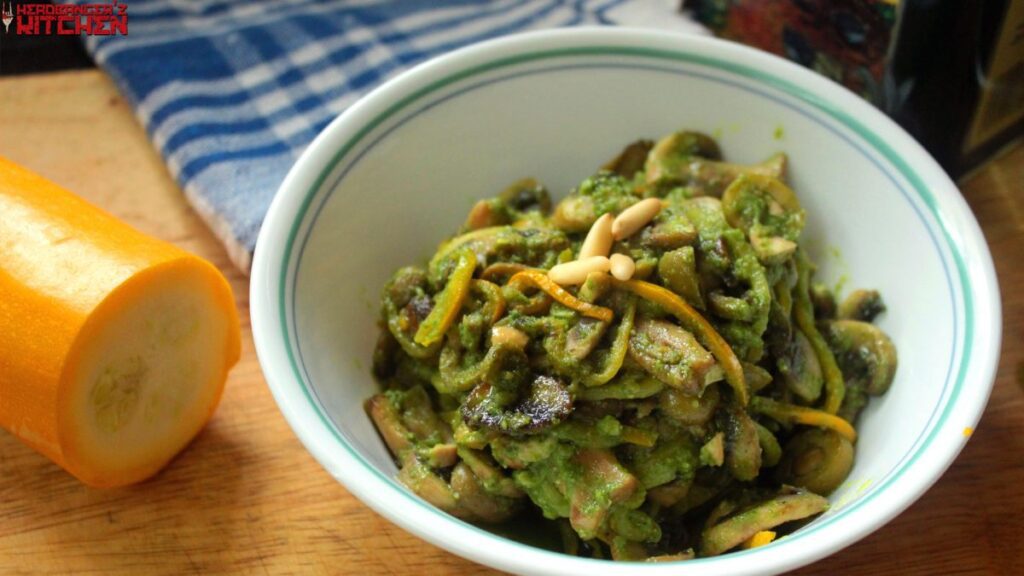 Nutrition Info For Vegan Pesto (Per serving)
Calories: 143
Net Carbs: 1g
Carbs: 1g
Fat: 16g
Protein: 1g
Fiber: 0g
This recipe makes 10 servings. 1 Serving = 1 Tablespoon. Get this recipe on myfitnesspal.
Nutrition Info For Pesto Spaghetti (Per serving)
Calories: 380
Net Carbs: 10g
Carbs: 13g
Fat: 36g
Protein: 6g
Fiber: 3g
This recipe makes 1 serving. Get this recipe on myfitnesspal.
Vegan Pesto | Pesto Spaghetti with Mushrooms & Olives
Dairy free/Vegan pesto and a lovely zucchini spaghetti dish.
Ingredients
Vegan Pesto
30

grams

Pine Nuts

Order them online

10

grams

garlic

15

grams

basil leaves

15

grams

Parsley

10

tbsp

olive oil

(1/2 Cup or 150ml)

Salt to Taste

a squeeze of Lime Juice
Pesto Spaghetti
180

grams

Zucchini Spaghetti

1 1/2

tbsp

HK's Vegan Pesto

5-6

White Mushrooms

5-6

Olives Stuffed with Almonds

1

tbsp

olive oil

I use this one
Instructions
Vegan Pesto
Blitz the pine nuts and garlic together

Add in the parsley, basil, salt, olive oil and lime juice

Blend till a nice smooth paste

Store in the fridge and use as required
Pesto Spaghetti
Slice the olives and mushrooms

Heat olive oil in a frying pan and fry the mushrooms

Season the mushrooms with salt and pepper

Add in the olives and stir fry till they start getting some colour

Add the zucchini and cook for 1 minute

Add in the pesto and mix well

Cook for another minute and serve.