Keto Coffee & Chocolate Tart
A low carb dessert that marries two epic flavours
Can you really have enough chocolate and coffee? I don't think so – these are pretty much the building blocks of my life. Can you really blame me for incorporating it into every dessert in keto? I know, I know, we gave you the keto tiramisu, and then there was that flourless keto chocolate cake and a coffee panna cotta… but think of it this way, what are the two ingredients you're most likely to have at home all the time? That's pretty much how this low carb dessert came about, actually. I had a terrible sweet craving (as you do) and I wanted to whip something easy up immediately. I raided my fridge for stuff I had at hand, et voila! A keto chocolate and coffee tart was born.
Almost no-bake dessert? Sign us up
This three-layered dessert comes with a lovely chocolate almond crust at the bottom, topped with an espresso mascarpone mousse and finished with a delicious keto chocolate ganache. Now I considered using cream cheese for the mousse, but for some reason, I've always found chocolate and cream cheese to be an extremely odd pairing – maybe it's that sour tang. Mascarpone cheese, on the other hand, with its buttery flavour and texture, just seems to be a much better fit for chocolate desserts. Mascarpone is also one of the easiest (and cheapest!) cheeses to make yourself and you can use the Headbanger's Kitchen mascarpone recipe to make it yourself.
Creating your own combos and flavours
While I've used almond flour for the base in this recipe, you can easily replace that with a nut of your choice. All it takes is grinding them down to a powder in your food processor. Walnuts or hazelnuts would both pair very well with the coffee and chocolate flavours. If you're not fond of coffee, you can skip the espresso mouse and add in some vanilla extract instead, or even some pureed berries! (Careful to not add too much, otherwise the mousse will become soup!)
It's also important to have the salt component in this dessert, as it really brings out the flavour of the chocolate. I used salted butter for the base and I also sprinkled some sea salt on top right at the end which is the highlight for me, personally.
I also made a couple of errors in the video (sorry!). I've used 150 grams of Mascarpone cheese, not 200 grams as mentioned. Also, when making my ganache I microwaved the chocolate and cream together, which is not the way to do it, as the chocolate could seize up (I got lucky there). I'd recommend heating the cream, pouring it over the chocolate and then mixing it for a smooth ganache.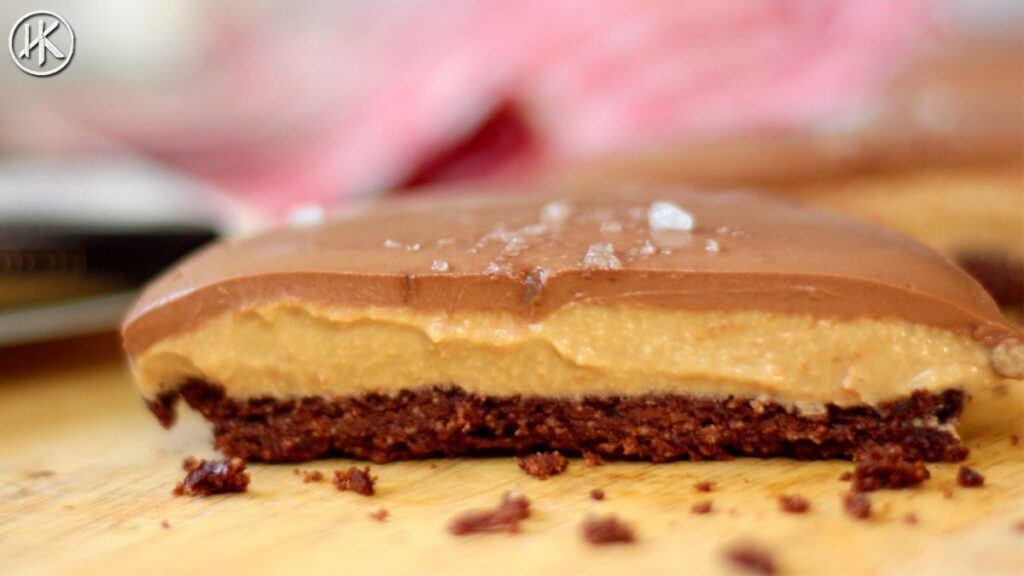 Nutrition Info (Per serving)
Calories: 490
Net Carbs: 3g
Carbs: 7g
Fat: 49g
Protein: 8g
Fiber: 4g
This recipe makes 3 servings.  Get this recipe on myfitnesspal.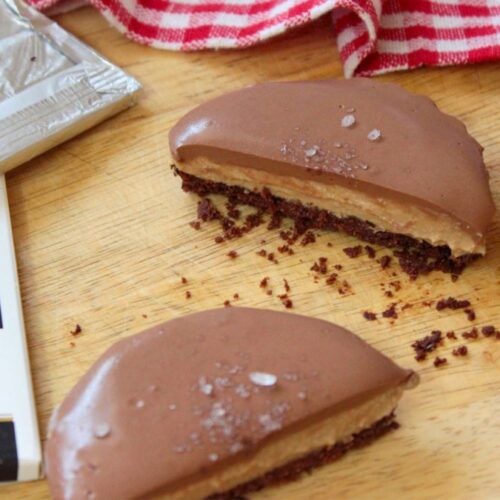 Keto Coffee & Chocolate Tart
A delicious layered low carb dessert with the flavours of chocolate and coffee
Instructions
Microwave the butter for 30 seconds till melted

Add in your stevia/sweetner to taste, vanilla essence and the coco powder and mix well together

Add in the almond flour and combine till well incorporated

Divide the mixture in 3 tart tins or ramekins and shape the base

Bake at 175 C/ 350 F for 10 minutes and then allow them to cool

Heat 2 tablespoons of water and mix 1 tsp of instant espresso powder into that

Whip the mascarpone cheese, stevia, vanilla extract and coffee mixture together till nice and fluffy

Pour the mascarpone mixture over the base and chill in the fridge for 15 minutes

Meanwhile warm up the cream for 30 seconds in the microwave and add the chocolate and sweetner to that and mix till fully melted and you have a creamy ganache

Pour the ganache over the mascarpone mousse in the tart molds and chill in the fridge for an hour

Finish with some sea salt on top of each tart.
Notes
Though in the video I heated the cream and chocolate together, ideally you want to warm the cream and pour it over the chocolate to keep it from seizing. Also there were a couple of people who asked me about what kind of tart tins I was using, I'm using 4" tins with removable bottoms, you can get them here.