Keto Chicken Pulao (Keto Pilaf)
I'm just a poor Biryani nobody loves me
I'm not sure if it's just me but at least in India, pualo has always sort of been the poor man's biryani. It's also what biryani purists tell their vegetarian friends to call their "veg" biryani. The phrase 'there is nothing like ve biryani, it's called pulao' has always made the pulao looked down upon. In fact in my opinion it's probably something I prefer to biryani. It's a one pot wonder that's quick and easy to cook and full of flavour. Granted it's not quite the royal feel of a biryani with layers of meat and rice and saffron and fried onions etc but it's got it's own bang for buck. Anyway enjoy the recipe.
What's in a Biryani?
I've done a Keto Biryani recipe. Though my personal favourite is boneless mutton, I made it with chicken given how long it takes mutton to cook. It would require separate cooking and then pairing with the cauliflower rice. I digress, we're talking pulao. You can make this any way you like. You can throw in veggies, paneer, some pork even, chorizo and you've got a meal fit for a king. One of my first cauliflower rice recipes was a chorizo pulao. Give that a try too.
Nutrition Info (Per serving)
Calories: 456
Net Carbs: 7g
Carbs: 12g
Fat: 27g
Protein: 40g
Fiber: 5g
This recipe makes 2 servings. Get this recipe on myfitnesspal.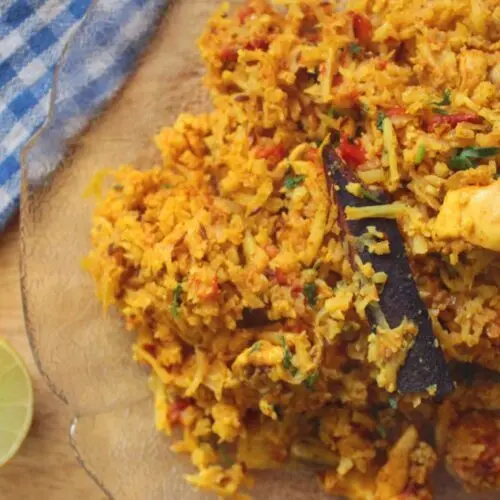 Keto Chicken Pulao (Keto Pilaf)
A one pot dish of chicken and rice
Instructions
Heat up your ghee in a frying pan and fry the whole spices

Once they start to sizzle add in the onions and cook till translucent and then add in the ginger and garlic paste and cook some more

Add in all the powdered spices and fry for a minute before adding in the chicken and the tomato

Season to taste and stir fry

Add some water to make a gravy

Pour the riced cauliflower over the curry and season once more and cover and cook for 5 minutes

After 5 minutes open and mix everything well and cover and cook till the cauliflower is nice and tender

Finish with fresh coriander and serve.