Cauliflower Rice Chorizo Pulao
You need some cauliflower rice pulao in your life
No, seriously.
If you're Indian, you're familiar with Goa sausage pulao. For the uninitiated, it's rice cooked with a knobbly, pellet-like pork sausage made in Goa – an eye-wateringly spicy, tangy, flavoursome cousin of the Portuguese chouriço or Spanish chorizo that keeps forever. It's delicious, like a sucker punch to the teeth – or so I've been told. You see, I'm quite the wuss when it comes to spice. But it's also one of wife's favourite things to eat. So when we found our freezer full of Iberico chorizo from my wife's trip to Spain, she challenged me to make my version of the pulao. So I did. And I was hooked. For life.
Though nowhere near as spicy as Goa sausage, the chorizo brought a lovely, porky tang to the rice and spices I threw in. It was a one-pot meal we couldn't stop eating. Of course, we couldn't eat that on Keto. So when I first made cauliflower rice, I knew what I wanted to do with it. Cauliflower rice chorizo pulao had to be shared with the world.
A one-pot meal that hits all the spots
You'll be surprised how quickly this cauliflower rice pulao comes together; it's a great option for a weeknight dinner if you have some chorizo sausage on hand. Yes, it uses onion and some tomato, but you can even skip it if your chorizo is particularly flavourful, and if you want to reduce the carb count. My Indian friends, feel free to swap the chorizo for Goa sausage, and go as spicy as you like. Honestly, I can't sell this dish enough. It's mildly spicy, it's tangy, it's got that crunch from the fried chorizo… all in all it's deeeeelicious. Do give this a go. I promise you it'll become a staple.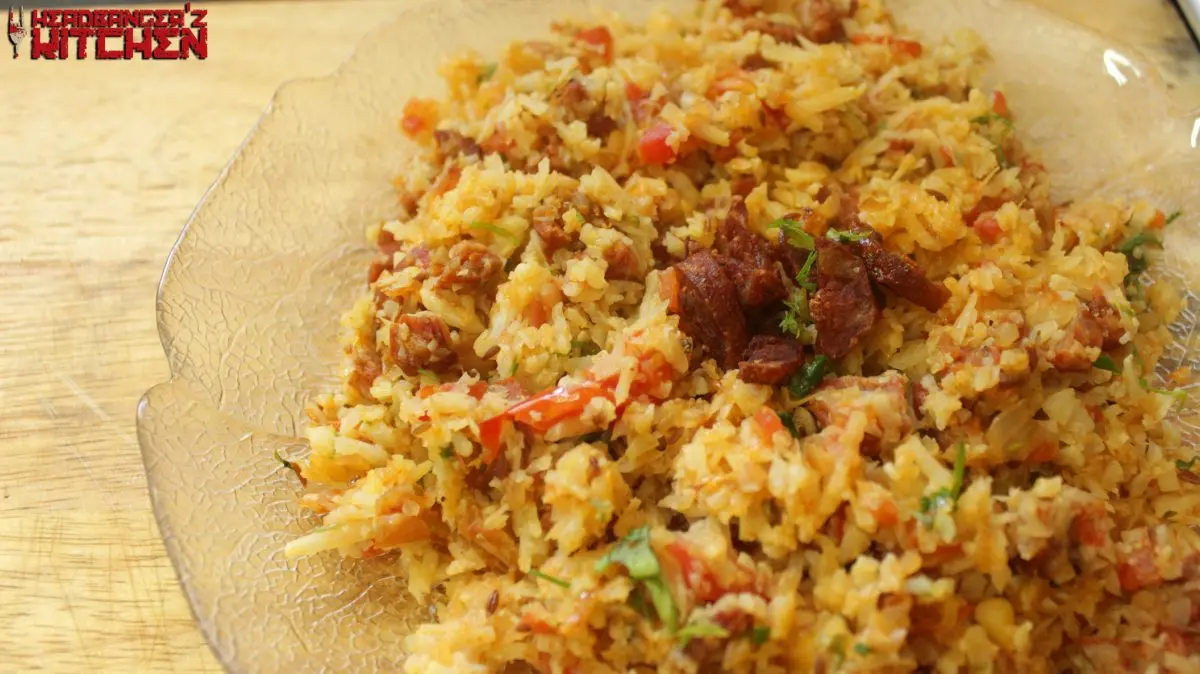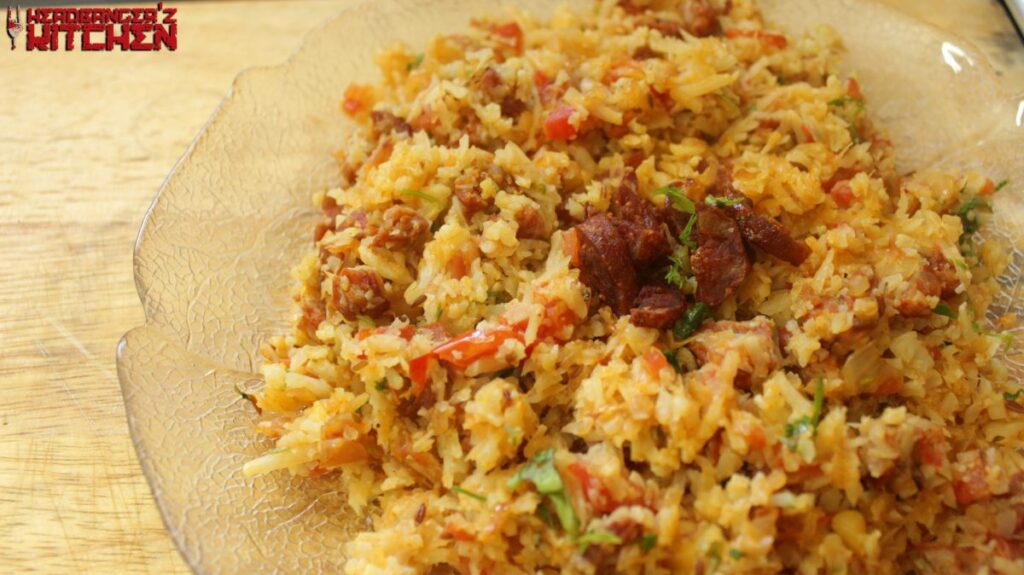 Nutrition Info (Per serving)
Calories: 206
Net Carbs: 6g
Carbs: 10g
Fat: 16g
Protein: 9g
Fiber: 4g
This recipe makes 2 servings.  Get this recipe on myfitnesspal.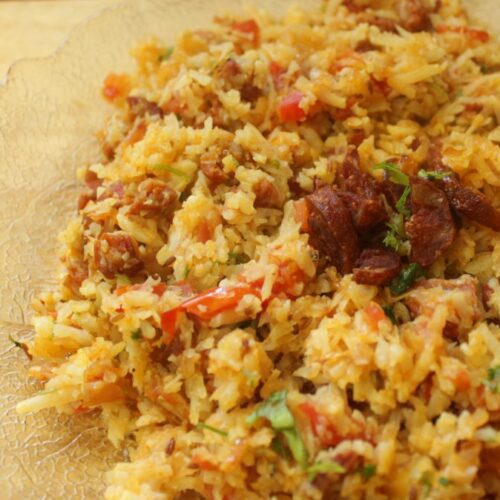 Cauliflower Rice Chorizo Pulao
A delicious chorizo pulao made using cauliflower rice.
Instructions
Fry the chorizo with a bit of olive oil

Add in the cumin seeds, onion and ginger garlic paste and cook

Add in the tomato as well as the tumeric and chilli powder.

Add a splash of water and cook out

Season with salt and pepper

Add the cauliflower rice and cook for 2 minutes

Finish with fresh coriander and crispy fried chorizo

Serve