There is no cream in Carbonara
I love me a good Carbonara. It's one of the simplest and most tasty Italian dishes. Of course a Keto version would replace the spaghetti with Zucchini noodles/spaghetti. Everything else remains the same. The trifecta of cheese, bacon and eggs. Good quality ingredients make the best Carbonara. Just remember there is no cream in Carbonara.
I took inspiration from the late Antonia Carluccio for this recipe. I've always loved his demeanor, presentation and simplicity when it comes to cooking and teaching us the art of true Italian cooking.
Keto and Italian recipes
I realized I do a lot of Italian recipes. I'm not sure if it's because they just seem to lend themselves so well to the lifestyle and are easily adaptable or maybe I just love Italian food? I think it all started somewhere with my love for Tiramisu (I've made a Keto Tiramisu) . It might also have something to do with the fact that pasta has kind of been a staple in my house while growing up as well. One of my first Keto recipes was with Zucchini spaghetti where I made Keto Alfredo Fettuccine and Pesto Zucchini spaghetti. Anyway there is a whole collection of Italian recipes on the website.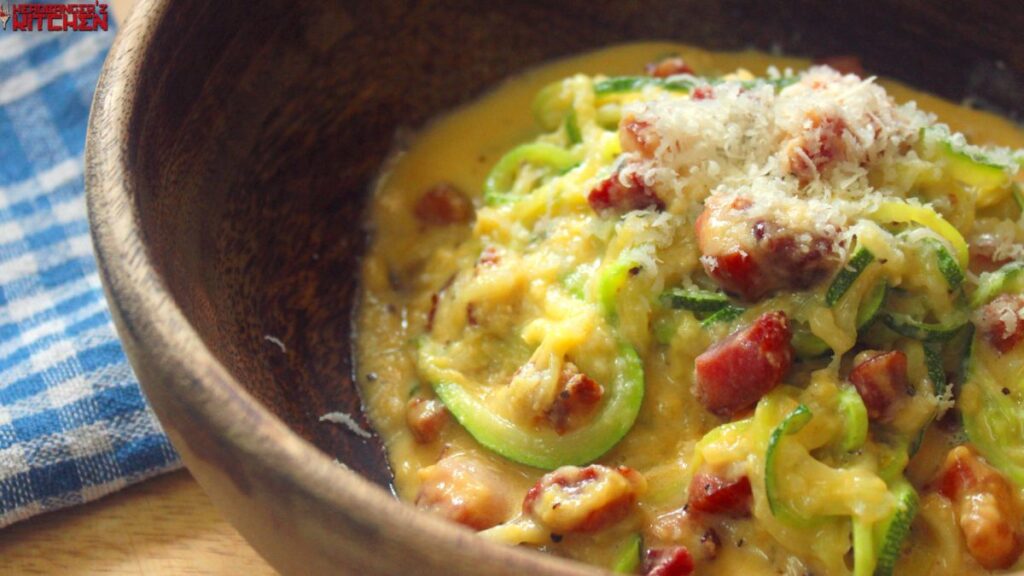 Nutrition Info (Per serving)
Calories: 601
Net Carbs: 2g
Carbs: 5g
Fat: 54g
Protein: 24g
Fiber: 3g
This recipe makes 2 serving. Get this recipe on myfitnesspal.
Keto Carbonara
Rich, decadent and full of good fat.
Ingredients
300

grams

Zucchini Spaghetti

200

grams

Smoked Bacon Cubes

1

Full Egg

1

Egg Yolk

50

grams

Parmesan cheese

Fresh Pepper

Salt to Taste
Instructions
Mix the egg, the egg yolk, the cheese and black pepper together

Spiralize the zucchini and make the spaghetti

Fry the bacon starting out in a cold pan to render out the fat

Once the fat has rendered and the bacon is crisp, remove excess oil if any

Add the zucchini, season with salt and cook till tender

Turn off the heat and pour in the egg mixture and mix through the spaghetti till everything is well coated.

Serve with some freshly grated parmesan on top.