Zucchini spaghetti is a lie
It's more zucchini fettuccine, actually. For this recipe, you don't need a spiralizer, you don't need any fancy gadgets – just a reasonably large zucchini and your favourite vegetable peeler. Once you've got these zucchini spaghetti strips, a million options come into play. You could throw in some garlic and cream and turn it into a Keto Alfredo Fettucine. You could layer it in strips with some tomato sauce and cheese to make a Zucchini Spaghetti Casserole. But what we're going to do here is probably the easiest meal you've ever thrown together. All you need is some of our Keto Basil Pesto. Or your own. We're not fussy.
Homemade pesto is besto
Not because we're trying to sell our recipe. Store bought pesto is famously unreliable – the ingredient list is suspect, a lot of them use cashew nuts instead of pine nuts which significantly ups the carb count. Plus, nothing is ever quite as tasty as making your own, fresh, and customising it to your taste. Ours, for instance, has parsley in it, which adds an unexpected zing. Make a jar of this ahead of time and it'll keep in the fridge for a good couple of weeks. You could vary the cheese, change the nuts, add in greens of your choice… and whenever you get hungry, just throw in some zucchini spaghetti with it, meats or veggies of your choice, fat to suit your macros and you have a nutritious, filling meal. There's no manifesto, just besto pesto.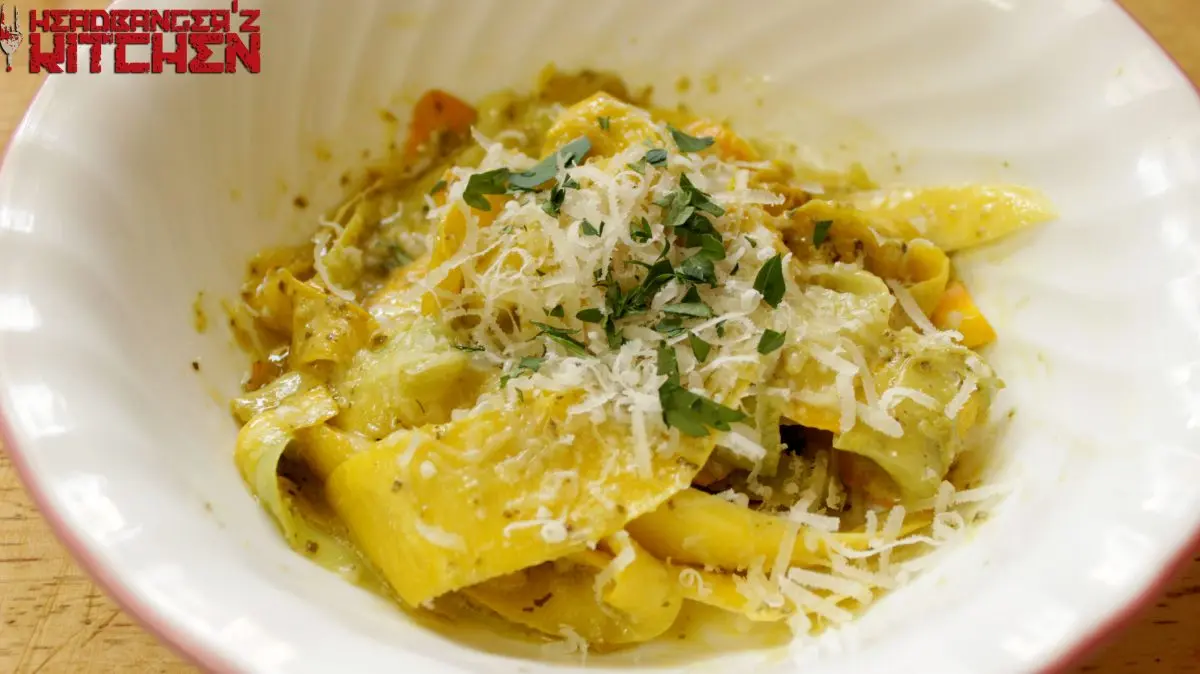 Nutrition Info (Per serving)
Calories: 356
Net Carbs: 2g
Carbs: 3g
Fat: 35g
Protein: 8g
Fiber: 1g
This recipe makes 1 servings.  Get this recipe on myfitnesspal.
Pesto Zucchini Spaghetti
One of the quickest and easiest low carb pasta meals to cook up.
Instructions
Heat the olive oil in a pan

Cook the zucchini and add the pesto paste

Grate the Parmesan cheese over it

Serve