Cauliflower Rice Mushroom Risotto
Another cauliflower rice recipe?
You honestly can't have too many. For me, on keto, cauliflower rice is my fallback. It also helps that cauliflower is such a versatile ingredient: you can rice it, couscous it, turn it into pizza, turn it into a cheesy bake… Before I got on keto, cauliflower was that throwaway vegetable that you'd only eat if absolutely nothing else was available. Now it's the cornerstone of my diet. And it should be yours too.
Easy peasy, nice and cheesy
This cauliflower rice mushroom risotto is a complete guilt free treat. It's high in fat and full of creamy and cheese deliciousness. You can also add in anything you like. Veggies like broccoli or asparagus or if you want some meat to sink your teeth into then some chopped ham, bacon, shredded chicken, quite a few options at your disposal. Even when it comes to the cheese you can use anything from blue cheese to a mature cheddar. The cream I am using is a local 25% fat cream but if you live in American heavy cream will work, or if you live in the UK, double cream.
NB: Cruciferous vegetables like broccoli and cauliflower are known to give some people flatulence, though personally I haven't experienced this on keto. Though full of nutrients, these vegetables' sulfur compounds are what gives it its room clearing properties, but lots of people have reported significant decrease in flatulence after taking probiotics or probiotic-rich foods like kefir. Just putting it out there.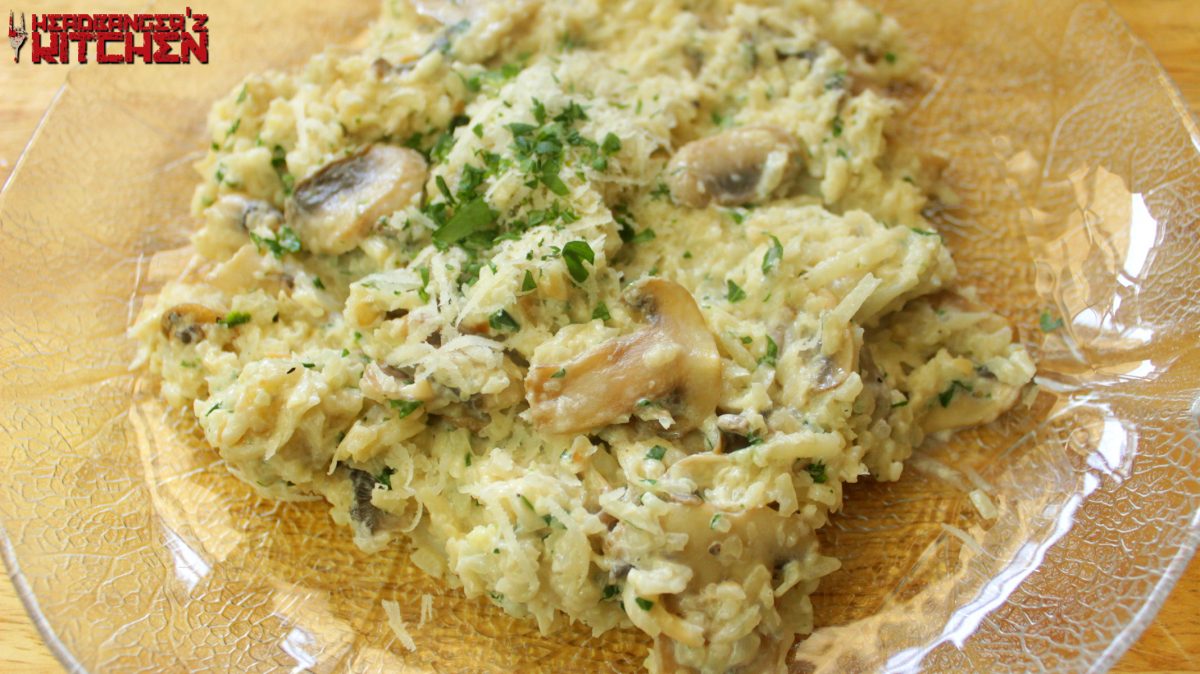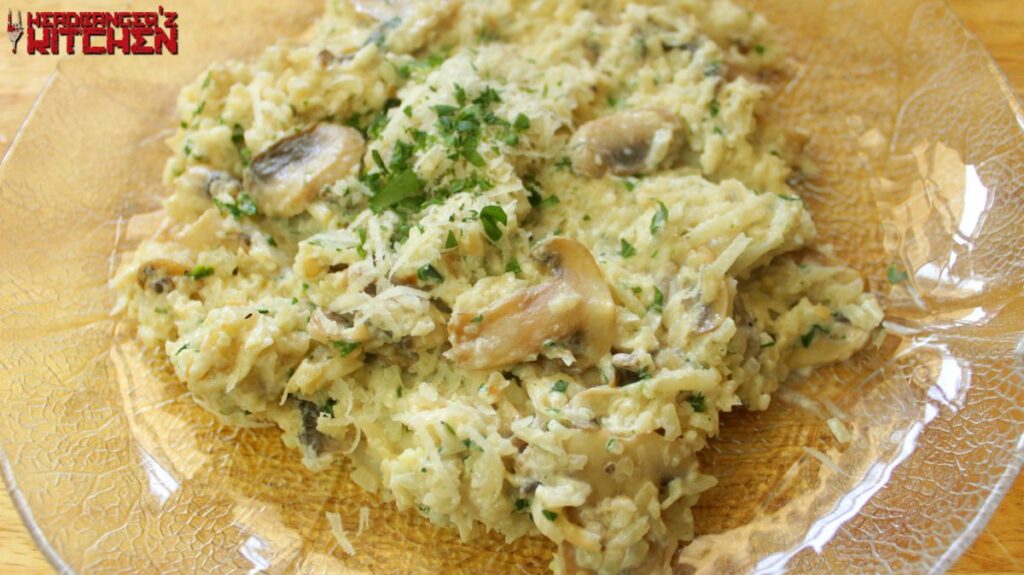 Nutrition Info (Per serving)
Calories: 263
Net Carbs: 7g
Carbs: 11g
Fat: 20g
Protein: 13g
Fiber: 4g
This recipe makes 2 servings.  Get this recipe on myfitnesspal.
Cauliflower Rice Mushroom Risotto
A creamy and cheesy risotto made with cauliflower rice.
Instructions
Melt the butter in a pan

Add garlic and pepper

Once the garlic starts to brown add mushrooms and cook till they get some colour

Add the cauliflower rice and mix well

Add the fresh cream and grated parmesan cheese and mix well

Sprinkle the fresh parsley and serve