3 Ingredient Broccoli Cheddar Soup
Keto Broccoli Cheddar Soup
Broccoli cheddar soup! I love broccoli soup and I love cheddar cheese. It's no surprise to me that they go so well together. Being that we're aiming for a fat rich diet the cheddar cheese adds a beautiful richness making this the perfect Keto broccoli soup. Now I have a super popular recipe for broccoli cheese soup which is a bit more labour intensive which is why this recipe is perfect because it's just 3 ingredients so you can get all that banging flavour without having to put in much effort.
Enjoy the recipe!!!
Make it with any vegetable
Look I've got a bunch of soup recipes, a killer creamy cauliflower soup and a rich mushroom soup. I've even got a seafood soup and a Tom yum soup. But this recipe here can be made with any vegetable. It's such a simple technique. You can try this with practically anything. Maybe you want a tomato soup? Cauliflower? Asparagus? Use this recipe and it should work just fine.
You can also use different cheese blends and you can try topping it with some crispy crushed bacon or nuts even. There is a lot you can do with this basic soup recipe and build on it.
Have fun cooking!
Nutrition Info (Per serving)
Calories: 151
Net Carbs: 5g
Carbs: 7g
Fat: 12g
Protein: 7g
Fiber: 2g
This recipe makes 3 servings. Get this recipe on myfitnesspal.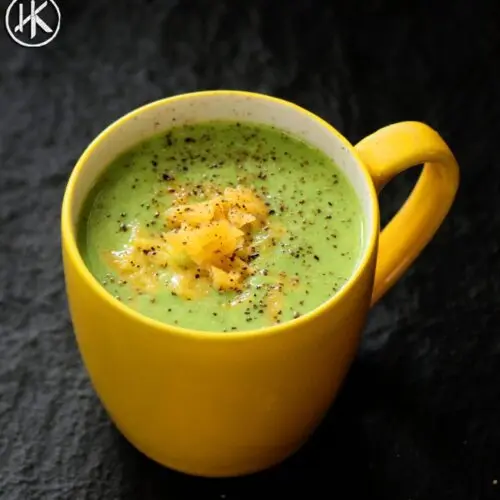 3 Ingredient Broccoli Cheddar Soup
A super simple broccoli cheddar soup
Ingredients
250

grams

broccoli

50

grams

Cheddar Cheese

50

grams

Heavy Cream

Salt & Pepper to taste
Instructions
Get a pot of salted water on the stove and boil the broccoli till tender.

Add the broccoli to your food processor and save about 2 cups of the water you boiled the broccoli in. Blend the broccoli and slowly add the water till it's blended and to a consistency you desire.

Add it back to your pot on a low heat and add in the cheese and cream. Mix till all the cheese is melted and the cream and cheese have combined well with the soup.

Serve in a mug with a little cheese on top and fresh pepper. This recipe makes 3 servings.