When Bread is replaced by Fried Chicken
As a younger foodie I was very impressed by 'size' and Epic Meal Time kind of dishes. I used to love watching videos of decadence like full hogs being roasted, pigs stuffed with turkeys and other such culinary monstrosities. Somewhere in the clamour of all this food I chanced upon the slightly less monstrous 'Double Down'. It was apparently something that KFC introduced on their menu, it was a hamburger where fried chicken replaced the regular hamburger bun. I wasn't even aware of Keto at that time but this was definitely a recipe for a foodgasm. I decided to cook this for a band called The Down Troddence on my show and name it 'The Double Down Troddence'. You can watch that episode here.
Fast forward to my current Keto shenanigans and  it seemed to be the perfect recipe. It was all the sin without any of the guilt. Since I made Keto fried chicken previously i didn't have to rely on bread crumbs. This recipe was now 100% Keto friendly. So go ahead and indulge yourself. Why? Because you're worth it.
Where are those macros?
Normally I would take the trouble to calculate the macros but there are so many variables in this recipe and I'm also on vacation. Therefore I have decided to leave them out for the time being. Maybe when I return to regular life I will calculate them or perhaps if one of you folks is kind enough to do it, leave them in a comment. Right of the bat I'm going to tell you that this is going to be a fairly high calorie recipe and it will have a good amount of protein since we've used chicken breast meat. Most of the fat is coming from the mayo spread and the bacon. There will also be some from the deep frying but it's rather hard to calculate how much.
I would say, don't fret. Just eat this as your cheat meal and be done with it. You can alternatively use pork chops for the burger buns, you could use ground beef for the burger patty and so on. The options are limitless and you can let your imagination run wild.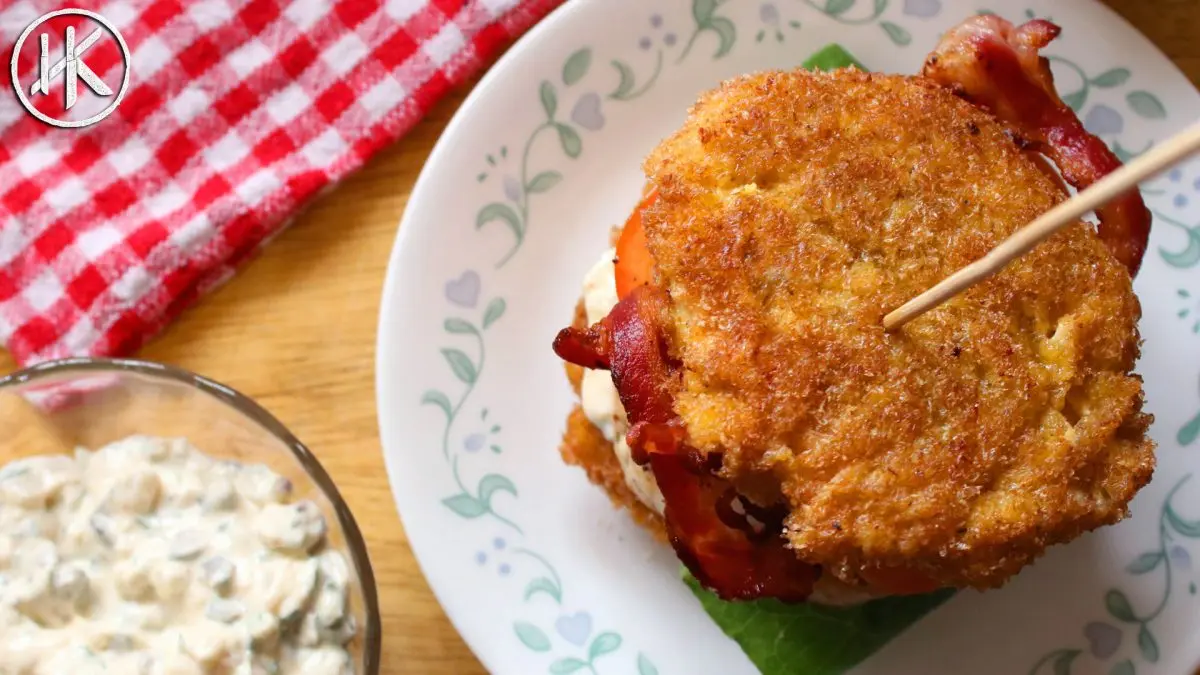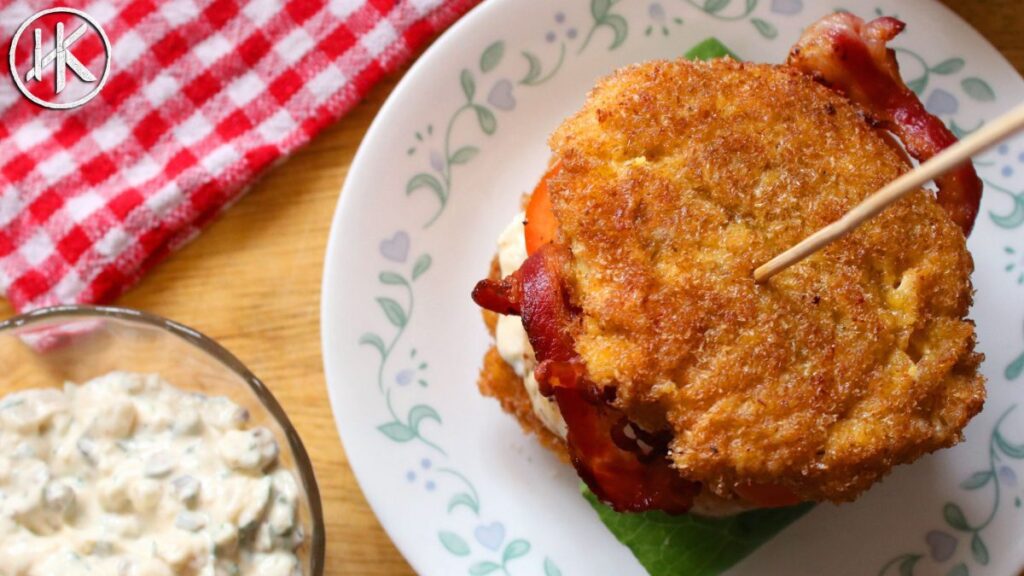 The Keto Double Down
A hamburger made using fried chicken for the buns
Ingredients
For the burger & bun
2

Chicken breasts

4

Rashers of Bacon

Salt & Pepper to taste

Dried Herb Seasoning Mix

I recommend this

Parmesan cheese

Psyillium Husk

I use one

1

Egg

Lettuce

Tomato

Cheese
Instructions
To make the special burger mayo chop the pickled onions and olives and mix them with the mayo. Also add in paprika and fresh parsley and give it a good mix. Set it aside for later.

Beat the chicken breasts using a rolling pin and some cling flim and then using a cookie cutter, cut out 1 round piece from each breast and set aside.

Add the remaining chicken along with 2 rashers of bacon, salt and pepper and the dried herbs to a food processor and blitz till you get a nice ground mixture.

Shape the burger patties with the ground meat and set aside.

Fry the remaining bacon in a pan and set aside once crispy

In the same pan fry the chicken burger patties. Add cheese on top after flipping and once cooked, set aside.

Season the round chicken breasts with a seasoning of your choice and set up a breading station with the egg, parmesan and psyllium husk.

Dip the chicken in the egg, then the parmesan, then again in the egg and then in the husk. Deep fry these using bacon fat or coconut oil or lard or any fat of your choice.

Now assembled the burger once the chicken breasts are deep fried and ready.

Add some of the mayo on 1 breast, then some lettuce, the burger patty, tomato slices, bacon and then top with the 2nd chicken breast.

Enjoy!