Keto Fish Recipe
On today's Youtube live stream I made a Keto fish recipe. I do the occasional live cooking session on my Youtube channel. There are always fans who want to support the channel and through the Superchat feature they pay some money. I always feel like I want t give back something and these folks are asked to give me an ingredient each. Using these ingredients I make a dish on the next live stream.
Today I used tilapia fillets along with brown butter, macadamia nuts and Parmesan cheese. These 5 ingredients were given to me by fans of the show. Of course I really had to rack my brains for this recipe given the ingredients.  But none the less I powered through and cooked this up.
Tweaking things
I think this recipe turned out really well. I think though if you want you can definitely coat the fish in Parmesan as well. It will add a nice note to the dish. As you saw in my case I felt the Parmesan shavings allowed me to really taste the cheese and not have it get lost in the mix.
In terms of fish, you can use any fillet of fish that is available to you. I guess this would also work with chicken. With the nuts as well I'd suggest pine nuts, hazelnuts and even walnuts as an alternative. Parsley can be subbed for any fresh herb like sage, tarragon, rosemary etc. If you want to make this dairy free then just skip the butter.  And that's it!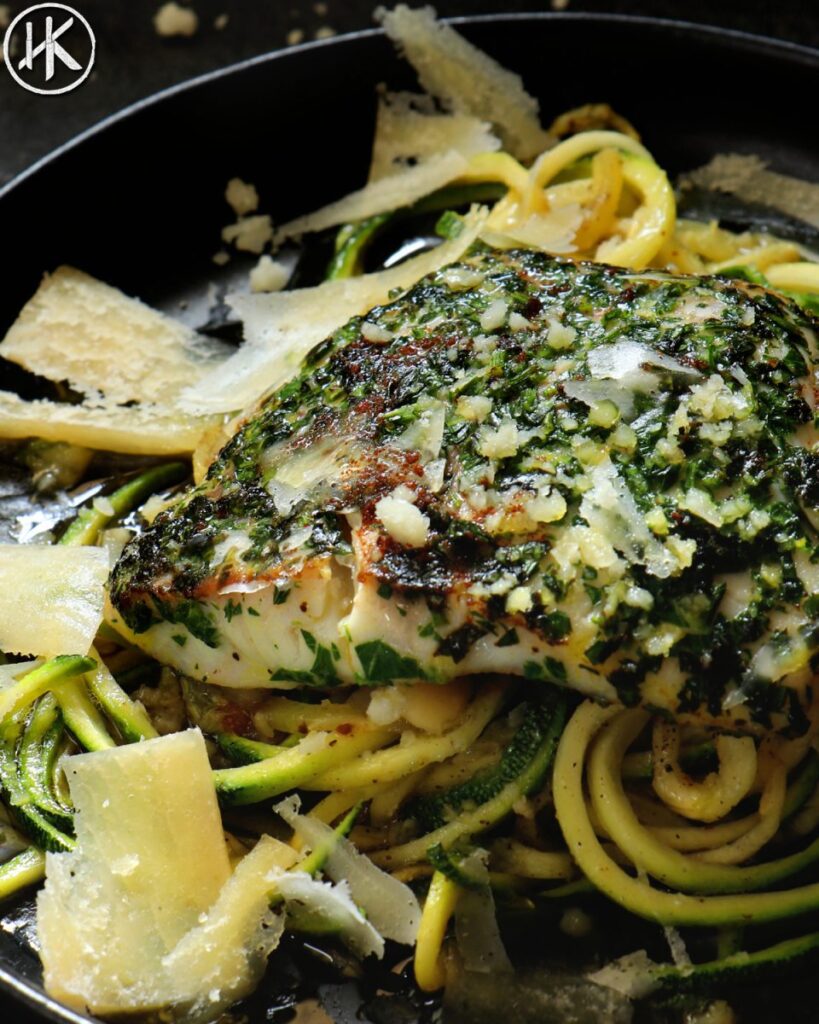 Nutrition Info (Per serving)
Calories: 420
Net Carbs: 3g
Carbs: 5g
Fat: 37g
Protein: 21g
Fiber: 2g
This recipe makes 2 servings. Get this recipe on myfitnesspal. Now for this macro calculation I used a generic white fish fillet so that part is the variable one in the equation. Keep that in mind.

Parsley Crusted Keto Fish
A delicious Keto fish recipe
Servings

Prep Time

2

servings

10

minutes
Servings

Prep Time

2

servings

10

minutes
Parsley Crusted Keto Fish

A delicious Keto fish recipe

Servings

Prep Time

2

servings

10

minutes

Servings

Prep Time

2

servings

10

minutes
200

grams

Fish Fillets

Any white fish will do, can also be done with salmon or tuna steaks

50

grams

Butter

1

Tbsp

Parsley

100

grams

zucchini

30

grams

Macadamia Nuts

1

Tsp

Avocado Oil

Salt & Pepper to taste

1/2

Tsp

Paprika

Optional

15

grams

Parmesan cheese
Start by spiralizing the zucchini and making zoodles. Also melt the butter in a saucepan and cook it till it is brown. Finely chop the parsley. If you want to add the Parmesan to the crust then grate it and mix with the parsley. Also toast the macadamia nuts in a dry frying pan till nice and brown and toasty.

Season with fish with salt and pepper. You can also season with the paprika if you like. Then coat the fish in the parsley and press the parsley into the fish. If the fish is super dry you can dip it in egg or just rub some oil on it.

Heat the oil in the pan and once hot fry the fish. Cook for about 2 minutes each side depending on the size and thickness of the fillet. After cooking one side and flipping over add about a tablespoon of the brown butter in the pan and baste the fish with it.

After cooking all the fish just add the zoodles to the pan, season with salt and some more brown butter and after 30-40 seconds turn off the heat.

Then in a mortar and pestle crush the macadamia nuts to create like a power/snow of it.

To plate up lay down the zoodles on the plate, then sprinkle some of the nut crumb over it, then place the fish, some more macadamia nut snow, a spoon of that brown butter and then Parmesan shavings over the top.