Making some Indo-Chinese food with Meat Noodles
Last week on my Keto Essentials series of videos I showed you how to make meat noodles. These are a great low carb/keto alternative to zucchini noodles and other spiralized veggies. Now I'll be honest, if I go to a Chinese restaurant, I'll order rice over noodles on any given day. Why am I giving you this information? It's because I wanted to cook up something with these meat noodles and I realized that I had done way too many Keto pasta dishes and I wanted to do something different. If you've ever eaten Chinese food in India (and I've talked about this) you know it's a cuisine on it's own. Also since I've never been to China I have no idea what actual Chinese food tastes like. Anyway, in our local Chinese restaurants here in India we get something called Hakka Noodles which is a favourite among most people. So I figured, this would be great to make. So today we're making Hakka Chicken Noodles, you don't need no extra chicken because the noodle is the chicken. Enjoy!
Protein Power
Straight up, these noodles are packed with protein because it's made from chicken breast. So you aren't looking at a super high fat macro from this meal, however supplement it with either our peanut butter fat bomb or our Nutella fat bomb and you'll be sorted.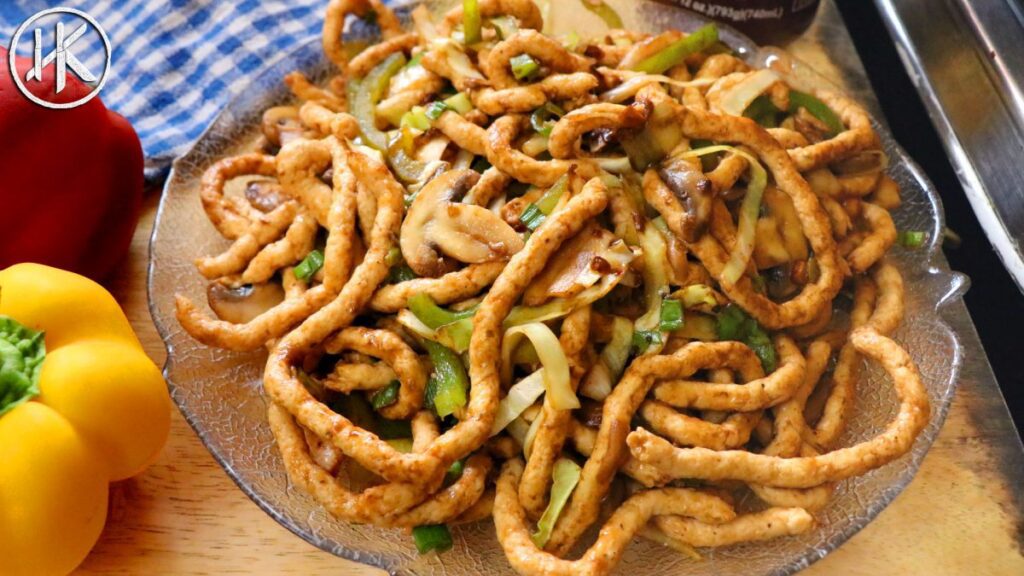 Nutrition Info (Per serving)
Calories: 269
Net Carbs: 5g
Carbs: 8g
Fat: 9g
Protein: 37g
Fiber: 3g
This recipe makes 3 servings. Get this recipe on myfitnesspal.

200

grams

Meat Noodles

100

grams

Green Bell Pepper

100

grams

Mushrooms

10

grams

garlic

1

Spring Onion

50

grams

Cabbage

1

Tsp

Soya Sauce

1

Tbsp

olive oil

1

Tsp

Vinegar

1

Tsp

Sriracha Sauce

Salt & Pepper to taste
Heat up the oil in a wok and fry the garlic and spring onion whites.

Once the garlic starts to brown add in all the vegetables and sautee them. Don't forget to season with salt and pepper.

Once they have softened add in the chicken noodles and mix well

Add the vinegar, soya sauce, sriracha sauce and mix well.

Finish with the spring onion greens.