The perfect Keto side dish
These Keto green beans are a great side dish. Veggies cooked in butter are always a winner in more ways than one. Not only do they taste exceptional they also hit those fat macros. Green beans are one of the best vegetables to eat on Keto. Clocking in at just around 4g net carbs per 100g they work great. If you are a meat eater they make a great side dish, if you are vegetarian then have them as a snack or even as part of a main course. The possibilities are endless.
This is my favourite way to eat green beans, cooked in loads of butter, garlic and some chicken stock. Of course if you are vegetarian then use vegetable stock. Happy cooking!
Pair it with dishes!
What goes great with these green beans. I personally would love it on the side of something like my Keto bacon bomb. Even if I'm having some Keto pork ribs or my tandoori roast chicken these would go great with all of them. Enjoy!
Nutrition Info (Per serving)
Calories: 172
Net Carbs: 3g
Carbs: 5g
Fat: 15g
Protein: 4g
Fiber: 2g
This recipe makes 3 servings. Get this recipe on myfitnesspal.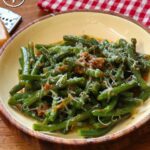 A delicious Keto side dish.
Servings

Prep Time

3

servings

10

minutes
Servings

Prep Time

3

servings

10

minutes
150

grams

Green Beans

10

grams

garlic

45

grams

Salted Butter

I use this

50

ml

Chicken stock

For the final dish

Salt & Pepper

30

grams

Parmesan cheese
Cook the green beans till tender with still a little snap to them. You can either boil in salted water or chicken stock for 4-5 minutes or microwave with a splash of water and salt for about 3-4 minutes.

Heat the butter in a pan on a medium heat and as it starts melting add in the garlic and mix well and let the flavours marry.

Once the butter has melted and the garlic starts browning add in the beans and once the garlic turns brown add in the chicken stock.

Once the stock reduces by half add in half of the parmesan cheese and mix well. Once the sauce thickens up, remove from the heat.

Garnish with the remaining parmesan and serve alongside your fav Keto meal.