I got my barbecue shoes on (again)
We could not do a barbecue week without doing some ribs and I've got some pork spare ribs and we're going to cook them up in a pressure cooker and then pan fry it with our Keto BBQ sauce and it's going to be deelicious. Enjoy! Cheers!
There is no grill, no smoke and yes BBQ
I'm sure I've angered the imaginary BBQ gods and got the purists up in arms about my use of the pressure cooker. Call these mock BBQ if you want but trust me they are certainly delicious and have a fantastic finish. Sadly I live in India, in an apartment and I really can't open up the BBQ pit in my bedroom or living room. So what do I do? I improvise and work with what I got. I find that even though the ribs are pressure cooked, they are just as tender and moist and with that finish in the wok where the sauce reduces and just coats the ribs, we're got deliciousness.
Nutrition Info (Per serving)
Calories: 569
Net Carbs: 1g
Carbs: 1g
Fat: 47g
Protein: 30g
Fiber: 0g
This recipe makes 5 serving. Get this recipe on myfitnesspal.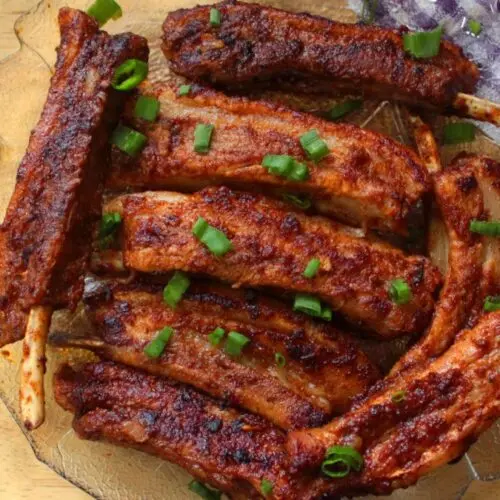 Keto BBQ Pork Spare Ribs
Succulent and melt in the mouth pork ribs with a tangy BBQ sauce.
Instructions
Pressure cook the ribs with salt, cinnamon stick, bay leaf, peppercorns, star anise, garlic and ginger for 30 minutes or till tender.

In a work cold fry the ribs and add the bbq sauce and 5 spice and fry till a nice crust develops

Serve.