Nostalgia drove me to make a Keto Pasta!
While most Indian children grew up eating dal, rice and roti, sabzi, my childhood menu was filled with things that most Indian kids found alien. Ham sandwiches, Tuna Salad, Roast Chicken and Macaroni & Cheese were my staples along with the general Indian cuisine. We called Mac & Cheese 'Cheese Macaroni' and obviously it was one of our favourites growing up, because which kid doesn't love cheese? So recreating a keto version and tasting it brought back all those memories I had eating the dish when I was growing up. The key spice in the recipe is going to be freshly ground nutmeg. Nostalgia alert!
Making a Cauliflower Mac and Cheese
So like most recipes in keto, cauliflower comes to the rescue. Be it replacing pizza base or in this case, the macaroni, cauliflower provides the perfect vehicle for the cheesy goodness that is the cheese sauce. Originally the base of the mac and cheese we made at home was a béchamel sauce but in this case it's butter, cream, cheese and spices all melded together. It's pretty simple, pour it over the cauliflower and your choice of meats or veggies, add more cheese and then in the overn to bake.
This is the blank canvas for you to paint on because you can throw in a variety of veggies ranging from mushrooms to broccolli, the list is quite endless, it's the same with the meats, replace the ham with bacon, shredded chicken, pulled pork, sausage or any meat treat that you like. This is your canvas to paint on, what did your mother add in her Mac and Cheese? Let me know in the comments below.
Anyway, enjoy the cheesiness of it all, you can check out my other low carb pasta recipe here
Cheers & Keep Cooking!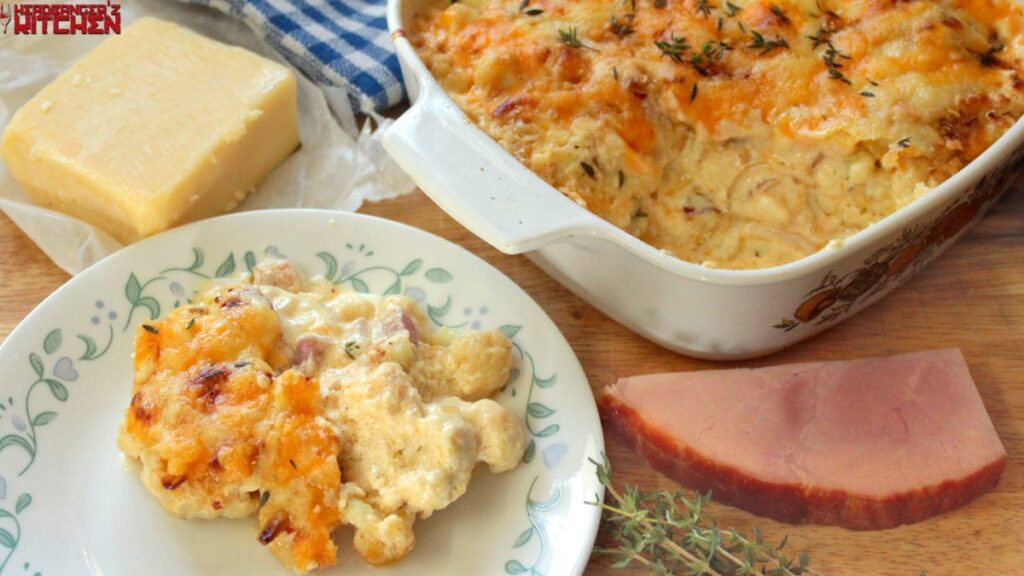 500

Grams

Cauliflower

100

Grams

Ham (Chopped)

1

Small Onion

1/2

Tsp

Red Chilli Flakes

300

Ml

Heavy Cream

150

Grams

Cheddar Cheese

50

Grams

Salted Butter

1

Tsp

Garlic Butter

1/2

Chicken Stock Cube

25

Grams

Pine Nuts

1

Tsp

Fresh Thyme

1/2

Tsp

Grated Nutmeg

1/2

Tsp

Cayenne Pepper

1/2

Tsp

Garlic Powder
Chop and sweat the onions in a pan with the garlic butter

Add in the chopped ham and chilly flakes

Sautee for a few minutes and set aside

Cut the cauliflower florets off the stalks, season with salt and microwave for 5 minutes

Melt 50 grams of butter in a saucepan and add in the garlic powder, cayenne, pepper, nutmeg, fresh thyme and stock cube

Once the butter has melted and everything is well mixed in, add the cream and mix vigorously together

Add in 100 grams of your favourite cheese and cook till fully melted into the sauce.

Finish the sauce with fresh pepper

Mix together the cauliflower, ham and onions and cheese sauce in a bowl.

Put the mixture into casserole and top with crushed pine nuts and the remaining cheese

Bake for 10-12 minutes in the oven and then broil for 2 minutes
Check out our recipe to make Low Carb Pasta. Watch our video to make your own Cauliflower Mac and Cheese by following along.