Free Meal Plan for Fat Loss
Week 3 of Fat Loss Friday: A Free 7-Day Meal Plan for Weight Loss!
Horns up, and welcome back to Fat Loss Friday! This series will take you on a week-by-week journey because I will give you a complete 7-day free meal plan.
Last week, we indulged in some delicious high-protein ham sandwiches for breakfast. Then, we had mouthwatering chicken pot rice, followed by a classic spaghetti and meat sauce for dinner. If you want a detailed recipe for all of them, head to my week 2 blog. 
But before you can move ahead with week 3, I recommend refreshing your memory about the top 7 tips for fat loss shared in my week 1 blog. 
Now, to jog your memory, I want you guys to know that I have completed my Keto journey and won't focus on such recipes anymore. But you can still watch my recipes and the Keto for beginners series. 
Now that we are all caught up let's move ahead to my free recipes for fat loss.
Disclaimer: I'm not a doctor or a trained nutritionist, and neither am I a dietitian. I do this for fun! So, please don't take any of my tips as medical advice. Before trying out these fat loss recipes, consult a qualified physician if you have underlying conditions.
Shopping List for My Free Meal Plan
This is the entire shopping list for week 3 of my 7-Day Free Meal Plan. Do change up the quantity requirements as per your macro needs and appetite. 
Chicken Sausages 

Kale

Eggs

Long-Grain Basmati Rice

Thigh Chicken

Ginger Garlic Paste 

Unsweetened Yogurt

Salt and Black Pepper 

Red Chili Powder

Coriander Powder

Garam Masala

Turmeric 

Cardamom Pods

Cloves

Ghee

Cumin Seeds 

Medium Onion

Mint Leaves

Mixed Vegetables 

Coriander Leaves

Low-Calorie Mayonnaise 

Barbeque Sauce 

Regular Hamburger Bun

Lean Ground Beef

Caper Berbere or any seasoning you like

Pan Spray

Parchment Paper 

Cheese Slice 

Lettuce

Tomatoes 
Introduction to Week 3's Fat Loss Foods: The Alternatives!

The Breakfast: Delicious Sausage and Kale Omelet
This time, I decided to have a very light, delicious and nutritious breakfast. It involves eggs, kale, salt, pepper and pan spray. Yes, that simple!
If you've been following me for long, you will know that I love some good scrambled eggs. But I wanted to make something different for week 3. Eggs are packed with vitamins, high-quality proteins, and various nutrients. Hence, this free meal plan includes eggs on the menu. 
If you don't like kale, I recommend substituting it with spinach or finely chopped broccoli. Do note the cooking time may vary. 20 grams of spinach have 5 calories, whereas 20 grams of broccoli have 7 calories. 
You can also use tofu, pork or beef sausages as an alternative to chicken sausages. Moreover, you can substitute the pan spray with regular olive oil or a knob of butter. Just remember to measure those out as the calories can add up and also a pay spray is like 6 calories vs a tsp of olive oil which is 40 calories. 
If you don't want eggs, I suggest you try a different breakfast recipe from my previous vlogs. Or, have a protein shake with some fruits. 
However, if this isn't filling enough for you or the calories are too few, feel free to add more quantity. You can use one more egg and a little more sausage and kale. This way, it will remain low carb. Or, you can eat one slice of bread with this omelet. 
For 1 Serving

Calories

235

Protein

20 grams

Fat

14 grams

Carbs

11 grams

Fiber 

1 gram

The Lunch: Flavorsome Chicken Pulao
We are going to be eating some Indian food for lunch this week as part of this free meal plan. Yes! This time we have chicken pulao on the menu. My recipe for this dish is absolutely delicious, healthy and high in protein. 
It requires chicken, some Indian spices, rice and vegetables. I used thigh chicken in this dish because, unlike breast, it won't overcook or dry out. As an alternative, you can use beef, pork, tofu, vegan meat and soya chunks as well. 
When it comes to rice, I used basmati, but you can choose any type of long-grain rice. You can also use cauliflower rice. As for the spices, I recommend you stay on track to ensure you get that true Indian taste. But you can skip the garam masala and chili powder. 
Besides, you can add any vegetable that you like, no worries. This recipe will make 5 servings, so you can easily store it up for later. 
Headbanger's Tip: To avoid burning your onions, you can add a bit of water when they start to caramelize. 
For 1 Serving

Calories

364

Protein

28 grams

Fat

12 grams

Carbs

33 grams

Fiber 

2 grams
Snack it Up: Munchies for Week 3!
During Fat Loss Friday, you can munch on healthy and tasty snacks when hungry. These include fresh fruits and vegetables. This week, I had:
Wild Blueberries – 80 calories/100 grams

Raspberries – 54 calories/100 grams

Dragon Fruit – 60 calories/100 grams

Green Apples – 52 calories/100 grams
Like I have said in the previous free meal plan blog, don't restrict yourself to my suggestions. You can easily snack on all types of fruits and vegetables in a controlled quantity. 
Just ensure to check the calories and avoid juicing the fruits. 

The Dinner: Healthy Beef Burger
This is one of my favorite foods but has quite a bad reputation as being junk food. But this recipe is healthy! For this recipe, I was extra meticulous about the tracking to ensure not to go overboard. I cooked this using ground lean beef and some sauces. Then, assemble it on toasted buns with lettuce and tomatoes. 
I consider this to be a nice, healthy, and high-protein dinner in my free meal plan.
For this, I used a low-calorie mayonnaise that was 10 calories per serving. And also used a local barbeque sauce which was 20 calories per serving. If you want, you can skip the mayonnaise or use cream cheese or sour cream. Similarly, if you don't want barbeque flavor, try using teriyaki sauce. 
Irrespective of the type of ingredients you use for the sauce, ensure to spread exactly 15 grams of burger sauce which amounts to lesser calories. As an alternative to beef, you can use mock meat, ground chicken, turkey, pork or any kind of protein as a substitute. 
The caper berbere I used has a great flavor, but you can use any spice mix you like. While smashing the patty a great tip would be to use parchment paper to avoid the meat from sticking to your spatula. 
For 1 Serving

Calories

505

Protein

37 grams

Fat

22 grams

Carbs

38 grams

Fiber 

2 grams
Note: When you change your protein macro, the cooking time will vary. So, replace the ingredients keeping in mind your calorie range. All the quantities are based on my calorie and macro requirements. 
Recipes for My Free Meal Plan (Week 3 Edition)
As usual, I highly recommend staying on course for at least 3 to 4 days of the week. Afterward, you can alternate the meals with any recipes shared in week 1 and week 2. 
Remember to eat what you love in regulated quantities and calculate your macros before doing that. The portion sizes in these recipes are adjusted to fit my calorie requirement, so modify them as needed. 
Without further jibber jabber, let's get straight into the free meal plan for this week.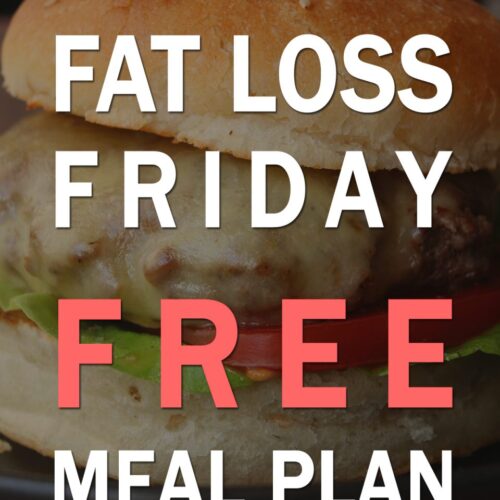 Week 3 of Fat Loss Friday: Here are the Easy Recipes!
If you want to lose weight without compromising on delicious foods? Then, this 7-day meal plan is just for you!
Ingredients
Breakfast: Sausage and Kale Omelet
50

grams

Chicken Sausages

20

grams

Kale

2

Eggs

Salt and Pepper

As per taste
Lunch: Chicken Pulao
150

grams

Basmati Rice

500

grams

Boneless & Skinless Chicken Thighs

15

grams

Ginger Garlic Paste

50

grams

Unsweetened Yogurt

½

tsp

Salt

For marination

½

tsp

Black Pepper

For marination

1

tsp

Red Chili Powder

For marination

1

tsp

Coriander Powder

For marination

½

tsp

Garam Masala

For marination

1

tsp

Salt

For rice

1

tsp

Turmeric

For rice

3

Whole

Cardamom Pods

For rice

3

Cloves

For rice

1

tbsp

Ghee

1

tsp

Cumin Seeds

As per taste

100

grams

Onion

15

grams

Mint Leaves

200

grams

Mixed Vegetables

10

grams

Coriander Leaves
Dinner: Beef Burger
30

grams

Low-Calorie Mayonnaise

15

grams

Barbeque Sauce

65

grams

Regular Hamburger Bun

500

grams

Lean Ground Beef

1

tbsp

Caper Berbere

or use any local seasoning of your choice

½

tsp

Salt

If required

1

Cheese Slice

10

grams

Lettuce

30

grams

Tomatoes
Instructions
Breakfast
Cut the sausages into small pieces. Remove the stems from your kale, roll them up and finely chop them.

In a bowl, crack in the eggs, then season with salt and pepper. Starting whisking them till the yolks mix well with the whites. (Beat it! Just beat it!)

Heat your pan and spray it with your favorite pan spray. Then, add in the sausages and kale. Gently pan-fry them till the kale wilts and the sausages get brownish.

After that, pour in your eggs and cook them under low heat. You can also cover your pan, evenly distributing the heat and cooking the eggs perfectly.

Keep the lid on for a minute or two. Once the egg looks fairly cooked, give it a flip and let it stay like that for 30 seconds.

Take it off the heat, and your eggs will be ready to serve! Plate it up, and your breakfast is good to go.
Lunch
Start by weighing out your rice. Then, wash it under running water a few times and let it soak in for 30 minutes. In the meantime, take your chicken and cut it into bite-sized pieces using kitchen scissors. (Well, I got lazy and didn't want to dirty my cutting board)

Then, marinate it! Add in the garlic paste, regular yogurt, salt, black pepper, red chili powder, coriander powder, and a bit of garam masala. Mix everything up and let it marinate while you cook the rice and prepare the veggies.

Get a pot, add the drained rice, then season with salt and turmeric. In that, add in the cardamom pods, followed by the cloves. To this, add 300 milliliters of water. Now, you just turn on the heat and bring it to a boil.

Once it starts bubbling, cover the rice with the lid. Keep it cooking for about 10 minutes or till the liquid gets absorbed. Once done, turn off the heat and let it sit covered for 10 more minutes. After that, pop the lid and fork up the rice to keep it non-sticky. (Oh! Don't forget to remove the whole spices once the rice cools down)

After that, get your pan and add in your ghee. To this, add some cumin seeds and sliced onions. Now, saute it and caramelize the onions. Add in some water when the onions brown and cook until the water evaporates. You can repeat this a couple of times, too, as it helps with even browning.

Once the onions have cooked (or I've lost patience), throw in the marinated chicken. With a bit of water, rinse out that bowl to get all the marinated juices into the recipe. Add the water mixture to the chicken and start sauteing for a few minutes. After that, add in some water, mix everything up and cover it. Keep it cooking for 6 to 8 minutes.

You can then add in some mint leaves for extra flavor. To that, add some mixed vegetables. These can be frozen or a mixture of chopped carrots, cauliflower, beans and peas. After mixing everything, bring it up to a boil to get that flavor party started.

Now, we take out our rice and layer it on top of the gravy while it continues to cook. (Biriyani style!) Remember that we want this liquid to really reduce and cook down. This way, it can intensify the flavors seamlessly. So, cook it for another 5 minutes on medium heat and then garnish it with coriander leaves. Then, turn the stove off.

Then, mix everything up so you can store it in your meal prep box. To find out what 1 serving is, you need to get your scale out. Transfer everything to a Tupperware and weigh it. For me, the full dish weighed 1205 grams. So, 1 serving was 241 grams. When it's time to eat, get your plate or bowl and serve yourself 241 grams of pulao.
Dinner
Get out a scale and use a small bowl to make your burger sauce. Mix in 2 parts of the mayonnaise and 1 part of the barbeque sauce. This mixture makes three servings, with one being 15 grams. Take a plain hamburger bun that weighs 65 grams and is 176 calories. Slice it in half and get it ready.

For the burger patty, you can get the ground beef and season it with caper berbere made by a local company. Season the beef with this powder and add some salt if required. Then, use your hands to mix everything together. (I recommend wearing a special glove for this!) When making the patty ensure that you weigh it. For me, it was at least 125 grams and then roll it into a ball.

Now, it's time for you to get the griddle on the stove and toast the burger buns nicely. Once you see some color on the buns, remove them.

Spray some pan spray and place the meat ball. With the help of a spatula and parchment paper, press down on it. Let it be a bit thick, so avoid smashing it too much since this is lean beef. Let it cook for 2 minutes, and then flip it. Put a slice of cheese and cover your griddle. Cover and let the cheese melt. Once done, remove the patty and rest it in a place.

And now, it's time to assemble. Get your scale, put the toasted buns, and spread the burger sauce, which amounts to 17 calories. Place some lettuce, add in your fresh tomatoes and season this with some salt and pepper. Then, put the patty on top. (Secret tip: Pour in the resting juices from the plate on the top bun) Once done, cover the burger, and it's ready.