Inside Out Grilled Cheese

Recreating Chef John's Grilled Cheese
Who doesn't love grilled cheese? I think everyone does. Even though I grew up and live in India I knew and loved grilled cheese sandwiches. It was really a treat tucking into that buttery and crispy bread with the ooey gooey cheesy center. It's what dreams are made off. We would dip ours in tomato ketchup. But it was only through Chef John from Foodwishes.com that I discovered the inside out grilled cheese.
Now Chef John is a legend in the Youtube culinary world and a huge inspiration of mine. This grilled cheese video of his has over 10 million views. I just knew I had to make my version of it. I mean don't get me wrong the original is the original but I just knew this would be a good dish to make. Honestly the only real difference between his and what I did was me being more generous with the butter and making two versions.
One with regular bread and one with sourdough. Anyway, enjoy!
Grilled Cheese on Sourdough
I think sourdough bread has made a huge comeback. And I for one am glad that it did because it's the most honest form of bread if you ask me. It has a distinct taste and it digests well. Also it TASTES GREAT! My wife Deepti often makes sourdough at home and she has her own starter as well. But for this recipe since she was busy I used some store bought sourdough. I'm glad that India finally has a bunch of different folks making sourdough bread so it's not hard to get.
Anyway the sourdough version has a bit more bite because of the texture of the bread and it's got that hint of sourness. It's definitely not like the grilled cheese of my childhood, it's more refined and fine dining. So which is better? Well depends on what I'm craving and when I'm craving it.

Nutrition Info (Per serving)
Well look, it's probably best you forget about the calories when you eat this and don't eat it too often. But having said that we can do a few rough calculations. Two slices of bread, at least the ones I used are anywhere from 100-150 calories for 2 slices. Cheese I used about 50g in total which is about 200 calories. About 20-30g of butter has gone into it so that's another 200 calories there. We're looking at 500-550 calories for one sandwich.
That's why I say it's better to just not think about it but it is good to understand how high in calories it can be. Of course if you can manage with 1 tbsp of butter instead you drop 100 calories right away but frankly speaking, why? Just eat the damn thing and go for a 60minute walk later.
Anyway Enjoy!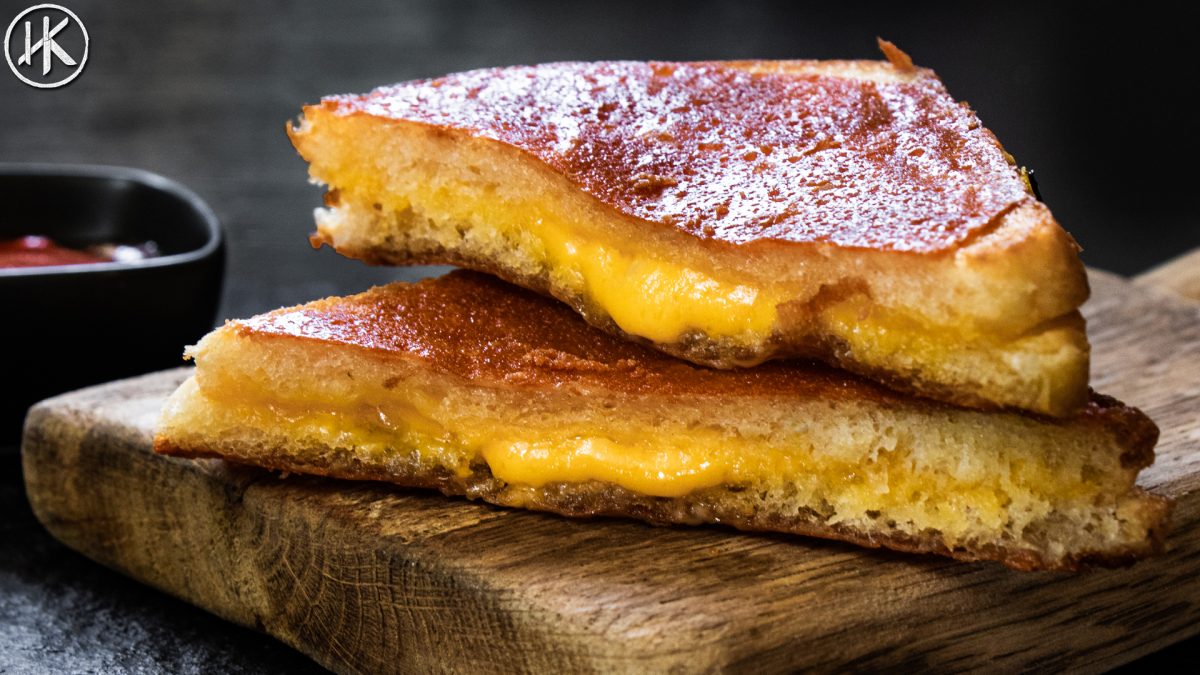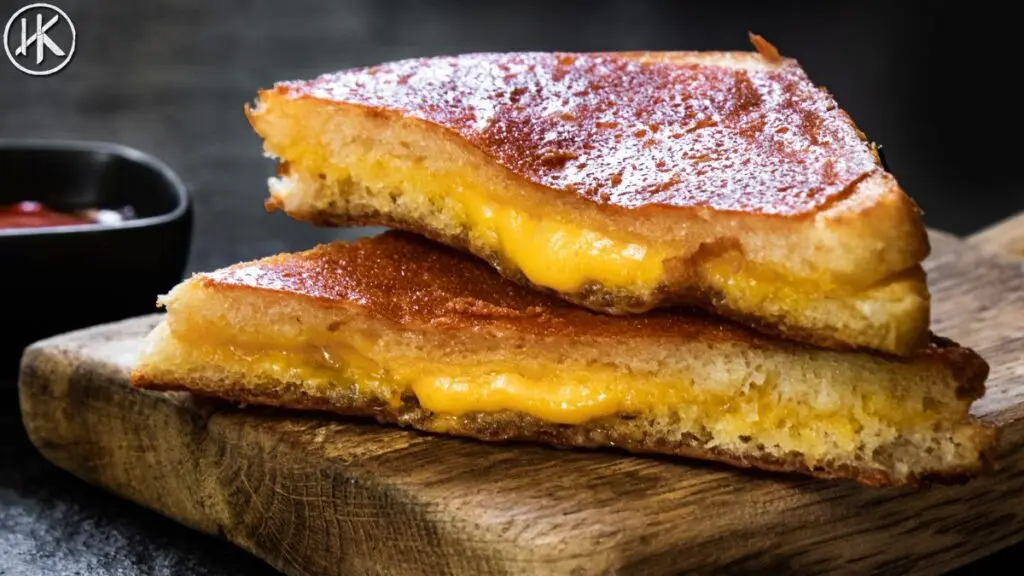 Okay so I did it anyway.
I finally did calculate the macros. You can get the recipe on myfitnesspal. It's basically 418 calories, 25g carbs, 29g fat and 15g protein. Not terrible but this is with my local white bread which is 45g in weight for 2 slices and only about 100 calories. I'm sure most other commercially available bread is much bigger so if each slice of yours is about 50g in weight then it will be about 518 calories. If you use more cheese or butter than specified then it will also be way more calories. But seriously, eat it once in a while and enjoy it without any guilt.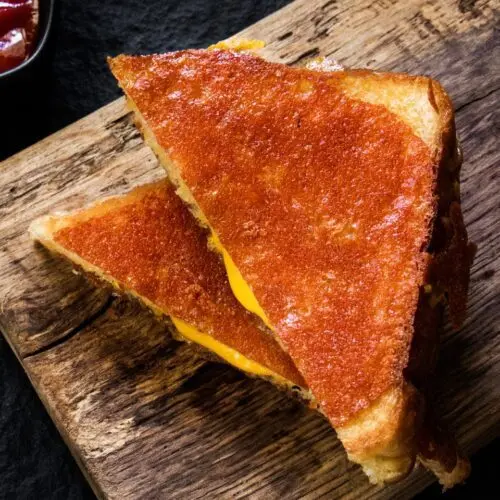 Inside Out Grilled Cheese
A delicious inside out grilled cheese
Ingredients
2

Slices

White Bread

Or Sourdough will also do

1

Tbsp

Butter

50

grams

Cheddar Cheese of choice

You can use one kind or a blend, it's up to you
Instructions
Start by using half the butter to butter the insides of the bread slices, then add half the cheese on one of the buttered sides.

Cover with a butter slice. Butter the top of that slice as well with half of the remaining butter.

Melt the remain butter in your pan and place the unbuttered side of the sandwich on it.

Cook on a low heat in your non stick frying with with a lid to help the cheese melt.

After 2 minutes flip the sandwich over and you should have a lovely golden toasted side.

Add cheese on top of that cover with a lid and cook till the 2nd side is fully toasted and the cheese on top has melted. You can also add a tsp of water to create some steam to melt the cheese on top.

Flip onto the side with the cheese and then cover with more cheese on the untoasted side. Repeat the process of covering and cooking and using water to create steam and when the cheese has become crispy flip it over.

Cook till the cheese is crisped on the other side and then your sandwich is done.

An alternate method is just to grill the sandwich on both sides. Remove from the pan. Place the cheese directly on the pan in the shape of the bread. Place the sandwich on the cheese and one the cheese is crispy remove the sandwich.

Repeat the process by adding the cheese and then placing on the non cheese side onto the cheese, cooking till crispy and remove

Serve with your fav dip or eat just as it is. And as always, ENJOY!