Paneer Pakoda!!!
It's the monsoon in Bombay and that's when my fellow Indians sit back with a cup of chai and pakoda and enjoy the weather. If I'm being honest I'm not a chai and pakoda kind of guy, give me a cup of coffee and a chicken sandwich and I'm happy. However I see no reason why my fellow Indians on Keto should not get to enjoy chai and pakodas. I've already done a recipe for Keto masala chai and just a few days ago I make a delicious Keto chutney. The timing for this pakoda couldn't be more perfect. So go ahead and fry up some Keto Paneer Pakodas.
Nutrition Info (Per serving)
Calories: 270
Net Carbs: 2g
Carbs: 6g
Fat: 35g
Protein: 12g
Fiber: 4g
This recipe makes 2 servings. Get this recipe on myfitnesspal. These macros include a generic amount of oil that would be absorbed during deep frying. I normally assume that to be 1 tbsp. If you are super particular then you can weigh your frying oil before and after to know exactly how much has been absorbed. Also then remember to weight the paper towel that you drain the pakodas on. Also all the carbs here are FIBER from the psyllium husk.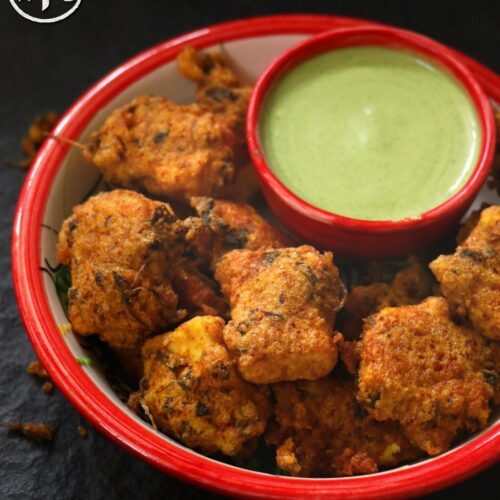 Keto Pakoda
A delicious Indian snack
Instructions
Mix half the kashmiri chilli powder with half the tumeric, all the garam masala and some salt (about 1/2 tsp) and mix it all to create a dry rub.

Individually dab the paneer pieces in the spice mix and coat well. Else mix all of it together in a bowl so the paneer is well coated.

To make the batter crack the egg in a bowl and mix with some salt, the rest of the chilli power and tumeric and the kasuri methi and mix well. Then add in the psyllium husk 1 tsp at a time till the mixture is nice and thick like a batter.

Dip the paneer in the batter and then deep fry. Cook till the batter is nice and golden brown.

Serve them hot and with some Keto green chutney.