A classic American – Chinese dish
Being from India I'm not familiar with General Tso or his chicken. However I did a deep dive into the recipe and after watching a few of my favourite chefs share their version of this dish, I was certain I could do a Keto version. So I embarked on a quest to make a Keto General Tso Chicken.  As I did with my Keto chicken nuggets recipe I decided to go with my favourite psyllium husk for the breading. This dish was very similar to the Indian chilli chicken dish that I've done as well. I just love how every country has their own version of Chinese food and how it's all pretty darn good! Anyway enjoy!
Tips & Tricks
So if I'm being honest. In the video I felt that the amount of sauce I made was a tad less than I needed for the amount of chicken. Therefore I've edited the written recipe accordingly. It was still great though. However I felt like it needed more sauce in hindsight. I was trying to keep the use of the soya sauce to a minimum. However you can always substitute it with coconut aminos that are a better alternative to soya sauce for Keto and can be used more generously.
If you have any trouble with the psyllium husk you can alternatively use pork rinds to coat the chicken. I know there are folks who use both almond flour and coconut flour as well to bread things but honestly I just find that unappealing in both texture and taste.
Nutrition Info (Per serving)
Calories: 230
Net Carbs: 2g
Carbs: 2g
Fat: 12g
Protein: 27g
Fiber: 0g
This recipe makes 4 servings. Get this recipe on myfitnesspal. These macros do not include the psyllium husk since it's extremely hard to note down the exact amount used. Either way it's basically just fiber that you will not digest so we can omit it.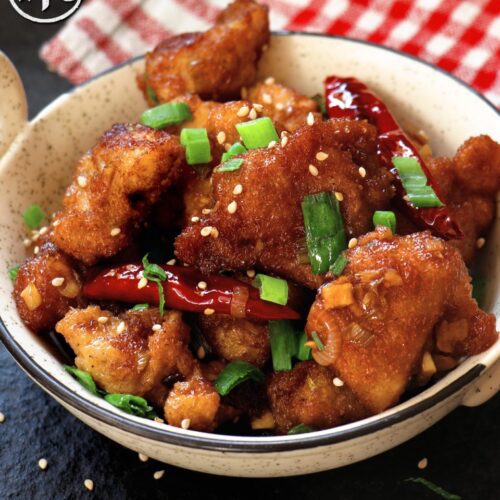 Keto General Tso Chicken
A low carb version of this Chinese American Classic
Ingredients
500

grams

Chicken Thighs

You want to use boneless and skinless chicken

5

grams

garlic

5

grams

Ginger

50

grams

Spring Onion

Separate the white part and the green part.

1

Egg

2

Tbsp

Soya Sauce

Try this one

1

Tbsp

Rice Wine Vinegar

Try this one

1/2

Tbsp

Sesame Oil

Try this one

1/2

Tsp

Sesame Seeds

1

Tbsp

Chinese Cooking Wine

Try this one

Salt & Pepper to taste

Psyllium Husk (as required)

I use this

1/2

Tsp

Baking Powder

Try this one

Oil/Lard/Ghee/Bacon Fat for deep frying

1

Tbsp

Chicken Fat

1/4

Cup

Chicken stock

Try this one

4

Dried Red Chillies

Try this one

Stevia or preferred sweetener to taste
Instructions
Start by cutting the chicken thighs into small bite size pieces. Then in a large bowl add the chicken, season with salt and pepper and marinate with 1/2 tbsp soya sauce, 1/2 tbsp vinegar, 1/2 tbsp sesame oil, baking powder and 1 egg.

Then individually dip and coat each piece of chicken in the psyllium husk. Once done breading the chicken heat your oil for deep frying. You can alternatively shallow fry as well.

Once the oil is hot fry the chicken in batches. It should take 3-4 minutes to cook each batch. Since I cook by intuition I cannot give you a temperature for the oil. But to test it I add a bit of the batter in and if it floats up the oil is generally hot enough.

After frying the chicken set it on paper towels to drain of any excess oil.

In a frying pan heat up the chicken fat or any Keto approved cooking fat and fry the garlic, ginger, chillies and spring onions.

Fry until the garlic starts to turn golden brown and then add in the chicken stock, 1/2 tbsp vinegar, 1 1/2 tbsp soya sauce and stevia and cook till it starts to reduce a bit and get syrup like. You can also add the cooking wine if you have access to that and also add some hot sauce if you want to make it spicier. If the sauce looks too little compared to the chicken add in some more chicken stock.

Once the sauce has reduced a bit then add in the chicken and give everything a good mix. Once the chicken is fully coated garnish and finish with the green part of the spring onion.