You don't need to be Popeye to eat spinach
As a kid spinach always got a bad rap because it was green and I guess not appealing to most kids. Heck we had a cartoon to tell us we need it to be strong and that we should eat it. Somewhere along the way I grew up and my attitude to spinach changed. I would say it's one of my top vegetables. It's so good for you but more than that it's delicious. One of my favourite ways to eat it is as a soup, my Keto spinach soup is quite popular if I do say so myself. However I think this recipe is my new favourite way to eat spinach.
Side or Snack?
I personally love my steak with a side of creamed spinach but it also makes  a great (and healthy) stand alone snack. I love to throw in some cheese as well to make it a cheesy spinach. If dairy is not your friend you can easily make this dairy free. Use olive oil to sautee the spinach, some garlic to flavour it and then coconut cream to finish it and maybe some fresh coriander or basil to finish it off with. I also love using spinach in many other recipes. I found it goes great in my Keto shepherd's pie and also in my Keto chilli con carne. What's your favourite spinach dish?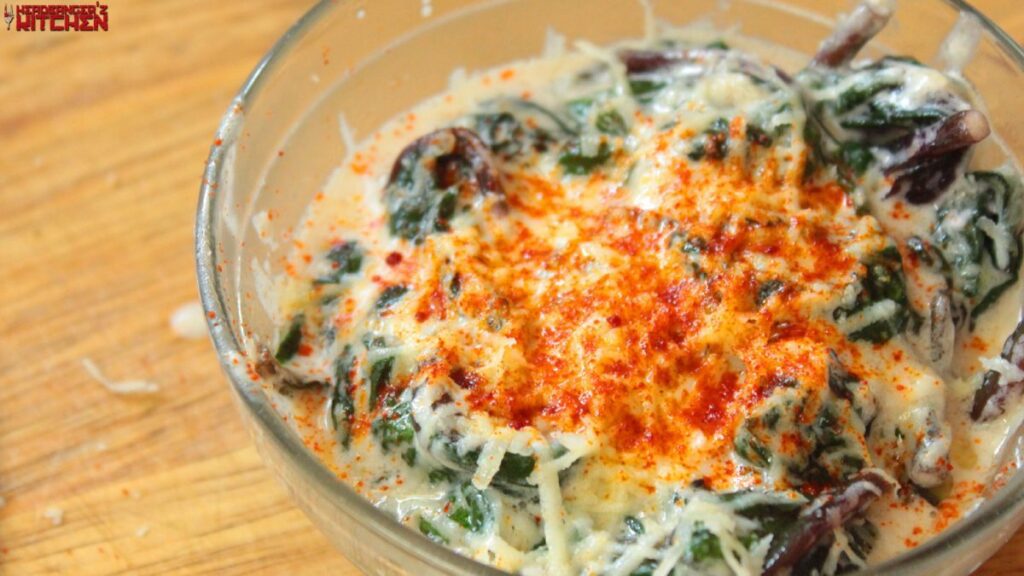 Nutrition Info (Per serving)
Calories: 283
Net Carbs: 2g
Carbs: 4g
Fat: 26g
Protein: 9g
Fiber: 2g
This recipe makes 1 serving. Get this recipe on myfitnesspal.
Keto Creamed Spinach
A quick and easy vegetarian Keto snack
Instructions
Heat the olive oil in a pan

Once hot add the spinach

Season with salt, pepper and nutmeg

Once the spinach melts add the butter, cheese and cream

Mix well can cook for a minute

Serve