Japanese-style Keto Chicken Wings

What's peppery, smoky, buttery, wow? Togarashi chicken wings!
Togarashi is not, as I first thought, a Japanese mob boss. It's a spice mix that you've probably encountered in every Japanese restaurant, usually in a distinctive little red-and-white bottle. Togarashi, which means peppers, usually consists of red peppers, sichuan peppercorns, white and black sesame, ginger, orange peel and nori. All of these are ground together to make an all-purpose seasoning that can go on noodles, eggs, rice or meat – the last in yakitori form. That is how I encountered togarashi, and I can tell you these Keto chicken wings slathered in togarashi butter have changed my life.
We happened to order it off the yakitori menu at our favourite Japanese restaurant here in Mumbai, called Izumi. It came hot off the coals, dripping with this deliciously umami seasoning and with a hit of smoke from the charcoal. It seemed so simple but it had so many layers of flavour, it blew my mind. I knew I had to make it for Headbanger's Kitchen.
Shichimi togarashi or nanami togarashi? And can I grill this?
So there are two types of togarashi seasoning available (shichi and nana both mean seven in Japanese, so it's seven-spice). Shichimi is slightly more flavourful because it has a higher proportion of orange peel in it, but nanami is the only kind we get here in India, so I've used that. You can, of course, swap out one for the other with no problem. You can even make your own togarashi seasoning and it will taste much better than store-bought.
If you have a grill, you could easily grill these keto chicken wings on that, so you get that authentic charry, smoky flavour as well. I live in an apartment so I used a cheat's method to infuse that smoky flavour. It's an Indian technique called dhungar, where you heat charcoal till red hot on a naked flame, then put it in a bowl and drop a tiny amount of butter or ghee on it and quickly shut it. The ghee or butter begins to smoke extravagantly on the hot coal and the smoke perfumes the meat without cooking it in any way.
You also want to use butter or ghee, and NOT beef fat like I did. Beef fat has a much higher smoke point and is solid till it reaches high temps, so it wasn't the most successful experiment. Butter and ghee also have more flavour compounds, so you'll get a more aromatic smoke then if you're using, say, olive oil. This should have been obvious to me. It was not. Don't be Sahil.
And if you're a fan of Keto chicken wings (and who isn't), don't forget to stop by my many many wing recipes. I've got alfredo chicken wings, garlic parm chicken wings, even butter chicken wings and they're all more delicious than the other!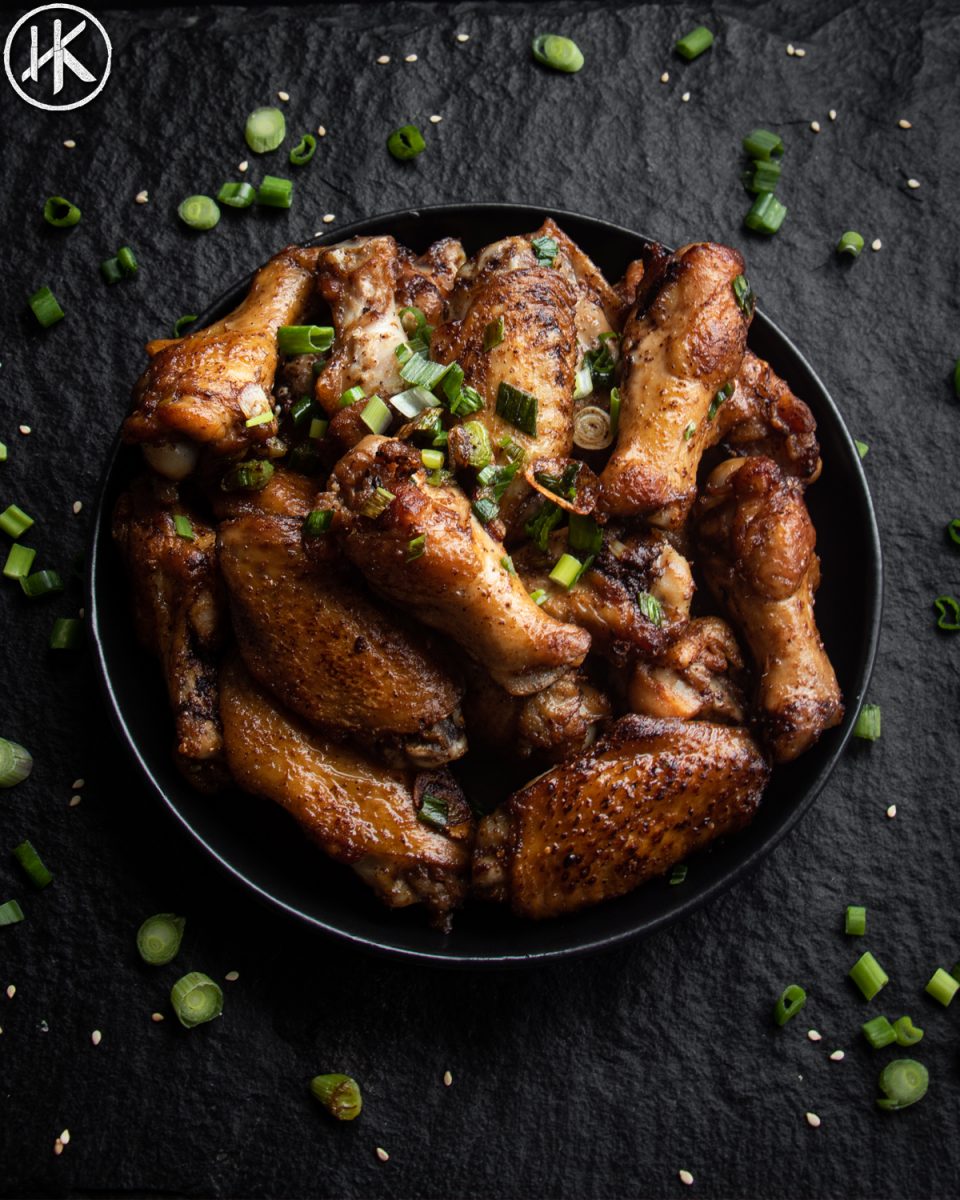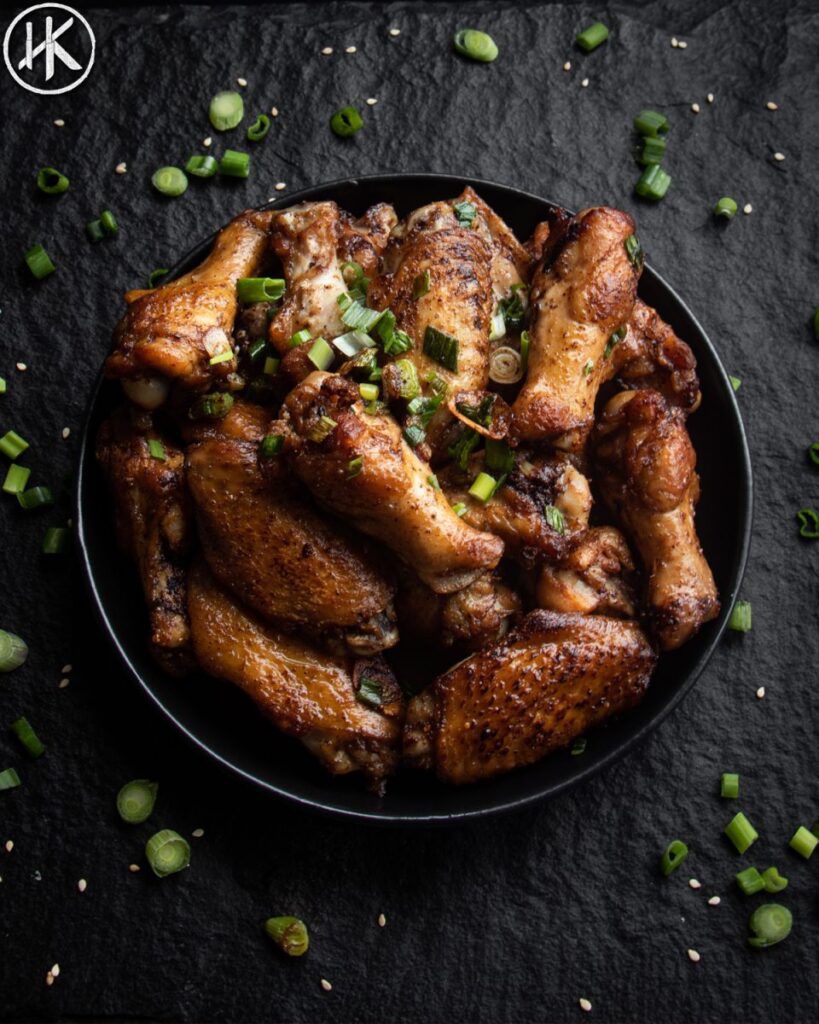 Nutrition Info (Per serving)
Calories: 189
Net Carbs: 0g
Carbs: 0g
Fat: 14g
Protein: 15g
Fiber: 0g
This recipe makes 12 servings. 1 serving = 1 Chicken Wing. Get this recipe on myfitnesspal.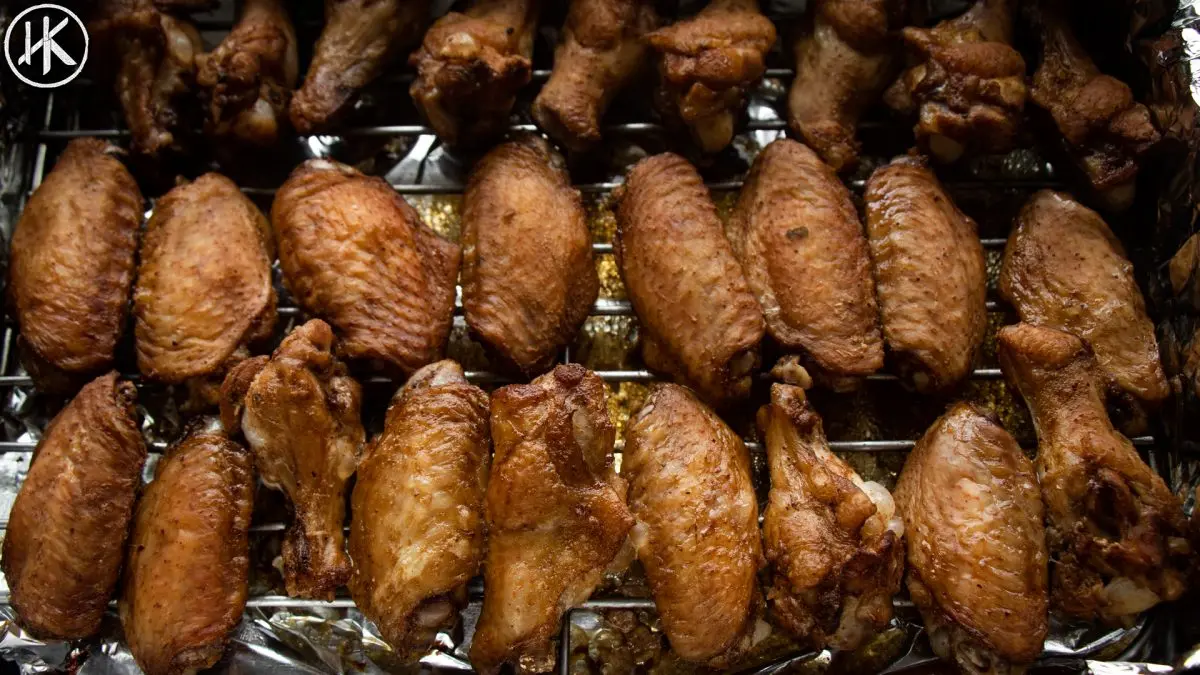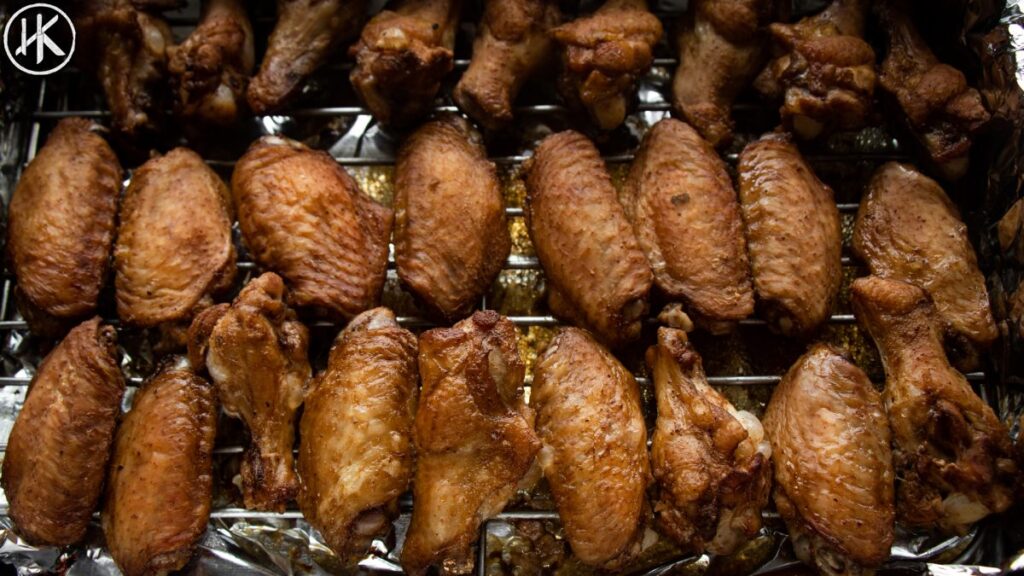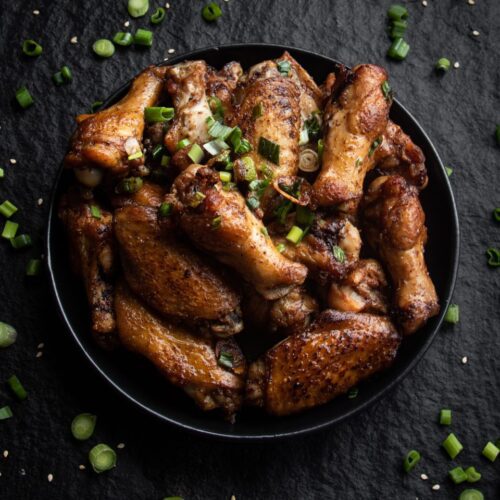 Japanese-style Keto Chicken Wings
A Keto wing recipe inspired by Japanese flavours and techniques.
Ingredients
1

kilo

Chicken Wings

1

tsp

Sesame Oil

1

tbsp

Soya Sauce

1

tbsp

togarashi seasoning

Order Online

3

tbsp

Butter

1

Spring Onion

1/2

tbsp

Baking powder
Instructions
Start by prepping the chicken wings. You want to first get rid of the wing-tip at the last joint, which doesn't have a lot of meat on it but which is great to make stock with. Then you want to separate the drum from the fat, and you do this by slicing through the joint. Make sure your knife is sharp!

Pat the wings dry and transfer them to a large-enough bowl for marination.

To the wings add the salt, the togarashi powder, toasted sesame oil and some Japanese soy sauce. (You can sub the soy sauce for coconut aminos to keep the carbs down, but please do not use regular sesame oil in place of toasted sesame oil. They're very different.)

Give it all a good mix till the chicken is uniformly coated in the marinade. Then place a heat-proof ramekin or small bowl right in the middle of all that chicken.

Now turn on the stove and set the flame on high, and heat a piece of charcoal on the naked flame using grill tongs, until the charcoal is red hot. Drop the hot charcoal into the ramekin in your chicken bowl, and immediately plop a small amount of butter or ghee on it. Shut the bowl immediately with a lid and let the smoke infuse in the chicken. If you're doing this on the grill, you can skip this step.

Let the smoke infuse in the chicken for about 15 mins. You can do the smoking process as many times as you like to make it smokier.

While the chicken marinates, preheat your oven to 200C/390F.

Add the baking soda to the marinating chicken, and give it a good mix. The baking powder helps the skin of the chicken wings crisp up.

Line a baking tray with some foil and place a rack in the tray. Line your chicken wings up on the rack and pop the whole thing into the oven for about 30 minutes.

While that's happening, chop up a spring onion. Separate the white part from the green, and slice both up finely.

After 30 minutes are up, take your chicken wings out of the oven. They should be golden brown now.

To give it a bit of that charry flavour, I'm going to hit the wings with a blowtorch. You can also just directly hold these over a naked flame just to give it a little bit of char. Careful of dripping fat though! You can also pop it into your oven and turn on the broiler for five minutes if you have one.

To finish up the wings, get your wok out and add in a knob of butter. You can vary the amount you use depending on your fat macros. When the butter melts and bubbles, throw in the spring onion whites, the togarashi seasoning and stir it all together till the onions just soften.

Add in the chicken wings to the wok, give them a good toss till the wings are all coated in that delicious togarashi onion butter.

Once the wings are well coated, throw in the fresh spring onions greens, give it a final toss and serve!