Keto Soy Sauce Chicken (Chinese Chicken Dish)
Chinese Chicken – Soy Sauce Braised
Who doesn't love a good Chinese chicken dish? This Soy sauce braised chicken is an easy one pot meal for the whole family. It's also great for meal prep. I've always loved Chinese food though I haven't been to China to try the real deal. But through the wonders of the internet and my travels I've had a bit of a taste of some version. This soya sauce braised chicken is one of my absolute favorites. Most of you know I'm big on chicken rice as a meal and it's my go to lunch. I've done a full meal prep video of the chicken rice I eat daily. 
Now of course rice is not Keto so I've skipped that part here. You can serve yours with cauliflower rice or just eat it as a soup and chicken. 
Is Soya Sauce Keto?
This is a common question asked. Is Soya sauce Keto? Most people think it's not because it's made with soybean which has about 33g of carbs per 100g. Soya sauce on the other hand is made with fermented soybeans and clocks in 4.1g net carbs per 100g. What that means is even if you consumed 100g of soya sauce in a meal that's about 4g of carbs. But who am I kidding? What kind of looney bin eats 100g of soya sauce in a sitting? We use about 2tbsp in this recipe which makes 2 servings. So to cut a long story short. It's Keto friendly. 
Can you use chicken breast?  
In this recipe I've use full chicken legs, bone in and with skin. A lot of folks just don't like eating meat with bone. I will argue that the bones impart great flavour to the dish. However, they can be skipped if so desired. If you want to use chicken breast what I would recommend doing is flash frying them and removing them from the pan. Continue with the recipe as is and use chicken stock along with the mushroom soaking water and cook it for a long time and reduce by half. This way you will get more chicken flavour in the broth and it will be concentrated. Finally add the chicken breast right at the end to finish cooking. This should do the job without overcooking the chicken breast. 
Nutrition Info (Per Serving)
Calories: 414
Protein: 43g
Fats: 74g
Carbs: 6g
Fiber: 1g
Net Carbs: 5g
This recipe makes 2 servings. Get this recipe on myfitnesspal.com. 
Where are the carbs coming from?
In this recipe most of the carbs are from the mushrooms and a tiny bit from the soya sauce and sake. If you skip the mushrooms you will drop the carbs down to 1-2g net carbs. So you can by all means do that. You can instead save the carbs for the cauliflower rice. I personally have always said, don't worry about carbs coming from vegetables. They are very different from the carbs coming from sugar or honey or bread or real rice. It would just not be worth worrying about it. 
One other thing I did is that I did not include the carbs from the ginger, garlic and spring onions as you don't really eat those. You can if you like but they are more to add flavour and aroma to the dish. So you can just not eat them.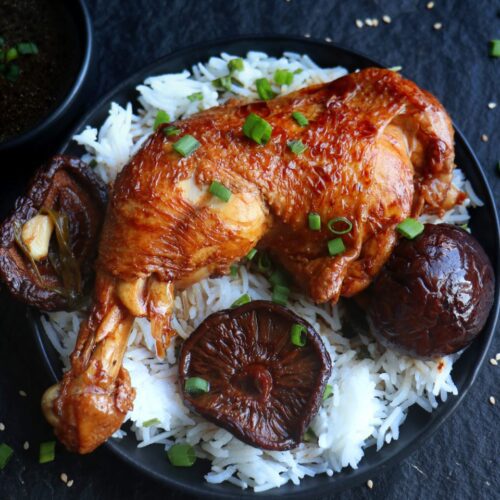 Soya Sauce Chicken
A super easy and quick Chinese chicken dish
Ingredients
2

full

Chicken Legs

Bone in and Skin on (these weight about 450g in total)

50

grams

Dried Shitake Mushrooms

1

Tsp

olive oil

15

grams

Ginger

10

grams

garlic

30

grams

Spring Onion

1

Cinnamon Stick

2

Star Anise

500

ml

Water

2

Tbsp

Dark Soya Sauce

1

Tbsp

Cooking Sake

salt if needed
Instructions
Soak the mushrooms in boiling water for 30-40 minutes. Then remove the mushrooms and squeeze out all the water. Strain the liquid and your mushrooms and mushroom stock are ready. Make sure to remove the rubbery stem of the mushrooms after they soak since those are inedible.

Season the chicken on both sides with a bit of salt (I didn't show this in the video) and then heat the oil in your saucepan and then lay the chicken skin side down in the oil and then turn on the heat to medium.

The chicken skin will slowly render oil some fat and it will fry. This process takes a good 5-7minutes. Once it's golden brown flip it over and cook for a minute. Then remove from the pan

Now add the ginger, garlic and spring onions to the pan. Make sure the garlic cloves are peeled and smashed with the side of your knife, the ginger cleaned and cut into pieces, the spring onions as well cut into 1" pieces. Sautee for 1-2 minutes and add in the cinnamon stick and the star anise.

Now add the mushrooms as well and sautee for another minute before deglazing the pan with the mushroom water. Add in the soya sauce and the sake.

Bring it up to a moderate boil before adding in the chicken legs, lower the heat and cover and cook for about 15-20 minutes till the chicken is fully cooked through.

If like me your chicken isn't fully covered in the braising liquid then open every five minutes an flip over.

Remove the chicken and mushroomsfrom the pan and now you can strain the broth.

Serve the broth, chicken, mushrooms and either rice or cauliflower rice. Garnish with some spring onion greens.