A hearty soup for the winter
Yes! You read that right, it's Keto tomato soup. You can eat tomatoes on the Keto diet and don't let anyone tell you otherwise. Tomato soup is one of those dishes that brings back memories of long distance train journeys. As a kid and even later on when I traveled by train (in times when flights were expensive) one of the highlights was tomato soup. There were vendors walking up and down the compartments shouting 'tomatoo shouuuupppp' and all of us would scrounge together our money and buy a cup. It used to be great on cold nights in the train.
For this recipe however I have to credit my friend Anu Narayan who made this for me on my recent UK trip. I was totally floored by the soup and I just knew I had to make it for you guys. At 5g net carbs per serving this is really Keto friendly and can easily fit into your daily allowance.  Anyway enough jibber jabber. Enjoy!
Are tomatoes Keto-friendly?
There is a lot of misinformation about Keto foods. Can you eat tomatoes on Keto? Will they kick you out of Ketosis? The short answer is yes.  A tomato is a fruit but it's low carb and fine for those following a Ketogenic diet as well. A 100g of tomato has 2.7g of net carbs which means that you can definitely enjoy them in moderation. The total grams of carbs in a tomato is about 3.9g according to the USDA database from which 1.2g is fiber content. What you do want to look out for is store bought sauces which can have added sugar. Lots of tomato products like tomato sauce and tomato paste are filled with huge ingredient lists that make it less than ideal for Keto. However tomatoes have lots of health benefits.
They are a major dietary source for the antioxidant lycopene which is said to have many benefits like reducing the risk of heart disease and cancer. I don't know how much research is there to prove this but that's what I've read. But lets be honest, we all know vegetables are good for us, whether it's a tomato or or cauliflower or zucchini or other low carb fruits and vegetables.  They are also good sources of vitamin C, potassium, folate and vitamin K.
So don't fear tomatoes, in fact skip the store bought products and make my Keto tomato ketchup or Keto marinara sauce.
A whole lot of tomato goodness
Cooking the tomatoes: In the video I cooked the tomatoes with the vegetables in the pan with the butter. You can alternatively roast the tomatoes in the oven along with the garlic, onions and butter. In that case you would just lightly cover with olive oil and season with salt. Then slow roast them about an hour at 180 C after which you can deglaze the baking dish with a little stock and then blend everything together with the spices and then cook it out. Same recipe, different technique.
Why is my soup not red?: My soup is rather orange for a tomato soup. The colour of your soup will vary quite a bit on the tomatoes themselves. If you use tinned ones they might be darker. The cream will also affect the colour, if you use less cream then it will be darker in colour. Honestly I don't care about tomato soup being red. All I care about is taste.
Did you forget to add salt?: In my recipe I only seasoned the soup when cooking the onions. The reason for this was that the chicken stock I was using had plenty of salt in it. The butter I used was salted as well. This is why I didn't need any additional salt. If you are using unsalted butter, a stock with less salt then by all means season to taste. When you are cooking you should always be tasting and adjusting the seasoning to your taste. It's a given.
What the stock?: The stock I used in the video is just a simple home-made stock. I just put a chicken in a pot with boiling water and cooked it for 45minutes. You can use store bought stock or you can even use a stock cube and water. If you want to have a more vegetable taste then I would recommend veggie stock. Using beef stock would give you a more rich taste. The taste of the stock/broth can really change the flavour. If you want the tomato in the purest form, then perhaps try just using water.

Nutrition Info (Per serving)
Calories: 266
Net Carbs: 5g
Carbs: 7g
Fat: 26g
Protein: 2g
Fiber: 2g
This recipe makes 3 servings. Get this recipe on myfitnesspal.
People are always confused about what makes 1 serving. What I recommend is once you finish cooking, weigh the soup and then divide by 3 and that will give you the amount per serving. My soup weighed 600grams so 1 serving = 200 grams of soup. Now depending on how long you cook down the soup, how thick your heavy cream is, how much you cook down the stock, the weight of your soup might vary. So weigh it and don't go by the weight of my soup. Hopefully you figured it out. If you have questions still, let me know.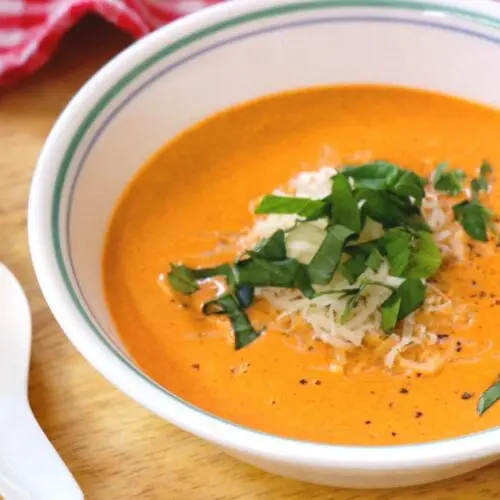 Keto Tomato Soup
A rich and creamy tomato soup.
Ingredients
300

grams

Tomatoes

You can also use tinned ones

50

grams

Onion

10

grams

garlic

300

ml

Chicken stock

I recommend this

100

ml

Fresh Cream (Heavy Whipping Cream)

Try this one

50

grams

Salted Butter

Try this one

1/2

Tsp

Black Pepper Powder

Try this one

1/2

Tsp

Smoked Paprika

Try this one

1

Tsp

Pumpkin Spice Mix

You can also use 'All Spice' mix Try this one

Fresh Basil for garnish

Cheese for garnish

Salt to Taste
Instructions
Heat the butter in a heavy bottom saucepan and once it has melted add in the onions with a pinch of salt.

Cook the onions low and slow till they start to turn brown and caramelize.

Add in the garlic and cook till it starts to brown and then add in the tomatoes and cook for about 2 minutes.

Cover the pan with a lid and cook on a low heat for 5 minutes

After 5 minutes of cooking add in the pepper, paprika and pumpkin spice. Also add in about half of the chicken stock. If your stock has no salt then add salt as well.

Cover with a lid and cook for about 10 minutes till the tomatoes are completely soft. Keep opening the lid every 2-3 minutes and stirring to ensure nothing sticks.

Once it's cooked and tender let it cool. Then blend the mixture in a food processor or using an immersion blender. Add more stock if needed to make it easier to blend.

Strain the mixture to get a silky smooth soup. Add the remaining stock to the soup.

Add heavy whipping cream to the soup and warm it up.

Finish with fresh pepper, a bit of cheese and fresh chopped basil. Enjoy!!