Keto Korma with Mutton Chops
Another Keto Korma
Mutton is goat meat. Yes, I can hear many of you saying it's 'old sheep'. But while in most of the world mutton does refer to old sheep in India, where I live, it means GOAT. So we're making a delicious 'white' Korma using some mutton chops. Now you can make this recipe with lamb chops as well and it would be great. I'm sure at this point you're thinking 'what is a white korma?' so allow me to explain.
Lots of Indian dishes have a white version. Most of these dishes are red/dark brown in colour. Let us start with tandoori chicken that's often red, butter chicken that's orange and a korma that's a dark dark red. It's either tomato, chilli powder or red food colour that gives these dishes their appearance. All 3 have a white version where those ingredients are given a skip. Sometimes they are enhanced further with cream or malai. Most of the times these white versions are also less spicy than their counter parts. And that's what a white version is.
Anyway enough jibber jabber, enjoy the recipe.
Can I make this with chicken?
As is the case with most recipes that I make, there is flexibility. You can make this recipe with not just chicken you can also use beef, pork and even fish. If you are vegetarian then it's your best friend Paneer or you can even throw in some boiled eggs and it will be delicious. Now in the video I used a spice mix that was pre-made. I used Shan Masala's Chicken White Korma Mix that is available online and can be ordered. However if you can't find it you can always make your own.
It will be complicated to make your own but you can do it. These are the spices you want to use, I'd say use about 1/2 tsp of each and then mix it all in a bowl first and then use as required. Salt, Coriander Power, Red Chilli Powder, Garlic Powder, Ginger Powder, Black Pepper, White Pepper, Tumeric Powder and Cumin Powder.
You can enjoy this Korma with some cauliflower rice or a Keto naan.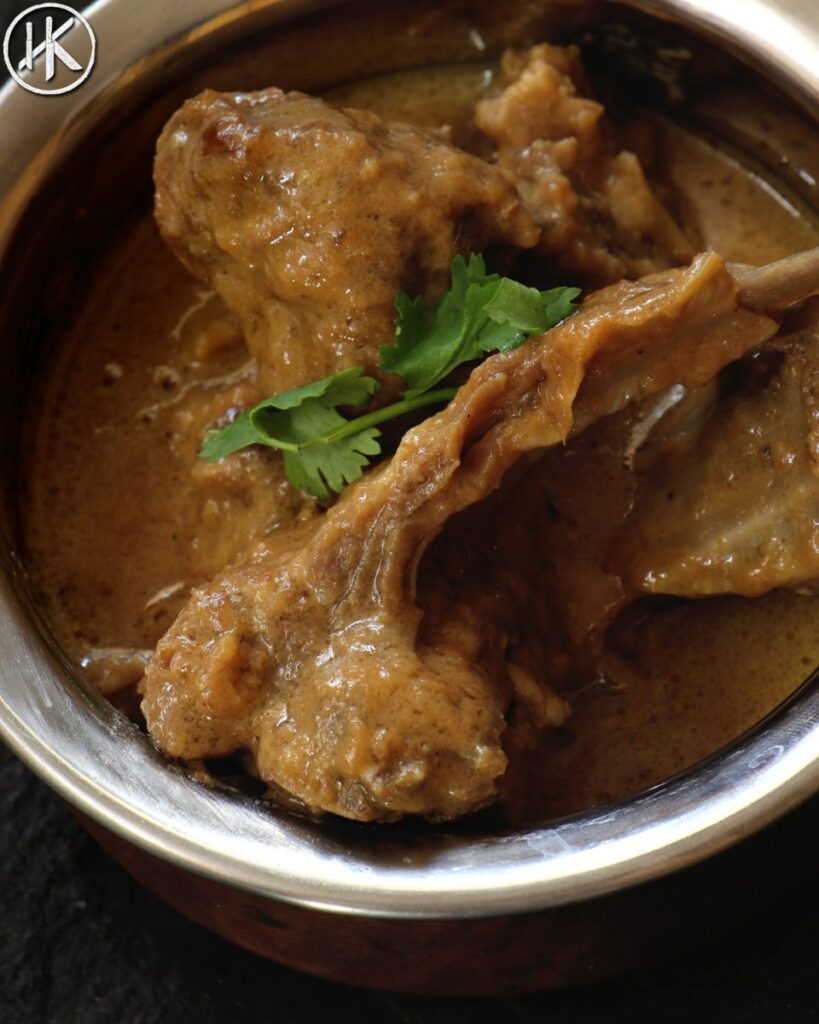 Keto Korma with Mutton Chops
Ingredients
500

grams

Mutton Chops

100

grams

Onion

100

grams

Yogurt

1

Tbsp

Shan Chicken White Korma Masala

Order Online

2

Tbsp

Ghee

10

grams

garlic

Salt to Taste

250

ml

Water
Instructions
Season the chops with the Shan masala and then pressure cook with the water for 30 minutes till the chops become tender. Then remove the chops from the water and set aside. Save all the mutton stock that's left in the pressure cooker.

Slice the onions and heat up the ghee in a saucepan. Fry the onions in the ghee on a low heat till they turn brown. You want to add the garlic at the last 2 minutes of cooking the onion and cook till it starts to turn golden.

Then remove the onions/garlic from the saucepan and blend with the yogurt in a food processor.

Turn the heat back on in the same pan and add back the pureed onion and yogurt mixture. Also add in the stock from the pressure cooker and mix well.

You want to now cook this till the oil separates from the yogurt and the sauce reduces. Once that happens add in the chops and give them a good mix so they are well coated in the mixture.

Now cook till the sauce is as thick as you like it and check for seasoning.

Serve with cauliflower rice or with some Keto naan.