With pork and prawns Keto Egg Foo Young we make!
Who doesn't love Chinese take away? I guess everyone does. And Egg Foo Young is a popular item on the menu. Now I haven't seen it in India on a take out menu like EVER. But it turns out back in the day it used to be served in some restaurants in Bombay. My parents told me the story of how they ate it at a restaurant called China Garden. But for whatever the reason it vanished from the menu. Now thanks to the internet, I've discovered it.
So I figured I'd give it a try and make a Keto version. I mean it's already pretty Keto apart from having a bit of corn flour/corn starch in it. But it's perfect. It's also very similar to the Thai style omelet which I've made before so I can't wait to try this!
Where is the sauce?
Now Egg Foo Young is normally served with a brown sauce or gravy (at least in the USA). I decided to follow the original and leave out the gravy. There was another reason for this too. The gravy is mostly thickened with corn starch and it also has oyster sauce. Both are not really Keto friendly. Now I could have skipped the oyster sauce and used xanthan gum to thicken it. I just really don't like the texture of sauces with xanthan gum. So if you do want to try making it it's just some chicken stock, soya sauce and xanthan gum reduced down. And that's it. You got the sauce.
Honestly this packs so much flavour from the pork and prawns it really doesn't need it. It doesn't even need a Keto rice or side dish. I deliberately didn't add too many veggies either. But you can add some veggies to this or serve yourself some on the side. Just sautee them in a pan with some butter and salt and garlic powder maybe. It's up to you.

Nutrition Info (Per serving)
Calories: 227
Net Carbs: 2g
Carbs: 2g
Fat: 16g
Protein: 16g
Fiber: 0g
This recipe makes 4 servings. Get this recipe on myfitnesspal.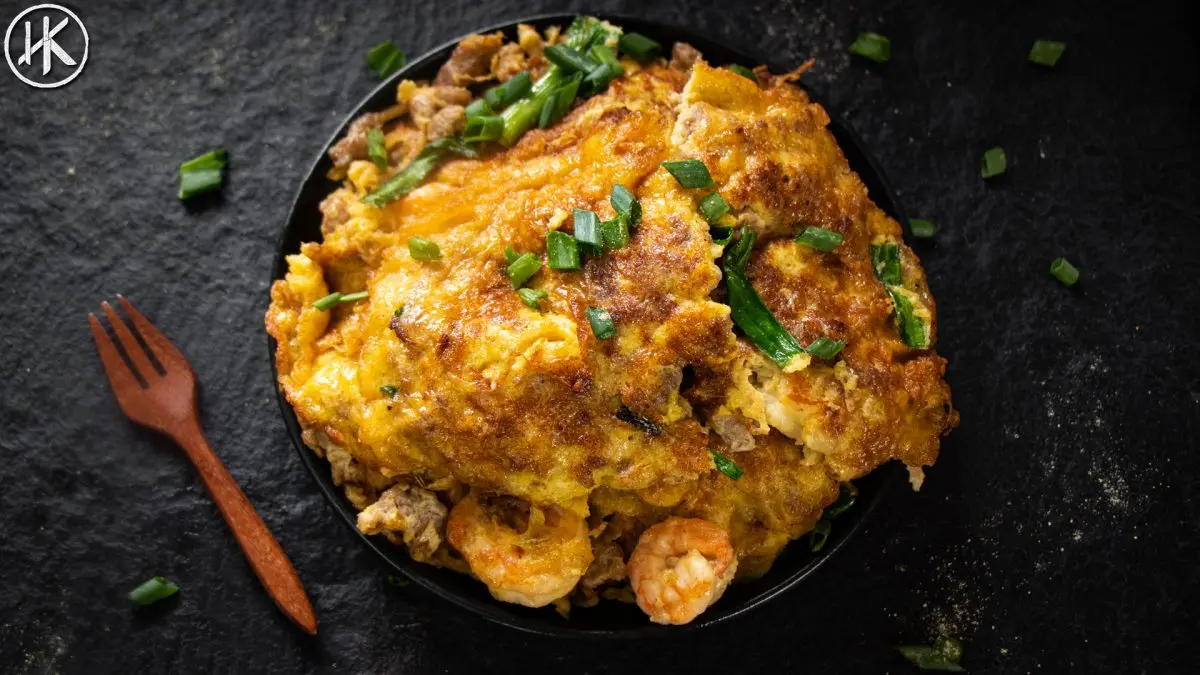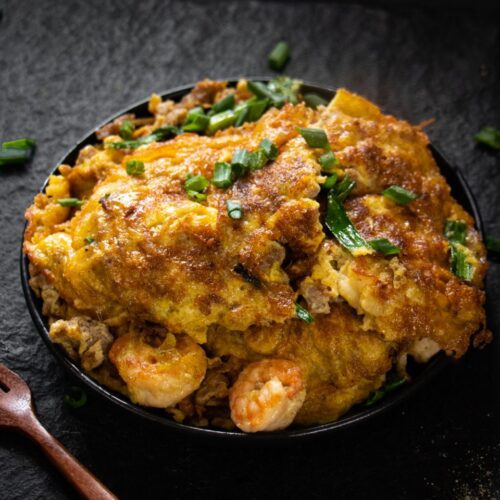 Keto Egg Foo Young
A Keto version of the classic Egg Foo Young
Ingredients
For the pork and prawn mixture
100

grams

Ground Pork

100

grams

Shrimp or Prawns

20

grams

Spring Onion

just the white part

10

grams

Minced Garlic

1

Tbsp

Soya Sauce

1

Tsp

Rice Wine Vinegar

Stevia to taste

About 1/2 Tsp 1:1 sugar replacement

1/2

Tsp

Salt

1/2

Tsp

White Pepper

1

Tbsp

olive oil
For the egg foo young
5

Eggs

1/2

Tsp

Salt

1/2

Tsp

White Pepper

Stevia to taste

About 1/4 Tsp 1:1 sugar replacement

1

Tsp

Soya Sauce

1

Tsp

Toasted Sesame Oil

1

Tsp

Coconut Flour

1

Spring Onion

Middle & Green Part cut into big pieces

Pork & Prawn Mixture

Oil for Frying
Instructions
For the pork and prawn mixture
In a large wok heat up 1 tbsp olive oil and add in the spring onion white and minced garlic. Sautee till the onion is translucent and the garlic is just turning golden brown.

Add in the ground pork and sautee till the meat is cooked. Make sure to break up any big chunks you want almost individual grains of pork.

Then add in the prawns, season with salt, white pepper, stevia, soya sauce and vinegar and give everything a good mix.

The prawns/shrimp will take literally 2-3 minutes to cook after which you get them off the heat. If there is some meat/prawn juices in the pan no problem, that can go into the egg mixture.
For the egg foo young
Crack the eggs into a large mixing bowl and add the salt, white pepper, stevia, soya sauce and the coconut flour. Whisk the eggs till they are nice and frothy

Add in the spring onion middle/greens after reserving a few for garnish. Then add the pork and prawn mixture and mix well.

An a large wok heat up a good amount of oil, maybe 50-60ml if not more. You can also just make this in a frying pan like a regular omelet no problem.

Once the oil is nice and hot ladle in a big spoon of the egg mixture and let it fry. You will notice the egg start to puff up. That's the hallmark feature of the egg foo young.

Now if it's too big you can break it into 2 pieces and flip otherwise using your kitchen tools flip it over. Repeat the process till all the egg mixture if over. You can also pout the entire mixture in and do it in 1 go but it will be much harder to do. Better to do it in 3-4 batches so you get smaller omelets.

Serve with some Keto rice or eat as it is. I think it's tasty enough on it's own.