Memories of Spaghetti Kitchen
Food memories are a wonderful thing. It's what inspired today's Keto Chicken Tetrazzini. Almost 15 years ago, before my palate had even matured, I visited a restaurant called Spaghetti Kitchen in Mumbai. I had ordered a dish called Chicken Tetrazzini from the menu which was so mind blowing at the time, I remember it to this day. A succulent piece of chicken on a bed of spaghetti cooked in a creamy sauce with mushrooms and bell peppers. Over the years, from time to time I would reminisce about this dish with my wife. The dish vanished from the menu after that one visit and then the restaurant vanished from that spot as well. But the memory lives on.
I remember spending hours online looking for the recipe for that dish. What I came up with was a more simplistic casserole style dish which, didn't quite hit the spot. So I set out to make my own and since I've been Keto now for a long time and that's my jam. Here is my Keto version of that beautiful Chicken Tetrazzini I ate once upon a time.
The crispiest skin
For this recipe I decided to try and use some techniques I've learnt from watching countless videos of how to make duck. Not just any duck, specifically the ducks you find in Bangkok or even China perhaps. I realized it's a lot of things but this was my way to make it simpler. The whole idea is to get the skin as dry as possible so it really crisps up. Blanching the legs in the boiling water kind of just tightens it up and then aging it for a day in the fridge makes it dry out even more. In the video you can hear the crunch in the skin. So In short, I think this experiment was a success.

Low carb Spaghetti
When it comes to low carb noodles or spaghetti, zucchini is my best friend. And I use my trust OXO hand held veggie spiralizer to do the job. There are other options as well such as low carb miracle noodles, konjac noodles or even my very own meat noodles. However for this recipe I thought zucchini was the best fit. I also chose to not really cook the zucchini in the recipe and let the warm sauce just coat it. I wanted them to have some bite and hence the decision. If you prefer it to be cooked then you can cook them down further in the sauce. This is completely your choice.

Nutrition Info (Per serving)
Calories: 416
Net Carbs: 6g
Carbs: 8g
Fat: 35g
Protein: 27g
Fiber: 2g
This recipe makes 4 servings. Get this recipe on myfitnesspal.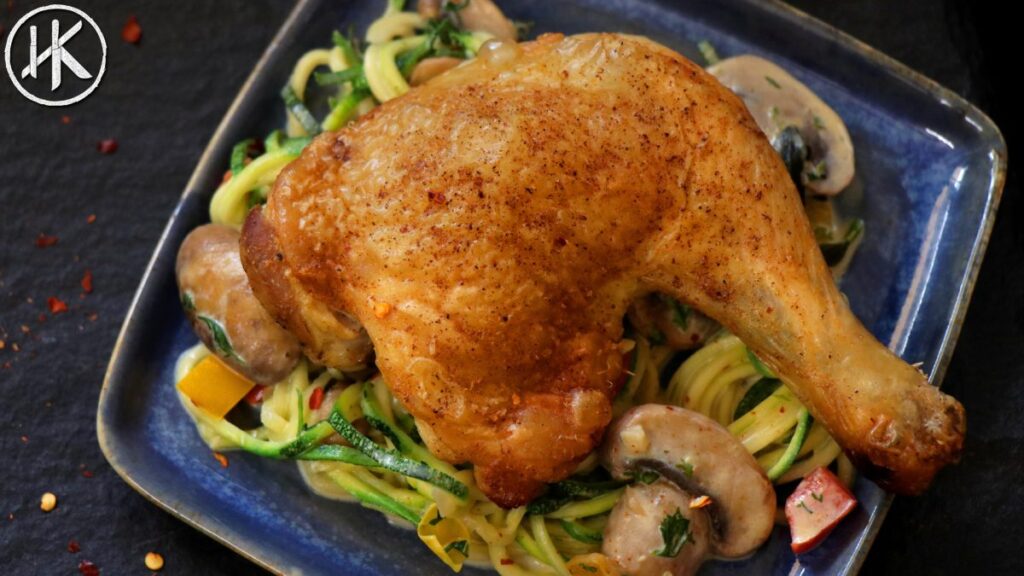 Keto Chicken Tetrazzini
A crispy skin pan roasted chicken leg on a bed of zuchinni spaghetti doused in a creamy sauce
Ingredients
500

grams

Full Chicken Legs with Skin

Drumstick and Thigh

200

grams

zucchini

60

grams

Onion

50

grams

Yellow Bell Peppers

(Diced)

50

grams

Red Bell Peppers

(Diced)

200

grams

White Mushrooms

10

grams

garlic

(finely chopped)

30

grams

Butter

Try this one

250

ml

Chicken stock

I recommend this one

30

grams

Cheddar Cheese

100

ml

Heavy Cream/Double Cream

1.5

Tsp

olive oil

I use this one

1

Tbsp

Parsley

1/2

Tsp

Nutmeg Powder

1

Tsp

White Pepper Powder

I recommend this one

1/2

Tsp

Black Pepper Powder

I recommend this one

1/2

Tsp

Fresh Oregano

You can also use dried oregano

1/4

Tsp

Red Chilli Flakes

4

Sage Leaves
Instructions
Start by getting a pot of water on the stove and bringing it to a boil. Throw in the chicken legs for exactly 30 seconds after which you remove them and put them in ice water for 30 seconds. Once this is done put them on a wire rack after wiping with paper towels and put them in the fridge for 24 hours to air dry.

After 24 hours remove the legs and pour on 1/2 tsp of olive oil and massage all over the chicken till its well coated. Season the legs with salt, white pepper and nutmeg powder. Season well and on both sides.

Heat 1 tsp of olive oil in a frying pan, either cast iron or non stick and place the chicken legs in skin side down. Cook the legs for 7-8 minutes till the skin gets nice and brown and crispy. Make sure you check that it doesn't burn.

Once the skin is nice and crispy flip the legs over and add 15grams of butter into the pan along with the sage leaves. Then tilt the pan and baste the chicken legs with the butter. After about a minute or so remove them from the pan and place on a wire rack in a baking tray and cook in a pre-heated oven at 200C for about 15-20 minutes till they are fully cooked.

Using a spiralizer make noodles/spaghetti out of the zucchini and set it aside.

In the same pan that you cooked the chicken (don't clean it out we want all the flavour from the sage leaves and remaining butter and chicken drippings) add in the mushrooms and the sliced onion. Season with a bit of salt and black pepper and cook on a high heat till the mushrooms release their water and the water starts to evaporate.

Turn down the heat to medium and cook till the mushrooms start to get caramelized. Once that happens add in the remaining 15 grams of butter and chopped garlic and give everything a good mix.

Once the garlic starts to also turn golden brown add in the red and yellow bell peppers and sautee them till they soften. At this point add in the 250ml of chicken stock and cook till the liquid in the pan is reduced by half.

Grate in the cheddar cheese and add the heavy cream as well and give everything a good mix. Cook this down depending on how thick you want your sauce. You can also use something like xanthan gum to thicken it. You want the sauce to be thick enough to coat the zucchini noodles.

Once the sauce reaches the thickness you like then turn off the stove and finish the sauce with some parsley. Also add in the zucchini noodles and give it all a good mix.

Now if you don't want the zoodles (zucchini spaghetti) to have a bite to it then cook them down with the sauce. Since I like them to have that raw 'bite' to it I stop cooking them here. Also keep in mind that they will release water when cooked.

Take the chicken out of the oven once it's done and serve it over the bed of zucchini noodles. I would recommend making 4 servings out of this. Separate the drumstick and thigh and make 4 portions of the zoodles. 1 piece of chicken with 1 portion of zoodles and that's 1 serving.

Cheers and Keep cooking!