Keto Chicken Rice (วิธีทำข้าวมันไก่)
Khao Man Gai – Thai Style Chicken Rice
Keto chicken rice are three words I did not expect to be saying together. I love food. I love travelling to Bangkok to eat.  And one of my favourite things to eat in Bangkok is Chicken rice. It's the most simple dish on the planet. Boiled chicken, a clear chicken soup and some aromatic rice. Doesn't sound Keto friendly at all. But we're going to make it Keto friendly today. It's definitely not going to be a high fat meal but hey, just pop a fat bomb after to balance it out.
And if you recall, a about a week ago I made some chicken oil. I had said that it was for a Thai dish. This is the dish. Anyway enough jibber jabber, let's get cooking.
The sauce!
The real star of this show is the khao man gai sauce. It's what packs a punch and is many layers for flavour. As promised in the video I'd like to talk about the soya bean paste I used. I managed to get some in Bangkok on a trip and while it's not a totally Keto friendly sauce, it's usable. It has carbs, it has sugar and it even has wheat. If you can find something that has JUST soyabean paste that will be ideal. However since we're only using a tablespoon for a recipe that makes 6 servings it events out. Similar to how I use Lindt 85% chocolate for many recipes. It's got sugar but in the grand scheme of things the carbs aren't a big deal as it's spread out over a huge cake.
But if you are fairly strict with your Keto then alternatively you can use some peanut butter instead for this sauce. It will just be a different version I guess. Even Japanese miso paste can work. I'm sure you could even make it without the soya bean paste completely. The flavour will change but it can still be delicious.

Nutrition Info (Per serving) for the rice
Calories: 231
Net Carbs: 4g
Carbs: 7g
Fat: 19g
Protein: 5g
Fiber: 3g
This recipe makes 2 servings. Get this recipe on myfitnesspal.
Nutrition Info (Per serving) for the sauce
Calories: 19
Net Carbs: 3g
Carbs: 3g
Fat: 0g
Protein: 1g
Fiber: 0g
This recipe makes 6 servings. Get this recipe on myfitnesspal.
Nutrition Info (Per serving) for the chicken & soup
I'm not putting down the macros for this because it will vary based on what part of the chicken you eat. So based on whether you eat the breast meat or the leg or thigh just look for a generic boiled chicken to put in your MFP. Similarly for the soup just use an entry for a generic chicken stock. Depending on which vegetable you use the entry can be similarly done. A generic boiled version of that vegetable.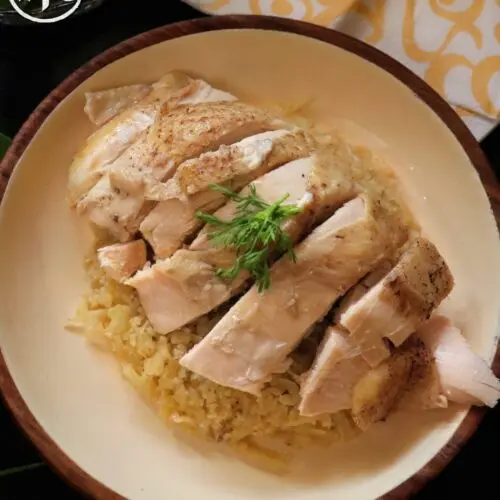 Keto Chicken Rice
A low carb and Keto friendly version of this Thai classic.
Ingredients
For the chicken & the soup
1

Full Chicken with Skin

1

liter

Water

You might need more (the water should be enough to submerge the chicken)

2

Tsp

Salt

1

Tsp

Black Pepper

100

grams

Pok Choi

Winter Melon is normally used. You can use any vegetable of choice

a handful of coriander
For the Khao Man Gai sauce
For the cauliflower rice
200

grams

Riced Cauliflower

Raw

200

ml

Chicken stock

Reserve from the soup

10

grams

garlic

3

Tbsp

Chicken Fat

Learn how to make it
Instructions
Start by boiling the water for the chicken in a large pot and season it with salt. Once it comes to a boil immerse the chicken into the pot. Make sure the water covers the chicken fully. Cover and cook for 35-40 minutes till the chicken is fully cooked.

Remove the chicken and set it aside on a wire rack to cool.

Boil the chicken stock and skim off any impurities that might rise to the surface. Reduce down to about 1 liter of liquid or once it reduces to a point where you have a strong chicken flavour.

Simmer the soup and season with pepper and add in the Pok Choi. Traditionally winter melon is used so you can add that if you have access to it or any other vegetable you like.

Once the vegetables have softened, turn off the heat and add in the coriander. Taste once again for seasoning and the soup is ready.

For the Khao man gai sauce just add all the ingredients in a food processor and blend into a fine paste.

Cook out the paste on a frying pan for about 2-3 minutes till the rawness is cooked out.

Remove from the pan and set it aside to cool and serve later with the chicken rice.

For the cauliflower rice part of this dish fry the garlic in chicken on in a frying pan till it turns nice and golden brown.

Then add in the riced cauliflower and give it all a good mix. Add in the reserved stock and cook till the cauliflower is tender and the stock has cooked out.

Season with salt and then serve with the chicken.

To assemble the dish serve the rice with some of the boiled chicken, either carve the breast or legs and serve with some soup and the sauce.

Enjoy!