How to Make Chicken in Oyster Sauce? | A Super Delicious Chinese Main Course
Today, we'll be visiting the Land of the Dragon. Or so I would like to think. I'm making what I think is a very famous Chinese dish called chicken in oyster sauce. 
Think of tender chicken strips coated with thick oyster gravy and complimented by mushrooms and spinach. I love making Chinese recipes, but this one hits closer to home. Mainly because I've never been to China but for the last decade (or two maybe) it's been my staple order from Chinese restaurants here in Mumbai city.
It's my family's go-to order as well. We often used to order takeout for Sunday lunches, and this was our staple. Even today, if I'm eating Chinese food there is a portion of chicken fried rice and oyster sauce for me. Unless there is pork, then it's pork but if it's chicken then it's oyster sauce chicken. 
Another recipe that I really love enjoyed making is general Tso's chicken, the Keto version. Anyway enough jibber jabber, let's get on with the chicken in oyster sauce recipe! 
Are There Any Alternatives For the Ingredients?
As I said before, I absolutely love this dish and have a nostalgic connection to it. However, I don't order Chinese food as much. But every time I crave chicken with oyster sauce, I make it at home. 
The secret? The art of stir-frying! It's pretty simple, really, but I have some alternatives for you.
The Main Ingredients
The proteins and fibers include chicken, mushrooms and spinach. You can replace the chicken with turkey, shrimp, fish, tofu, or any type of mock meat. 
Mushrooms aren't your cup of tea? Skip them and use any vegetable of choice. But if you aren't, feel free to use a different kind. There is a huge variety of vegetables that sit well in Chinese stir fry dishes.  You have your basics like broccoli, cabbage, bell peppers, green beans and if you can find more exotic ones like morning glory, Chinese cabbage, Pok choy then those are good options too. 
I made this chicken in oyster sauce with the ingredients that I had lying around in my pantry. 
The Sauce Base 
When cooking Chinese food I like to use cornflour to thicken the sauce. It's a common practice where you mix it with cold water and add it to your dish while cooking. You want to mix it with cold water otherwise it will clump up. Never add it directly to the dish. While making the gravy, I added soya sauce, oyster sauce, cooking sake and MSG. All of them were store-bought!
I would suggest sticking to the recipe. You can find all the ingredients at your local Asian grocery store. As for the cooking sake, you can alternate it with Chinese rice wine or vinegar. 
To this, I added chicken stock that I made at home, but you can add fish, beef or vegetable stock to the recipe. Once done, serve it with white rice, chicken fried rice or broccoli rice, and garnish it with spring onions!
What is Cooking Sake?
Cooking sake is a very underrated seasoning in the Asian market. Ideally, it's Japanese and is made from fermenting rice, but it does not contain alcohol. This traditional seasoning has a slightly sweet yet salty aftertaste. 
It goes great with Chinese dishes and is often paired with soups, sauces and different marinades. I believe it gives a delicate depth to all that Asian flavor and helps tenderize the meat. 
Should You Use MSG?
Well, adding MSG is a choice. This is nothing but a taste enhancer. So, I like adding it to my Chinese recipes because I love the authentic taste. 
Usually, you'll find MSG in canned veggies, soups and even deli meats. While there's a lot of debate about its safe usage, the FDA has classified MSG as a safe food ingredient. 
Making Chicken in Oyster Sauce Gravy | The HK Way!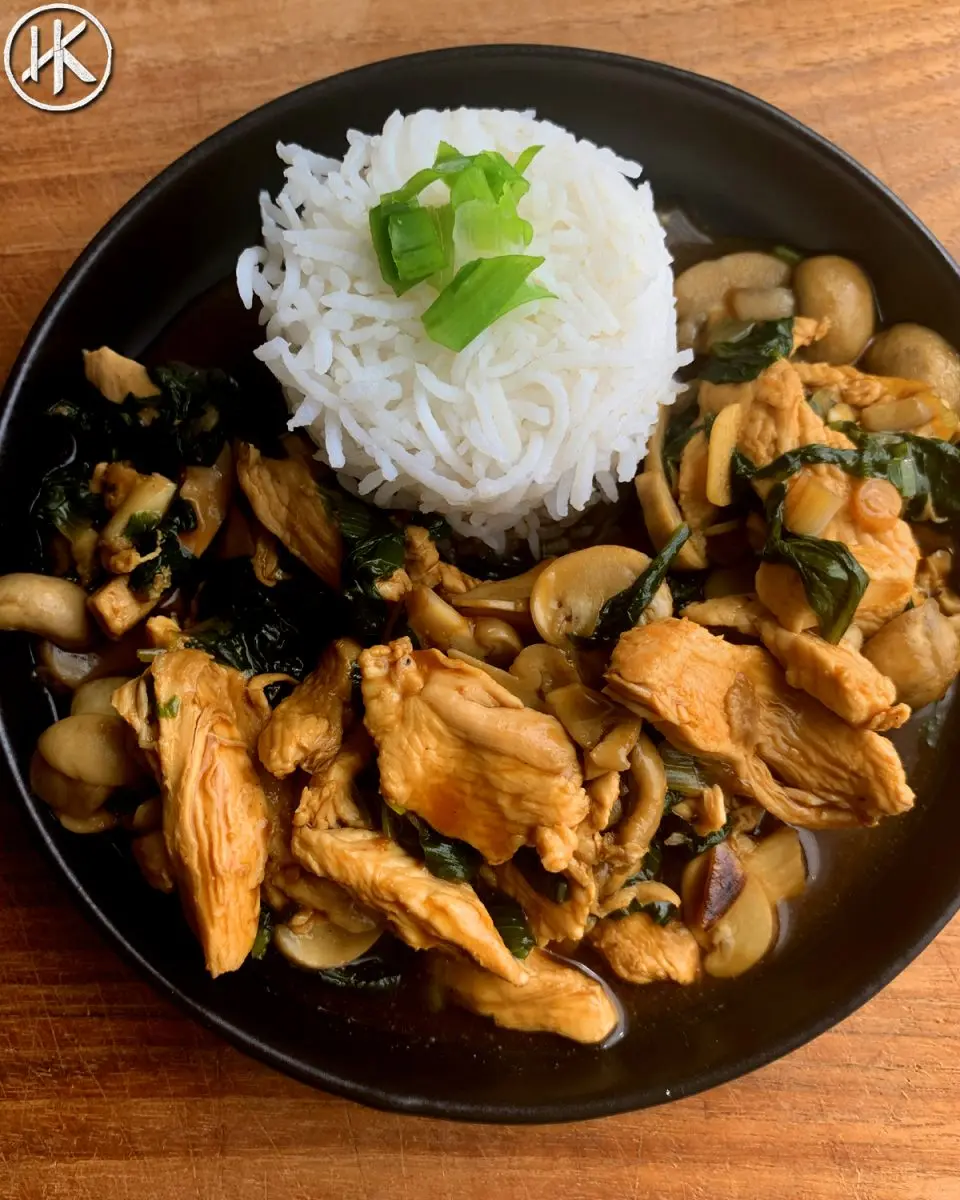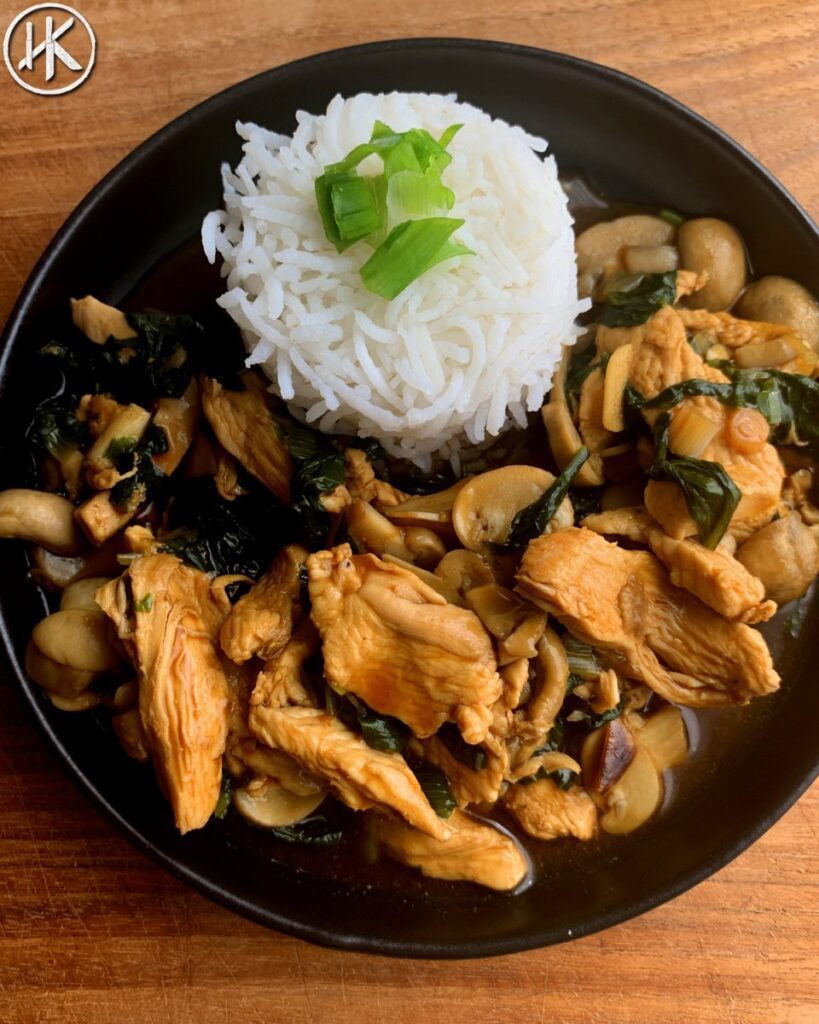 Are you looking for a really easy and savory Chinese dish? Then my chicken in oyster sauce recipe would be the real deal. Not only is it filled with protein and fibers, but it can also turn into your guilty pleasure. 
The idea of thick aromatic gravy and the tender chicken pieces is enough to intrigue me. On top of that, this recipe contains perfectly cooked spinach and mushrooms that make it even more scrumptious. 
Yes, I can literally have this all day, every day! Let me know in the comments if you've tried this before.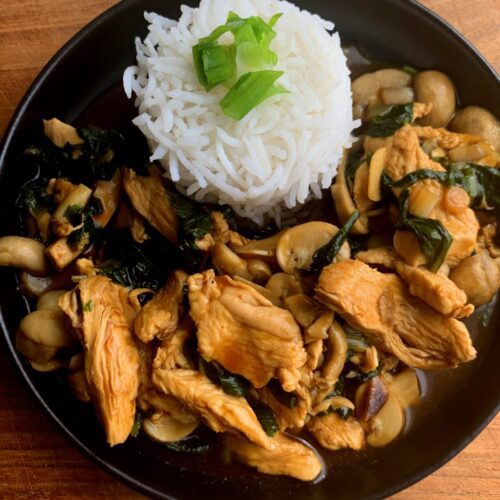 Here's how to make an appetizing chicken in oyster sauce!
This is a very easy-to-make and delicious Chinese recipe. Follow the recipe and enjoy!
Ingredients
2

Garlic Cloves

30

grams

Spring Onions

100

grams

White Mushrooms

100

grams

Spinach

250

grams

Chicken Breast

2

Tsp

Cornflour

1

Tbsp

Cooking Oil

Salt and Pepper

To taste

1/2

Tsp

MSG

1

Tbsp

Soya Sauce

1

Tbsp

Oyster Sauce

1

Tbsp

Cooking Sake

250

ml

Chicken stock

2

portions

Boiled Rice
Instructions
Chop up your garlic cloves and spring onions into small pieces. Then, take some white mushrooms and cut them into thin slices. Now, roughly chop up your spinach. And keep everything aside.

Bring out your chicken breast and take off the tender. After that, butterfly the breasts. Now, cut it into long strips.

In a small bowl, take the cornflour and some water. Use cold water to avoid any lumps. Mix it well, and your slurry will be ready.

Heat the wok, and add in the cooking oil. Then, the garlic and fry it till golden brown. Now, add the chicken strips. Stir it a little, and then add the seasonings, like salt and pepper. Then, add a pinch of MSG.

Next add your mushrooms and spinach. Give them all a good mix. Now, it's time to add the soya sauce, oyster sauce, cooking sake, and chicken stock. Mix everything together!

Add your slurry using a strainer to avoid any lumps. Cook the dish till the sauce becomes thick. Finish it with chopped spring onion greens.

Serve your chicken in oyster sauce with some steamed white rice.