Chicken in a Mushroom & Wine Sauce
Another Keto chicken recipe
For today's Keto chicken recipe I'm bring out my fancy pants. We're making a herb marinated, pan roasted chicken with a creamy mushroom and wine sauce to go with it. This is perfect as a meal for one or great as meal prep. Just cook up a big batch of this and keep it in your fridge for the week. I'm pretty sure you won't get bored eating it as well.
The missing butter & sauce
While I was pan frying the 2nd batch of chicken, I added in some butter. I completely missed that step in the video and the narration. That explains the excess fat in the pan. Also as I did mention in the video, the sauce was on the thinner side. To thicken your sauce you could add the cream, then the cheese and then reduce it down. You can also use something like Xanthan gum to thicken it (I've not tried this yet) or you can do what I did off camera. I took out the chicken pieces and I cooked some cauliflower rice in the sauce and it was PERFECT. I also added some chopped crispy bacon on top for texture.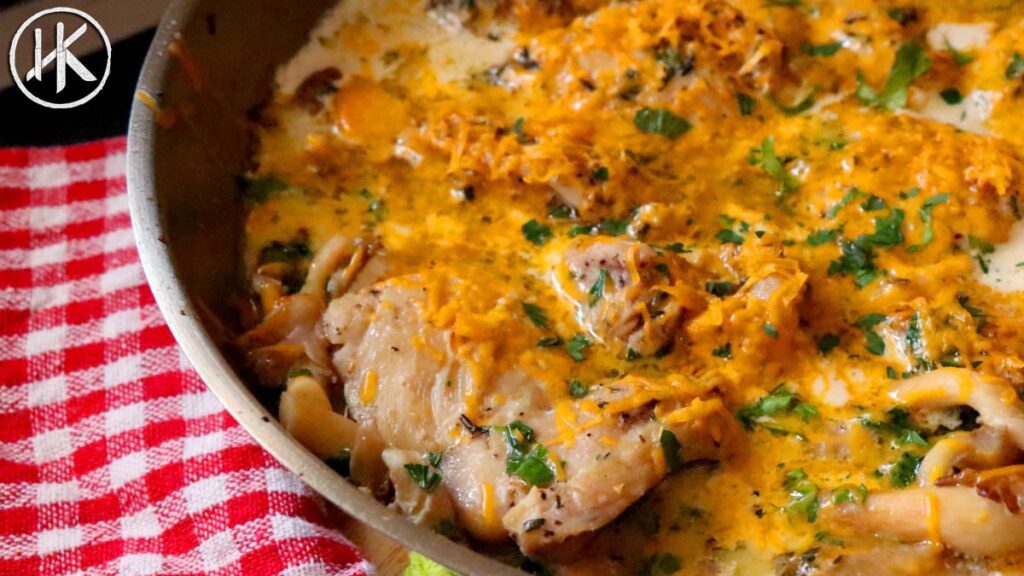 Nutrition Info (Per serving)
Calories: 509
Net Carbs: 5g
Carbs: 6g
Fat: 34g
Protein: 40g
Fiber: 1g
This recipe makes 3 servings. Get this recipe on myfitnesspal.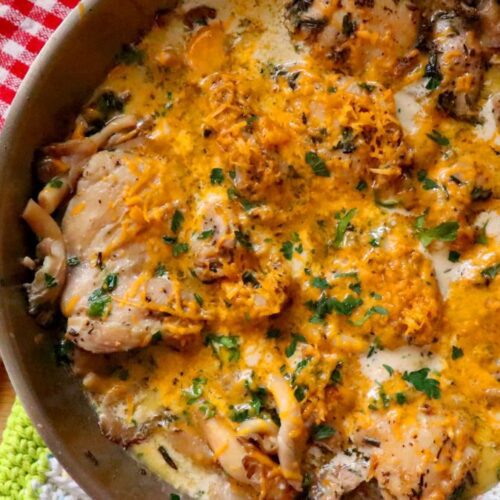 Chicken in a Mushroom & Wine Sauce
Pan roasted chicken in a creamy mushroom and wine sauce.
Ingredients
500

grams

Boneless Chicken Leg and Thigh Meat

200

grams

Mushrooms

100

ml

Cream

10

grams

garlic

1

Tbsp

Butter

Try this one

2

Tbsp

olive oil

I use this one

50

grams

Cheese of choice

100

ml

White Wine

Optional

1

Stock Cube

Or about 100ml of stock Try this one

1

Tsp

Rosemary

1

Tsp

Thyme

1

Tsp

Parsley

Salt & Pepper to taste
Instructions
Marinate the chicken with 1 tbsp olive oil, salt, pepper, rosemary and thyme

Heat 1 tbsp of the olive oil (or bacon fat) in the frying pan and pan fry the chicken on both sides till you get a nice colour on it.

While frying the chicken chop up the butter and add it to the pan.

Once cooked, remove the chicken and add the mushrooms to the pan. Deglaze the pan with the white wine and cook down

Add in the garlic and the stock cube and cook down.

Once the mushrooms and garlic have some colour add in the resting juices from the chicken and also add in some water to deglaze the pan.

Add in the cream and parsley and mix well.

Return the chicken to the pan to soak in the sauce and finish cooking.

Finish by adding all the cheese on top and some more parsley.